Don't ignore what is going on with Ethereum, analyst says as stablecoins erupt
This article is 3 years old...
Don't ignore what is going on with Ethereum, analyst says as stablecoins erupt
with insights from
Messari
While ETH prices have remained in the proverbial dumps, the underlying Ethereum blockchain has seen a flurry of activity and development of recent months. The jury is still out on how these trends will affect the asset in the long run, but a top analyst says it would be unwise to ignore what is going on.
Ethereum is dramatically changing
Due to a Cambrian explosion in the demand for stablecoins based on Ethereum, ETH has rapidly been losing dominance on its home blockchain. That's to say, ETH may not be the driving monetary force on its own chain in the coming weeks.
Ryan Watkins, a research analyst at crypto data firm Messari, shared:
"ERC-20 tokens are approaching 50% of the total value stored on Ethereum.Over the past two years there has been a complete transformation in how value is stored and transferred on the Ethereum blockchain."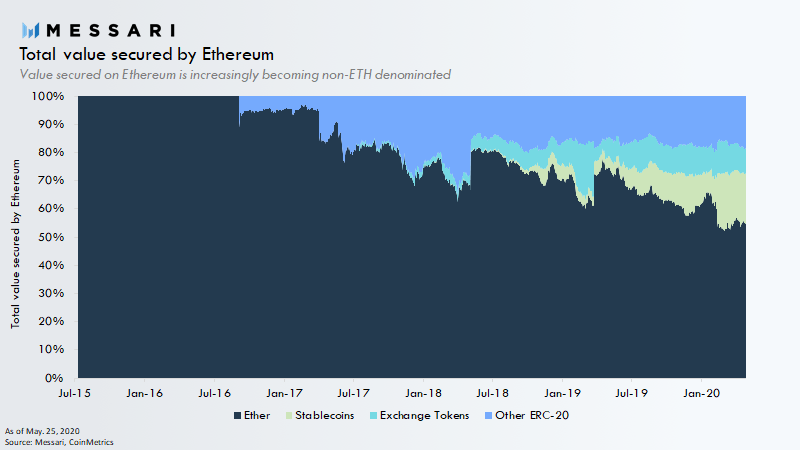 Due to the growth in stablecoins and other ERC tokens, the fees spent by users of Ethereum have increased dramatically over the past few months to near all-time highs. Simultaneously, the amount of value locked in decentralized finance has gone parabolic. 
The trends identified are still nascent, but the Messari analyst said that they show how the fundamental nature of the Ethereum blockchain and ETH's utility and investment case have changed dramatically.
"In short, Ethereum is being used more than ever, and in just two years, Ethereum has evolved from a blank canvas to an agglomeration of novel forms of value and use cases."
He added that considering the developments, "you can't ignore what's going on on Ethereum."
Investors aren't ignoring ETH
Watkins is right: large investors are seemingly taking what's going on with the second-largest blockchain seriously. And they're largely bullish, despite the assertions by some that ETH is not a proper investment. 
As reported by CryptoSlate previously, blockchain analytics firm Santiment found that there has been a strong increase in accumulation by some of ETH's largest holders over the past few weeks.
"ETH whale addresses have just hit a 10-month high with the cumulative holdings of the top 100 non-exchange wallets now owning over 21,800,000 Ethereum." the firm wrote in reference to the chart below.
The holdings of the top 100 ETH addresses have "added an additional 145,000 ETH," worth about $30 million, over the last two days alone.
It isn't clear who is behind these "whale" addresses that are accumulating millions of dollars worth of coins, but there are some contenders.
For one, Tyler Winklevoss and Cameron Winklevoss of the Gemini cryptocurrency exchange revealed that they "definitely own a lot of ether," calling their holdings a "material amount." The twins added that their stash of ETH is in the "same galaxy" as their Bitcoin holdings, which would mean they own hundreds of millions of dollars worth of the asset.
There is also an analysis suggesting that "wallets associated with major players such as JPMorgan Chase, Reddit, IBM, Microsoft, Amazon, and Walmart" are stacking ETH too.
At the time of press, Ethereum is ranked #2 by market cap and the ETH price is up 4.5% over the past 24 hours. ETH has a market capitalization of $25.68 billion with a 24-hour trading volume of $12.46 billion. Learn more ›
$231.08
4.5%
Ethereum On-Chain Analysis
Market summary
At the time of press, the global cryptocurrency market is valued at at $267.73 billion with a 24-hour volume of $105.43 billion. Bitcoin dominance is currently at 65.61%. Learn more ›