Analysis: Ethereum is being bought by IBM, Microsoft, other Fortune 500 companies
This article is 3 years old...
Analysis: Ethereum is being bought by IBM, Microsoft, other Fortune 500 companies
with insights from
Glassnode
Over the past few weeks, it has been clear as day that retail investors — people like you or myself — have been accumulating Bitcoin, Ethereum, and other cryptocurrencies.
We have reported within the past days that the active users of both Bitcoin and Ethereum have started to rocket, despite March's crash.
Simultaneously, data from blockchain analysis startup Glassnode has found that the number of addresses holding 0.1 to 100 ETH and 0.01 to 1 BTC — addresses affiliated with retail investors — has grown dramatically over the past two months.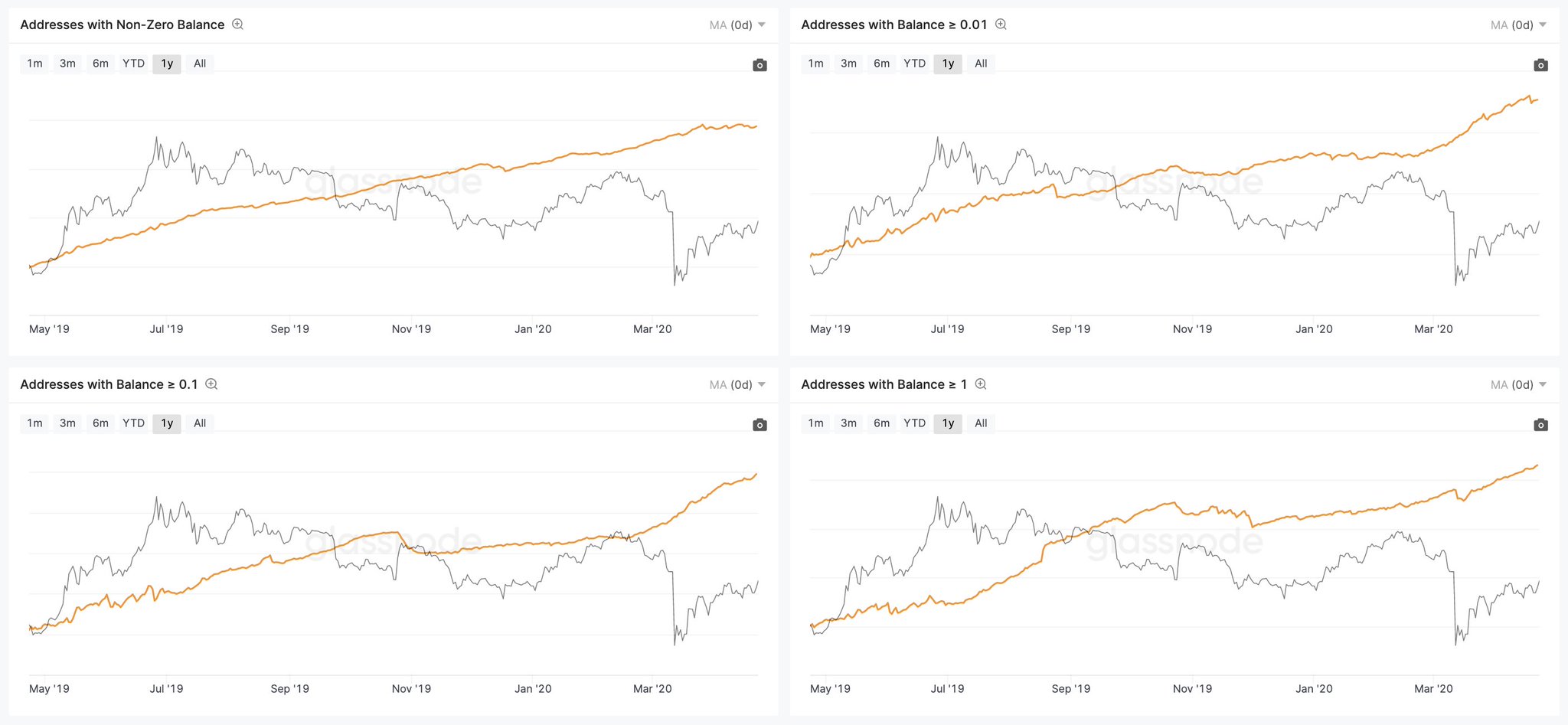 It's a trend indicating that retail investors are buying the dip in the cryptocurrency market, accentuated by BTC's 20 percent performance just the other day that was largely predicated on strong buying volume from Coinbase, Binance, and other retail exchanges.
But according to a new analysis, some massive institutions — like recognizable names like IBM Blockchain and Microsoft — are accumulating cryptocurrencies as well.
But the cryptocurrency they're known to be accumulating may be unexpected: Ethereum.
Fortune 500 institutions — IBM, Microsoft, and more — are spending millions on Ethereum
Adam Cochran, a partner at Metacartel Ventures and an adjunct professor at Conestoga College in Canada, recently released an extensive analysis of the top 10,000 ETH addresses (by holding size).
While his report revealed many fascinating discoveries about the intricacies of the second-largest cryptocurrency, what was especially interesting is that according to Cochran, his team identified "wallets associated with major players such as JPMorgan Chase, Reddit, IBM, Microsoft, Amazon, and Walmart."
The details were scant, but the crypto investor asserted that "100 percent" of these wallets are accumulating ETH. Again, it wasn't clear how much they were accumulating, but considering they're within the top 10,000 addresses on the entire Ethereum network, these firms likely hold millions of dollars between them.
Importantly, there is currently no way to tell if these same companies are accumulating BTC as they are doing with Ether because the way Bitcoin operates makes it somewhat more difficult to tie an address to one's identity.
But considering that Microsoft and other Fortune 500 companies have been revealed to be dabbling in using Bitcoin for commercial applications, there's a good likelihood they are.
Institutions have been accumulating for a while now
Institutions and other big players in the cryptocurrency space have been accumulating Ethereum for a while now, data shows.
As reported by CryptoSlate previously, Grayscale Investments, the investment arm of crypto conglomerate Digital Currency Group, has purchased approximately 756,540 ETH in 2020 — 40 percent of the cryptocurrency minted through mining this year thus far.
Grayscale accumulated these coins in response to institutional buying volume behind its second flagship product, the Ethereum Trust, ETHE. The product was found to have seen massive inflows in Q1 of 2020, 88 percent of which came from institutional players.
As Spencer Noon explained:
"Institutional investors are buying ETH. The cat is officially out of the bag. From the latest Grayscale report: Ethereum Trust saw $110M in Q1 inflows This is more than all of its previous inflows combined for the past 2 years ($95.8M)."
Not to mention, Su Zhu of crypto and forex fund Three Arrows Capital observed that on Apr. 10, there was a large Ethereum buy wall on Bitfinex, with buyers putting up a jaw-dropping 250,000 ETH worth of bids between $159 and $162, amounting to a cost of around $40 million.
What's behind the buying pressure?
Stepping back from the Fortune 500 institutions mentioned, what's behind the broad surge to accumulate Ether?
It seems to be centered around Ethereum 2.0.
Within the coming months, developers will be rolling out the most hyped technical upgrade (except for Segwit maybe) to a blockchain of all time: Ethereum 2.0. This move will change the cryptocurrency's monetary model and increase the functionality of Ether, so much so that Cochran explained in a previous analysis that he expects the upgrade to cause a massive economic shift in society.
Aside from Ethereum, there are fundamental trends that have accentuated the value of cryptocurrencies as a whole.
Namely, the Federal Reserve and other centralized institutions printing fiat money en-masse have shown how fragile the traditional financial system is, and how Bitcoin and other digital assets could be seen as a way out or a hedge against a potential collapse of the system, as described by Raoul Pal.
---