Breaking through the $9,000 mark seems to have pushed Bitcoin's engagement through the roof. According to data from LunarCrush, Bitcoin's social engagement has marked another 2020 high with almost 320 million unique engagements and it shows no sign of stopping.
Everybody seems to be talking about Bitcoin
A strong bullish wind has pushed Bitcoin's price over the dreaded $9,000 mark, with analysts now predicting that attempts to set a daily high above $9,200 could push the next resistance point up to as much as $9,500 and $9,600.
The much-awaited price spike has brought conversations about Bitcoin to the spotlight. While the world's largest cryptocurrency has almost always been the most discussed one, this week's rally seems to have brought the engagement through the roof.
According to data from crypto analytics firm LunarCRUSH, Bitcoin's social engagement has reached its 2020 high with almost 320 million unique engagements. The company defined the metric as the total amount of posts, comments, retweets, and favorites across all data sources.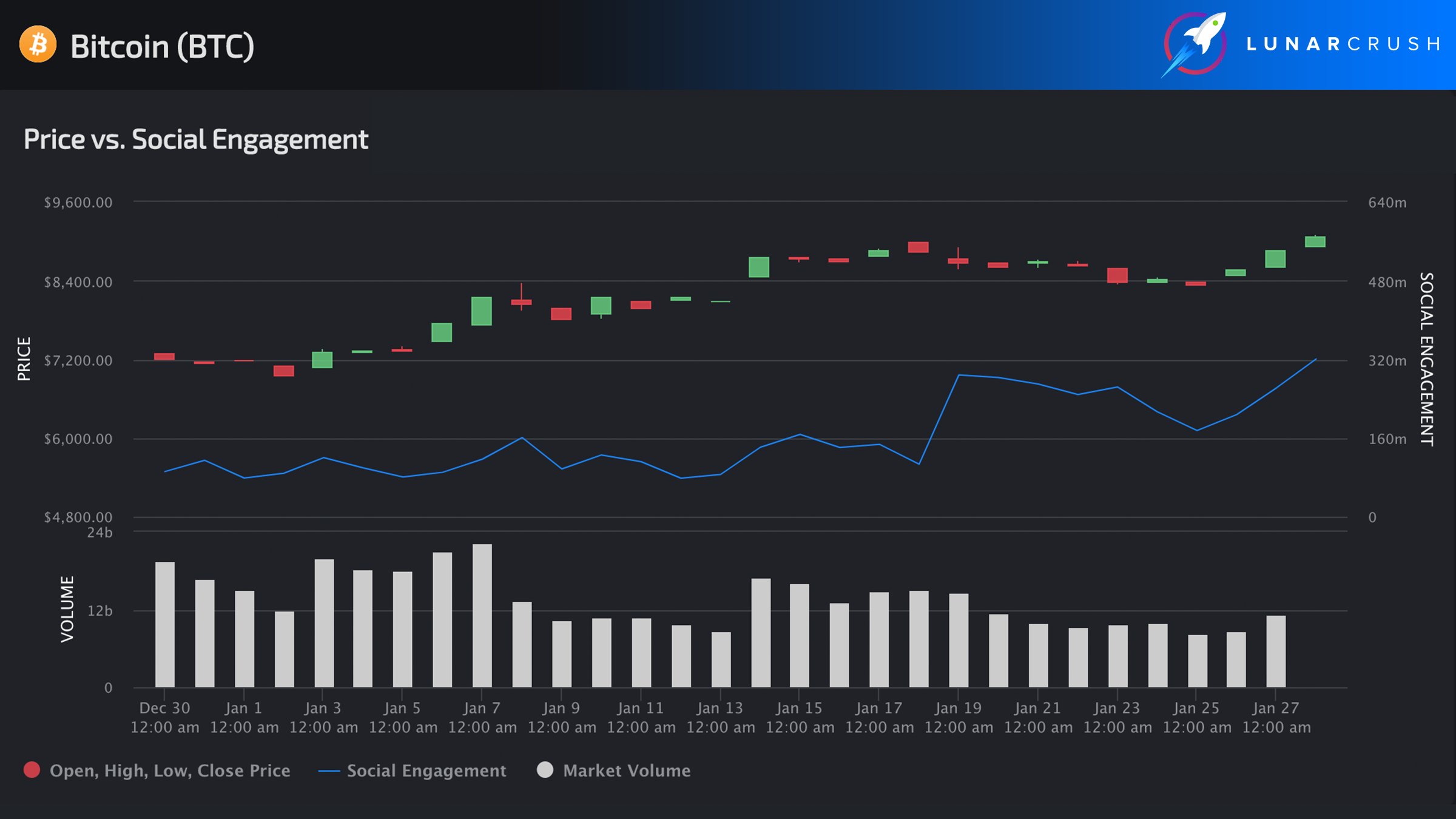 Almost all of the other social metrics it tracks for Bitcoin have also been on the rise in the past month. Data has shown that apart from the overall social engagement, the volumes on all social media, including Twitter and Reddit, all spiked on Jan. 18. Apart from a few minor downturns, the metrics have all continued to rise and the uptrend is expected to continue in February.
Breaking down Bitcoin's rising social engagement
While data has shown that everybody is talking about Bitcoin, it's equally as important to note what they're talking about. Data from LunarCRUSH has shown that the overwhelming majority of social engagement regarding Bitcoin was positive.
The company found that 74 percent of the overall social sentiment across all collected posts is bullish. It's interesting to note that while there has been a lot less bearish sentiment in the past month, it was surprisingly related to Bitcoin's price spikes.
Almost half of that engagement is estimated to come from people between 25 and 34 years old, data from CoinDance has shown. A quarter of the engagement comes from those between 35 and 44 years of age, while only 10 percent comes from those born between 1965 and 1975.
However, very few women seem to participate in the rising engagement, as CoinDance data estimates that only around 12 percent of Bitcoin's community engagement comes from women.
Like what you see?
Subscribe for daily updates.