The Ethereum (ETH) price has dropped by 88 percent from its record high at $1,448, showing a sluggish price trend year-to-date. Yet, according to investor Spencer Noon, the fundamentals of the asset remain strong as the total value of Ether locked in DeFi apps continues to increase.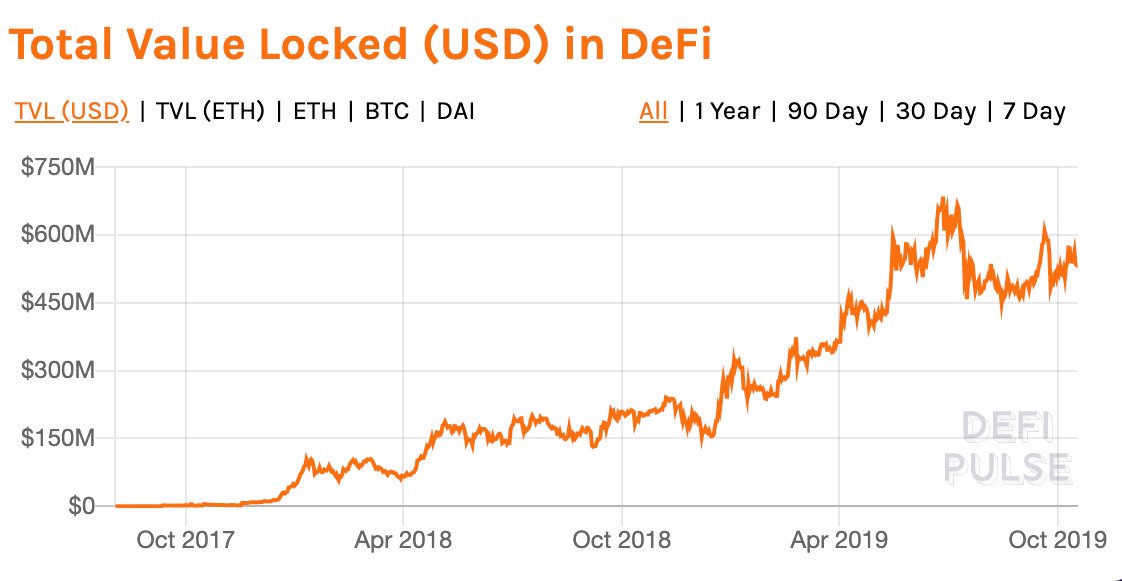 Spencer Noon, an investor at DTC Capital, compared the price trend of Ethereum since early 2019 to the total amount of U.S. dollar locked into DeFi (decentralized finance), and suggested that the price does not accurately depict the growth of the blockchain network.
Why has the altcoin market been struggling for so long alongside Ethereum?
In terms of price, 2019 has not been a particularly positive year for Ethereum considering its performance throughout previous years.
At the start of 2019, the price of ETH was hovering at around $135 and since then, it increased to $174, by less than 30 percent against the U.S. dollar.
In comparison, the price of bitcoin rose from $3,800 to $8,200, by more than two-fold in the same period.
Some analysts speculate that despite signs of decent growth of the Ethereum blockchain network in terms of gas usage, users, and developer activity, the extended correction of the cryptocurrency market exhausted investors, forcing a sell-off of more risky assets.
Eric Conner, the co-founder of EthHub, said:
"For the first time ever, Ethereum's block gas limit has passed 9,000,000. The network now has 12.5% more capacity than last week and is still on the rise."
Cryptocurrencies as an asset class in itself are considered as risky by the broader market of investors but within the cryptocurrency market, Bitcoin tend to demonstrate a lower rate of volatility compared to alternative cryptocurrencies or altcoins.
The prospect of the bear market of cryptocurrencies lasting longer than the expectations of analysts led investors to hedge their positions with cash on exchanges and stablecoins like Tether, creating a difficult environment for even major cryptocurrencies like Ethereum to rebound.
How technicals look for ETH
Ethereum and alternative cryptocurrencies, in general, tend to demonstrate higher volatility when bitcoin is in a sideways movement.
As such, when the daily volume of bitcoin was hovering at yearly low levels in early 2019, the daily volume of Ethereum reached its yearly peak at $1.64 billion on BitMEX alone.
However, since then, the daily volume of Ethereum has struggled to recover and as of late October, its daily volume is at around $93 million on BitMEX.
Against both Bitcoin and USD, the price of Ethereum tends to see a strong response when key support levels are supported on the downside, as seen in early September.
While the technicals and the volume of ETH and for the rest of the cryptocurrency market have geared toward a bearish trend in recent weeks, as the market moves closer to a short term bottom, traders are not dismissing the possibility of an abrupt reaction.
Ethereum, currently ranked #2 by market cap, is up 1.72% over the past 24 hours. ETH has a market cap of $18.93B with a 24 hour volume of $6.37B.
Ethereum Price Chart
Like what you see?
Subscribe for daily updates.