The Bitcoin Lightning Network is growing, but with some scalability and security flaws
The Bitcoin Lightning Network is growing, but with some scalability and security flaws
Bitcoin's Lightning Network is expanding at an exponential rate despite a number of scalability and security flaws in its protocol.
Bitcoin's Lightning Network is expanding at an exponential rate despite a number of scalability and security flaws in its protocol.
Bitcoin's Lightning Network usage is growing
The Lightning Network (LN) is a second layer solution to Bitcoin's scalability problem. It was created by Lightning Labs, a San Francisco-based company building the next generation of decentralized financial infrastructure.
The idea behind it was to increase the transaction throughput of BTC's blockchain network. This open-source protocol enables instant payments at exceptionally low fees with millions to billions of transactions per second, and cross-chain atomic swaps.
BitMEX Research, a subsidiary of the crypto-derivatives trading platform BitMEX, published its sixth report on the Bitcoin's Lightning Network. The research team focused on blockchain data regarding non-cooperative channel closures. Based on this dataset, it was determined that LN usage is "higher than expected."
The report reads:
"The volume of transactions here [in non-cooperative channe] is quite large and may indicate more experimentation with lightning than many expected. The data also indicates non-cooperative closures are more of a common closure type than people think."
According to BitMEX Research, a non-cooperative channel closure occurs when the output of a given transaction is redeemed during the sweeping of funds after the channel is closed. To date, there have been nearly 60,000 channel closure transactions spending a total of 1,074 Bitcoin.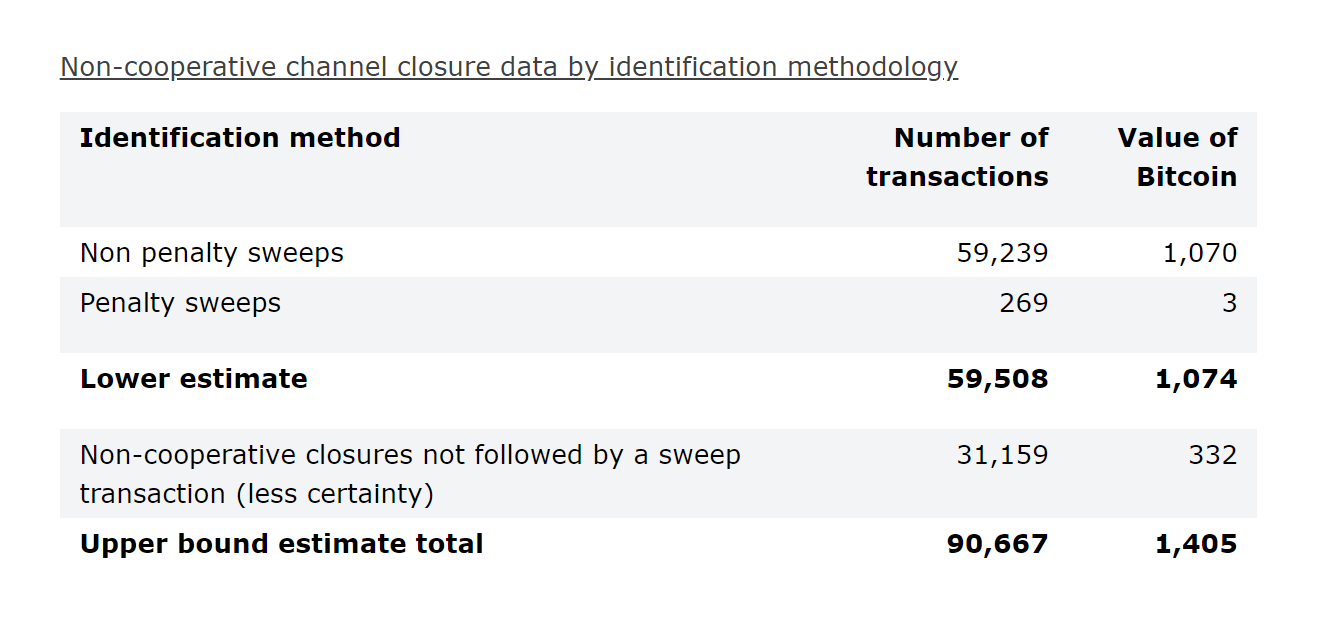 Scalability and security flaws
The researchers at BitMEX expected the number of non-cooperative channel closure to be around 30,000. This is half of what the actual number is. The massive amount of channel closures raises concerns about the stability of the LN.
BitMEX Research said:
"The fact that non-cooperative closures are more common than many thought, means the privacy and scalability benefits of lightning are lower than many expected too."
Despite the scalability and security flaws on the LN, BitMEX Research affirmed that non-cooperative closure volumes dropped significantly since March 2019. The steep decline may be indicative of "improved user behavior and wallets". According to the researchers, as users become familiar with the proper use of the LN and lightning wallets, "the prevalence of non-cooperative closures could fall."
The Lightning Network is still an experimental project. Although different crypto exchanges, such as Bitfinex, added support for LN deposits and withdrawals for faster and cheaper transactions, many argue that it is not ready for production. Redditor ZipoTm "lost" four Bitcoins on the LN hinting that it is not easy to use. Time will tell whether developers will be able to make improvements to the LN to eliminate the rise of non-cooperative channel closures.