Crypto analyst Willy Woo said that very few coins are good investments, as data from CoinMarketCap has shown that only the top 40 out of the 4987 listed coins are liquid.
Part of the crypto community remained skeptical, saying that few coins have been around long enough to be able to compete with Bitcoin, Ethereum, and the like.
Less than 1% of all coins listed on Coinmarketcap have liquidity
While envisioned as safe-haven assets, cryptocurrencies have been notoriously easy to manipulate. The overall lack of liquidity in the market gives power to the few whales that hold large quantities of a coin, which can swing the price of even the most stable cryptos at any given time.
The inability to quickly buy and sell an asset on the market has been one of the biggest reasons why institutional interest in the industry has been stagnating. With most experienced investors looking for a "quick in, quick out" scheme, going all-in into cryptocurrencies is not a viable option.
Willy Woo, a prominent crypto analyst and partner at Adaptive Capital, certainly believes so. Woo shared a tweet earlier today where he noted that out of the 4978 coins currently listed on CoinMarketCap, only the top 40 are liquid.
He shared a graph listing the top 50 cryptocurrencies "by volume," where only the first 39 have the liquidity that was registered by the exchange. That means that just 0.81 percent of all cryptocurrencies listed on Coinmarketcap offer liquidity.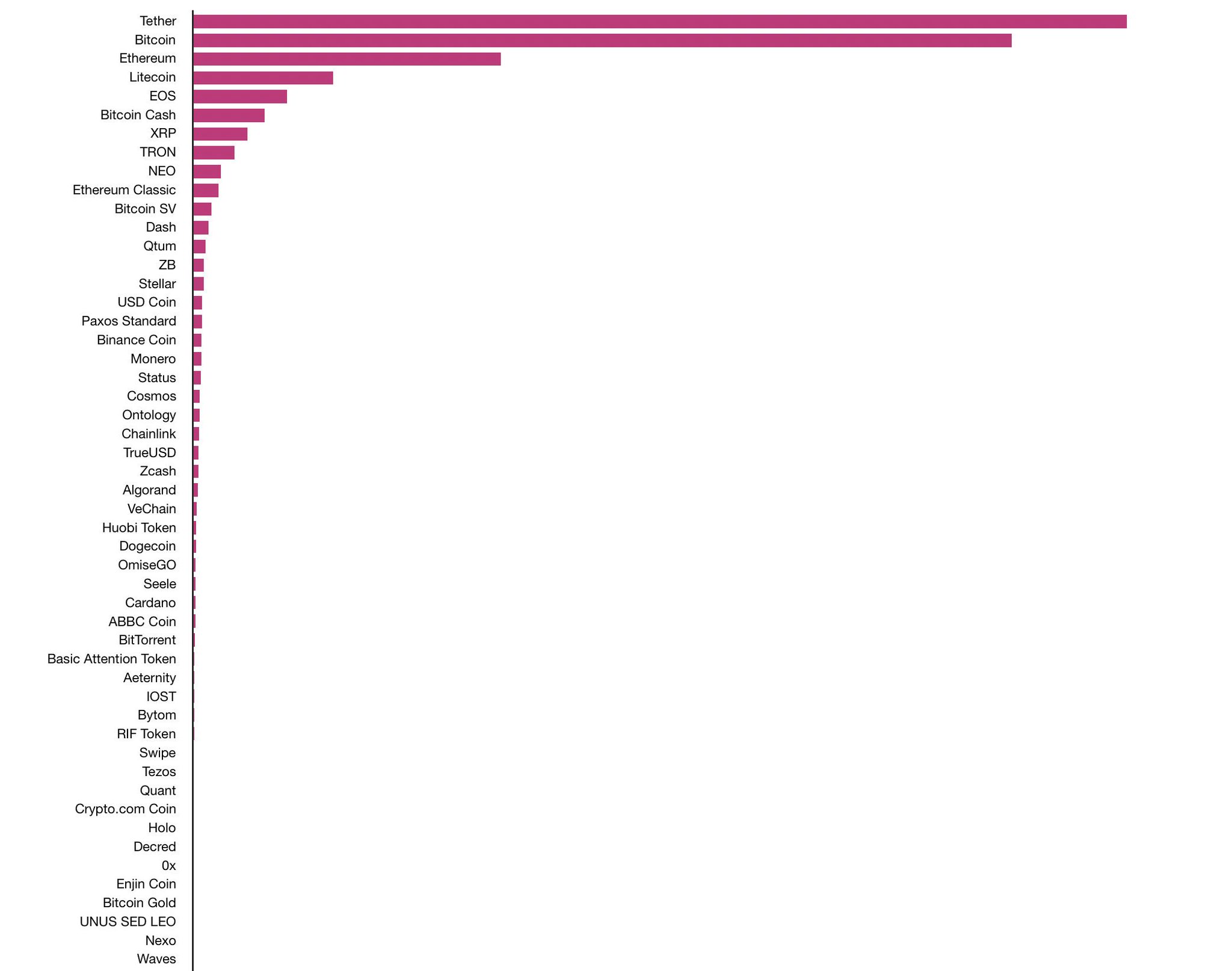 (Source: Twitter)
"Investors want liquidity at entry and liquidity on exit. Very few coins have credible liquidity to be good investments," he wrote.
Not everyone looking for asset allocation
In a follow-up tweet, Woo explained that there were two types of investing—asset allocation and tech investing. Those looking to allocate some of their assets and gain exposure to crypto would steer clear from illiquid coins and put their money into large market cap cryptos such as Bitcoin.
Those looking to invest in early tech companies are opting for a much higher risk, with Woo saying there was only a 5 percent chance of returning such an investment. According to him, Bitcoin is the go-to crypto for exposure to the sector, while the rest are "startup bets."
However, Woo's statements weren't well-received by the crypto community. Erik Voorhees, the CEO of ShapeShift, said that it wasn't a fair comparison as most of the projects he listed were less than three years old.
Others pointed out that the volume of the top three coins on Woo's chart—USDT, BTC, and ETH—might be distorted, as all three are considered to be entry pairs to other cryptocurrencies.
Some said that liquidity in itself shouldn't be a determining factor as to whether or not one invests in a crypto project. A user pointed out that liquidity was irrelevant, as the notorious Ponzi scheme BitConnect had liquidity, but Chinese Ethereum competitor NANO didn't.
Like what you see?
Subscribe for daily updates.