Even after 94% crash, analyst warns XRP may not ever rally again: here's why
This article is 3 years old...
Even after 94% crash, analyst warns XRP may not ever rally again: here's why
with insights from
Peter Brandt
Ever since the highs of the 2017-2018 bull market, XRP has not done too well. The third-largest cryptocurrency by market capitalization, per data from TradingView.com, has collapsed by more than 94 percent from its all-time high around $3.40. Last month, the asset was at three-year lows.
For some context: Bitcoin, from its all-time high, is down around 62 percent, which means it is outperforming the altcoin by hundreds of percent. 
This comes in spite of the many positive developments that XRP and Ripple — the fintech company closely affiliated with the cryptocurrency — have experienced over the past few years.
Stark juxtaposition aside, digital assets traders, such as one "Credible Crypto," are so convinced of XRP that they recently brought up price predictions of "$10, $15, or $20" — prices literally thousands of percent higher than the current market price of $0.195.
The sentiment, top analysts have said, is too bullish.
XRP might end up like other "promising tech" assets, dead
The reason why there are so many traders still convinced that XRP will rally thousands of the percent in the future is that they think the cryptocurrency is predicated on "promising technology."
While this might be true, a pseudonymous derivatives trader with the moniker "Cantering Clark" says that this doesn't mean it will rally in the future, sharing the charts of assets that had "promising tech" but failed to ever rally after their initial market cycle.
In short, these assets died, in spite of the promising technological developments their founders promised.
Referencing how the charts below look like XRP, Cantering Clark wrote:
"Here are just a few of the hundreds of 10-year charts you can find for 'promising tech'. See a similarity? Many of these same charts have forums of people still talking about the recovery to come."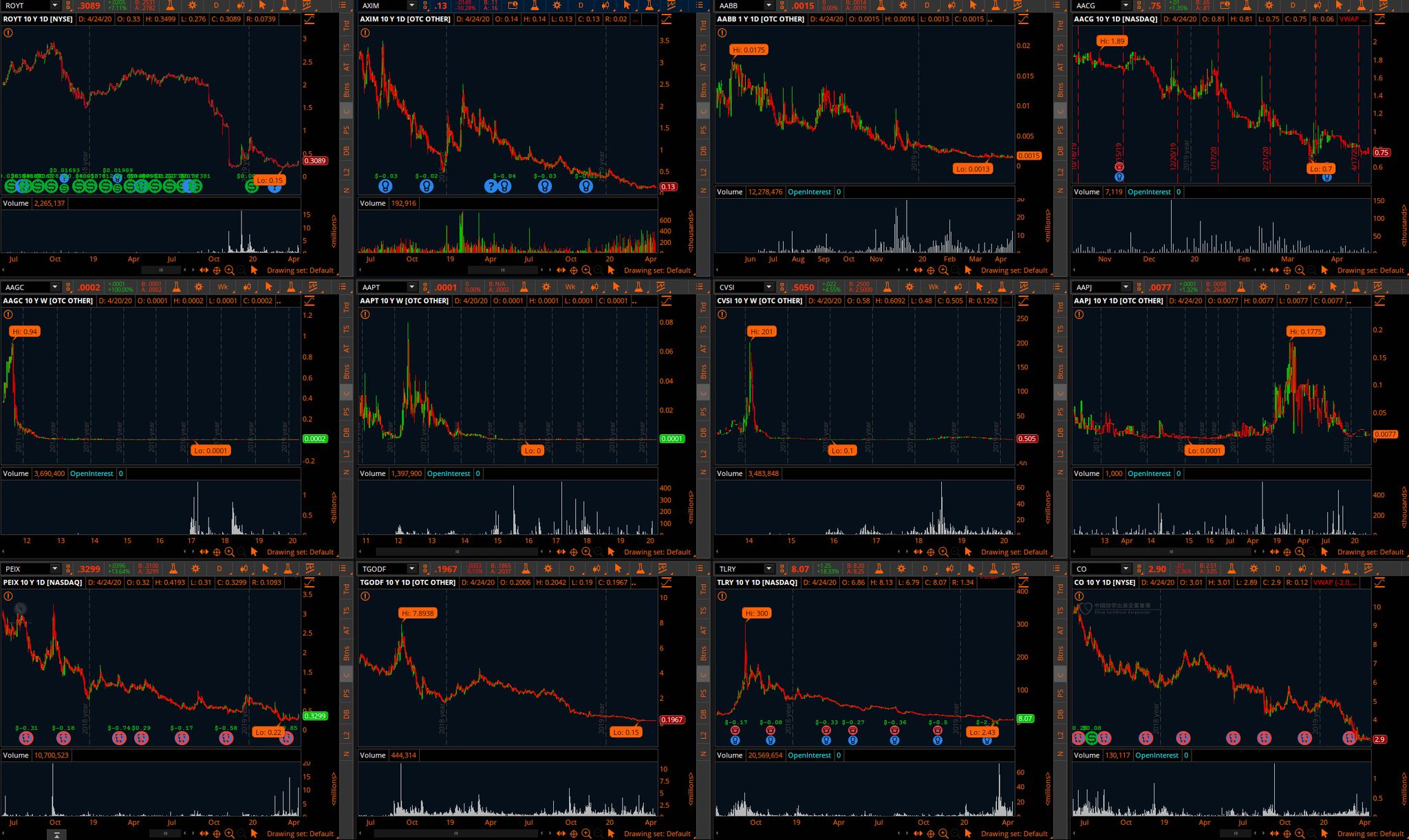 The trader continued that from how he sees it, those still clutching onto a hope that XRP will rally have become subject to the "spell of cognitive biases" due to their emotional attachment to their investment in the cryptocurrency.
Watch out below
It isn't only Cantering Clark that has recently tried to throw cold water on the ever-bullish group of XRP investors.
In the wake of March's crypto crash, Peter Brandt — a veteran commodities trader and long-term Bitcoin bull — remarked that XRP's chart is currently looking extremely bearish from a macro perspective because there is only "white space below" its price, with little historical support or liquidity.
I am breaking a promise.

I said I would never again post a chart of $XRP

But, I thought you all might be interested in what it means to have …

"While space below" pic.twitter.com/Pse2DkEXfp

— Peter Brandt (@PeterLBrandt) March 12, 2020
While Brandt didn't convey a prediction for XRP in accompaniment with the chart, many took this as a sign that he sees the cryptocurrency falling to a price in the single-digit cents, and maybe even lower, if selling pressure persists.
At the time of press, XRP is ranked #3 by market cap and the XRP price is up 1.15% over the past 24 hours. XRP has a market capitalization of $8.71 billion with a 24-hour trading volume of $1.88 billion. Learn more ›
$0.20
1.15%
Market summary
At the time of press, the global cryptocurrency market is valued at at $221.89 billion with a 24-hour volume of $143.27 billion. Bitcoin dominance is currently at 63.84%. Learn more ›