Market data indicates OKEx whales are expecting Bitcoin to spike past $14k
This article is 3 years old...
Market data indicates OKEx whales are expecting Bitcoin to spike past $14k
Bitcoin is spiking higher once again as buyers continue to rush in.
According to CryptoSlate market data, the price of Bitcoin currently trades for $13,680, its highest price this year, and a price just shy of 2019's high at $14,000.
Analysts are optimistic that Bitcoin will continue its rapid ascent in the near future due to underlying market trends that are forming. For one, a leading crypto-asset analyst noted that order books show there is little limit order resistance past $14,000.
Bitcoin could soon spike past $14,000, order book data shows
$14,000 has long been a pivotal level for Bitcoin.  In 2019, Bitcoin topped at that level almost perfectly, resulting in a rapid 20-25 percent correction in the days that followed. And in December 2017, the December chart candle and the 2017 chart candle closed at $14,000.
As a result of this precedent, analysts expect Bitcoin to have difficulty in breaching $14,000 once it reaches that price level.
But according to the pseudonymous trader "Light," OKEx order book data shows that investors are pulling their "asks" as investors price in a rapid rally:
"OKEx futures orderbook asks being pulled/executed at market in last few days as BTC consolidates. A move above $14k in near term is increasing in probability."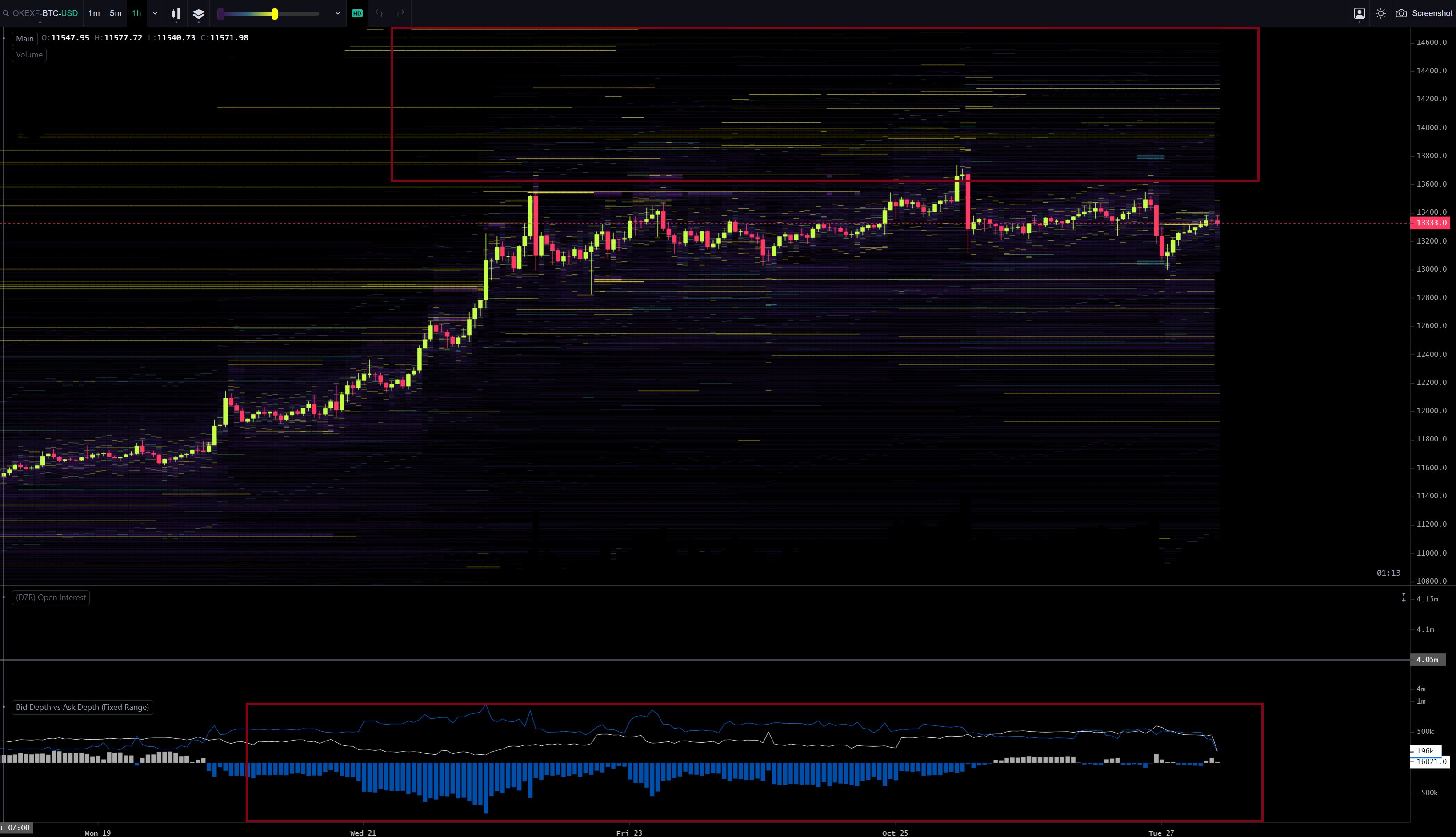 OKEx's order book is seen as important by many traders as that is where many whales in Asia trade their stacks. Some analysts say that OKEx has the most important order book in the Bitcoin market, or at least only second to Bitfinex.
It is unclear how the exchange's freezing of withdrawals is affecting the psychology of traders on the platform. Still, OKEx has asserted that all user funds are safe and will eventually be returned after a proper solution is implemented.
A notable breakout
Analysts believe that Bitcoin breaking above $14,000 will result in a strong shift in the crypto market structure.
As reported by CryptoSlate, Qiao Wang, the head of product at Messari and a noted crypto analyst, said that Bitcoin breaking $14,000 will bring a new "regime" of price action:
"Once BTC breaks $14k, we'll likely be in a different regime in terms of volatility, momentum, retail participation, and so on. A lot of things that worked last few months may no longer work and vice versa. $20k will take this regime to a whole new level. Just a hunch. We'll see."
To expand on this further, market data indicates that there is little Bitcoin futures volume that has been traded above $14,000.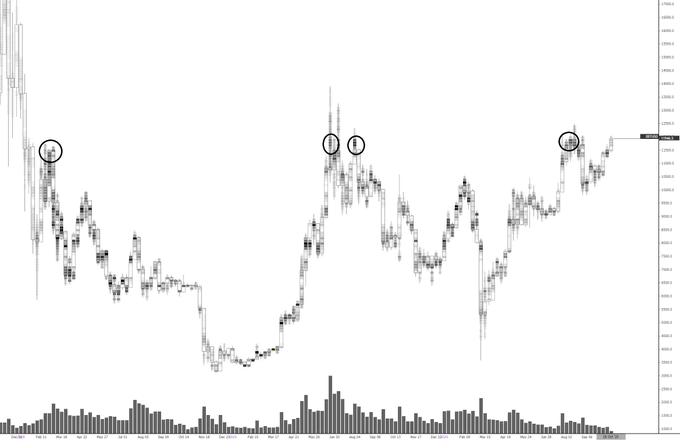 As a result, some have suggested the coin will enter "price discovery," where there will be immense volatility as the market tries to correctly price Bitcoin with little historical data to trade off of.
At the time of press, Bitcoin is ranked #1 by market cap and the BTC price is up 5.32% over the past 24 hours. BTC has a market capitalization of $252.94 billion with a 24-hour trading volume of $31.83 billion. Learn more ›
$13,651.82
5.32%
Bitcoin On-Chain Analysis
Market summary
At the time of press, the global cryptocurrency market is valued at at $406.6 billion with a 24-hour volume of $93.46 billion. Bitcoin dominance is currently at 62.23%. Learn more ›