The Ethereum blockchain recently experienced a spike in the number of ERC-721 transfers made on a single day. The surged appears to be related to a particular decentralized application (dApp) on its network that is taking off.
6 million tokenized items
On Nov. 17, Ethereum saw the number of ERC-721 transfers on its network reach an all-time high of over 3.7 million transfers on that day alone. This represents a 400 percent increase from the previous all-time high of 846,000 ERC-721 transfers, which took place a couple of weeks before, according to crypto data provider Coin Metrics.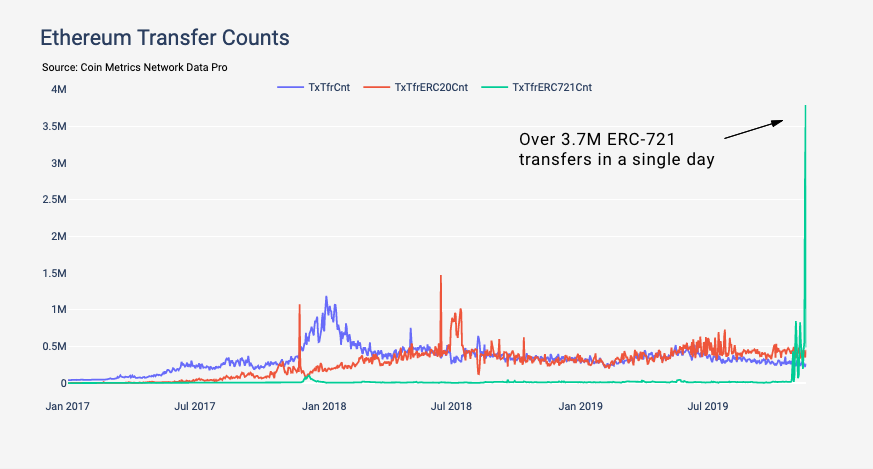 The spike in the number of ERC-721 transfers on the Ethereum protocol appears to be related to a decentralized gaming application running on the network.
Gods Unchained is a trading card game that is built on top of the Ethereum blockchain. Each card that is used to play represents an ERC-721 token on Ether's network. This gives users true ownership of their virtual cards, which they can freely trade on the open market.
According to the senior research analyst at Coin Metrics, Nate Maddrey, the decentralized gaming application has been "blowing up." The rise in popularity comes after its main competitor, Hearthstone, banned a popular professional player from its platform for supporting the Hong Kong protests.
As Gods Unchained offered to pay for all of the lost winnings of Wai Chung, the banned Hearthstone's player, its popularity took off.
Maddrey said:
"Since [the incident], Gods Unchained sold out their Genesis Card Pack for a total of 33,333 ETH, equivalent to about $6.2 million. Gods Unchained may be early evidence that gamers are starting to care more about owning their in-game assets, and that a larger shift could be on the horizon."
Network utilization
Gods Unchained is in the process of making each one of its 6 million virtual cards tradable tokens. And, the number of ERC-721 transfers seen on the Ethereum network is correlated with this "activation" process, which began early this month. Players will be able to trade their digital cards in the open market instead of just being able to use them in the game.
Despite the bold move to tokenizing 6 million assets, the Ethereum protocol has not been affected. The network utilization has been hovering below 80 percent since the beginning of October. Coin Metrics stated that Gods Unchained has been batching hundreds of transfers in single transactions, which is able to keep the network unclogged.
Even with the limitations on the Ethereum blockchain that have impeded it from realizing its potential as a widely adopted "world computer," Gods Unchained was able to tokenize 6 million digital assets without a problem. It seems like after all many of the scaling issues that have been brought up about ETH can be prevented by implementing good practices when transferring tokens.  It remains to be seen if Tether would also batch its transactions as it continues to migrate USDT tokens to the Ether protocol.
Get an
edge

on the cryptoasset market

Access more crypto insights and context in every article as a paid member of CryptoSlate Edge.

On-chain analysis

Price snapshots

More context

Join now for $19/month Explore all benefits
Like what you see?
Subscribe for updates.