An "OG" Bitcoin holder shilled an altcoin a conference, and nobody is all too pleased
An "OG" Bitcoin holder shilled an altcoin a conference, and nobody is all too pleased
Last weekend, some of the world's most outspoken Bitcoin proponents and analysts descended on Las Vegas.
Last weekend, some of the world's most outspoken Bitcoin proponents and analysts descended on Las Vegas. The reason: Tone Vays, the Wall Streeter-turned-cryptocurrency analyst was hosting a "Bitcoin not blockchain" conference and a "celebrity" poker tournament in a weekend he dubbed "Unconfiscatable," a reference to the decentralized nature of BTC.
The list of attendees was stacked: Vays himself, programmer Jimmy Song, Adaptive Capital's Willy Woo, outspoken libertarian Max Keiser, content creator Peter McCormack, and many others.
The list also included Trace Mayer, a somewhat elusive figure in Bitcoin circles, seemingly appearing at few conferences compared to his counterparts on the list.
Mayer is a long-time investor, having shilled the cryptocurrency via his online platforms when the asset was under $5, before 2012. He is also a "HODLer of Last Resort," BTC owners that purport to never sell their coins. Like never.
Because of his commitment, many were excited to see him, including American HODL, a pseudonymous commentator that has been blocked on Twitter multiple times for his antics whose entire persona is built on, well, HODLing Bitcoin.
Unfortunately, attendees purport that Mayer isn't what they expected, and they aren't too pleased because of that.
Drop Bitcoin, buy MimbleWimble Coin?
In the wake of Unconfiscatable, American HODL, who has since restarted his Twitter account (and thus the relevant tweet was deleted), was languishing on Twitter.
Through a very direct tweet, he said that after talking with Trace Mayer for an hour, he had lost faith in the individual, claiming that Mayer "was" his hero and idol. The reason: Mayer was going around at the conference purportedly promoting some altcoin called Mimblewimble Coin (MWC). The commentator elaborated:
"He spent that hour shilling me mimblewimblecoin [sic]. To say I'm disappointed would be an understatement."
According to Giacomo Zucco, a prominent Bitcoin maximalist who was also in attendance at the event, the shilling also took the form of the below piece of fortune cookie fortune-esque paper.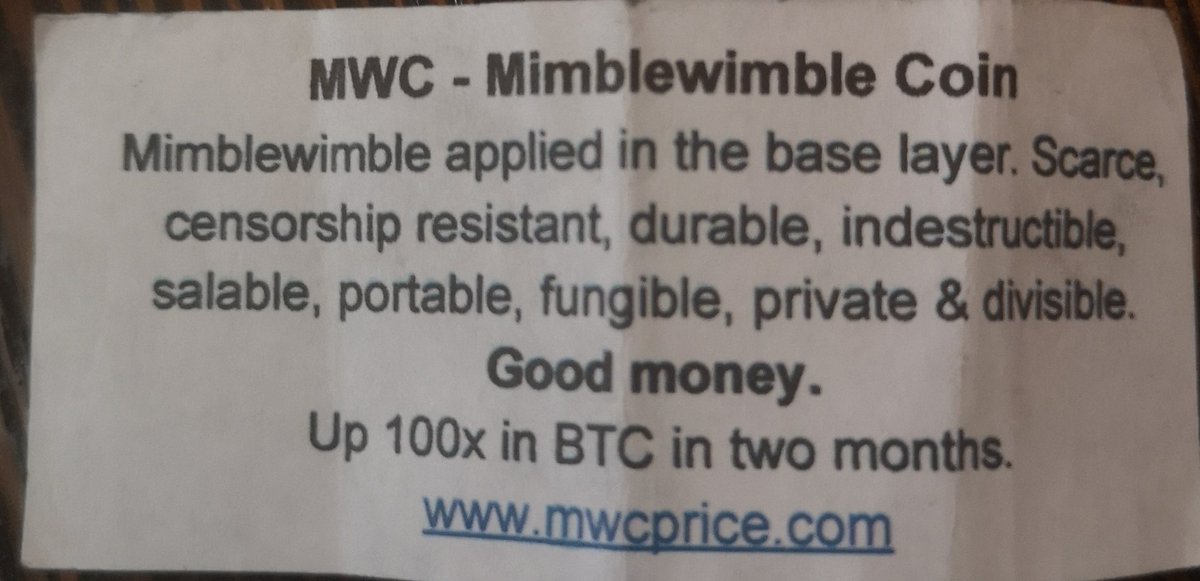 Many were immediately taken aback by the contents of the message, which touted MWC as "Good money" and a profitable altcoin that is up "100x in BTC [terms] in two months." Zucco himself wrote:
"People spend effort, time & money to organize educational events about Bitcoin, while having a good laugh at shitcoin scams. Then somebody takes advantage of all that effort to distribute promotion codes for his own pump&dump scam."
Many prominent names in the Bitcoin space shared and bumped Zucco's tweet, including individuals like Hodlonaut, Stephan Livera, Mr. Hodl, and others. Others included their own commentary on the situation, making comments on how it's important not to have heroes in Bitcoin, why the concept of trust is so relevant to cryptocurrency, and so on.
It isn't clear exactly how Mayer distributed the above message, though some have joked that he might have been passing them out as if they were contraband, subtly slipping the paper into the hands of people he talked to.
And importantly, it appears that the tweets from Zucco and American HODL aren't a concerted attempt to slander Mayer's character or person either. Seven minutes into the below Youtube video in which the long-time Bitcoin owner is interviewed, Mimblewimble Coin is mentioned.
What the hell is Mimblewimble Coin?
This may leave you wondering, what is MWC?
MWC, which was literally just listed on CoinMarketCap on Feb. 23, is an extremely new crypto project that leverages the technology it's named after, Mimblewimble, and others to improve scalability and privacy. As an excerpt from the project's site reads:
"MWC is a scarce pure proof of work Mimblewimble based coin that enables greater network scalability, privacy and fungibility than legacy blockchain protocols. All transactions on the base layer use Greg Maxwell's Coin Join with his Confidential Transactions and signature aggregation. MWC is the technologically superior ghost money."
It isn't exactly clear who is behind the project.
What happens in Vegas, uh, doesn't stay in Vegas
As it stands, Mayer has yet to respond to the recent criticism he has faced from many corners in the Bitcoin community; his Twitter account remains silent, with its last post being published on February 18th.
Unfortunately, it seems that the age-old tagline "What Happens in Vegas, Stays in Vegas" didn't seem to apply to the going-ons of Unconfiscatable, an event focused on discussing the censorship-resistant Bitcoin.
How fitting. How fitting.