After Ethereum tokens surge, veteran trader Peter Brandt asks if Stellar Lumens (XLM) is next
🚨 This article is 3 years old...
After Ethereum tokens surge, veteran trader Peter Brandt asks if Stellar Lumens (XLM) is next
with insights from
Peter Brandt
After trading somewhat in tandem with Bitcoin and Ethereum over recent weeks, which are flat on a macro scale, Stellar Lumens (XLM) saw a strong breakout on Jul. 16 that brought the asset up by over 10 percent, CryptoSlate data shows. As of this article's writing, the cryptocurrency trades above $0.10.
Even still, the asset is not yet in a decisive bull trend that altcoins like Chainlink and Cardano have found themselves in.
According to Peter Brandt, a commodities trader with decades of experience, though, XLM's outlook may soon change due to a positive technical setup.
Stellar Lumens (XLM) is poised to rally higher, technicals and fundamentals show
Prior to Jul. 16's move that brought Stellar Lumens 10 percent higher, Peter Brandt shared the chart below. Attached to the chart, he asked: "Will $XLM Stellar Lumens be the next alt-coin to pump?
This comment came shortly after he suggested the altcoins could undergo some bullish price action that allows them to gain against Bitcoin.
Brandt's chart shows that XLM broke out of an inverse head and shoulders pattern, often seen at the bottom of a bear trend to mark a reversal. The chart also indicates that the cryptocurrency broke above a descending channel that has confined its price action since 2018 and above a crucial horizontal at $0.089. The latter has held as resistance since the middle of 2019.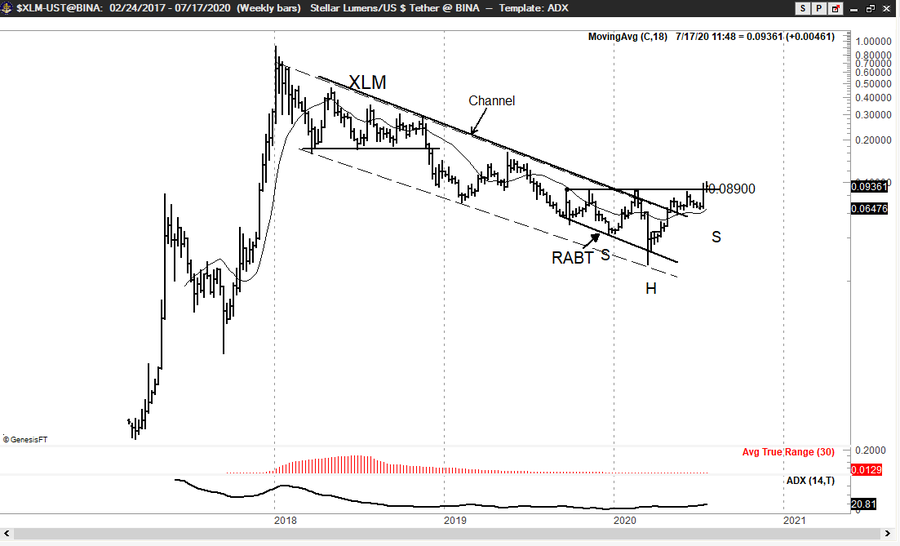 As we now know, just a day after he published this chart, Stellar Lumens underwent the 10% rally that allowed it to retake $0.10.
While technicals may have played a part, this bullish price action can be attributed to news that Samsung's crypto-enabled devices will now have Stellar Lumens integrated. The technology this will be enabled through is the Samsung Blockchain Keystore, a digital asset wallet for some of the firm's devices in certain jurisdictions that allows for the secure holding of cryptocurrency.
Although this may not be Samsung the corporation using Stellar technology, this announcement has sparked "encore spikes" in social volume, data from blockchain analytics firm Santiment has recently shown.
Time for Bitcoin to shine
Although XLM may be primed to rally even higher, some analysts think it is time for Bitcoin to shine after the short-term "altcoin season" that the market has experienced in recent weeks.
One prominent crypto trader shared this chart below of Bitcoin's dominance metric, the percentage of the cryptocurrency market made up of BTC.
He believes that the metric is currently in a corrective downtrend that will eventually revert to the upside, crushing altcoins as 2020 comes to a close. The trader believes that this will be triggered by a sell-off in the cryptocurrency market, where Bitcoin will outperform altcoins due to its relative stability, liquidity, and narratives.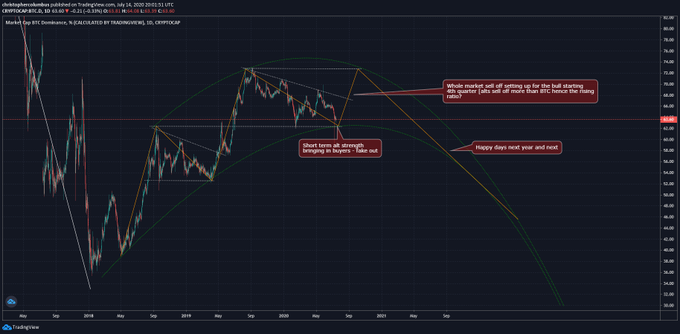 The trader who shared the chart below is the same one who predicted that Bitcoin would bottom 2019's bear trend at $6,400 months before it bounced at that exact level.
XLM Price & Market Data
At the time of press, Stellar is ranked #14 by market cap and the XLM price is up 7.31% over the past 24 hours. XLM has a market capitalization of $2.12 billion with a 24-hour trading volume of $571.39 million. Learn more about XLM ›
$0.10
7.31%
Market summary
At the time of press, the global cryptocurrency market is valued at at $270.23 billion with a 24-hour volume of $50.05 billion. Bitcoin dominance is currently at 62.33%. Learn more ›