Research: Inflation rate of XRP was 400% higher than that of Bitcoin over past 12 months
This article is 3 years old...
Research: Inflation rate of XRP was 400% higher than that of Bitcoin over past 12 months
with insights from
Messari
Most top crypto assets share similar characteristics — they're mostly decentralized, global, non-sovereign, and permissionless assets not tied to a real-world asset. Where cryptocurrencies largely differ, then, is in their monetary policy — or in some cases, their lack thereof.
A researcher at Messari recently remarked that the inflation rate of XRP's supply is hundreds of percent higher than that of Bitcoin or Ethereum.
The high inflation rate of XRP's supply compared to Bitcoin
According to Florent Moulin — part of the research and product team at crypto research firm Messari — his firm's data indicates that the supply of XRP was inflating at a much higher pace than that of other top cryptocurrencies all throughout the past 12 months.
He reported that the third-largest cryptocurrency had a supply inflating at a rate of 20 percent over the last year — "five times higher than [that of] BTC" prior to the halving.
To put 20 percent into some context, the inflation rate over the past 12 months of Tezos (XTZ) was 13 percent, 5.1 percent for Litecoin, and 4.7 percent for Ethereum. (Also, most established fiat currencies have an inflation rate of 1-3 percent each year, though the way central banks determine the inflation of, say, the U.S. dollar is not growth in the supply of money.)
As a pertinent note, Messari is somewhat of a topic of controversy within the XRP community because of how it treats the cryptocurrency in terms of calculating supply and inflation.
No effect on its price?
The large quantity of XRP being thrust into the market might be depressing its price action relative to other cryptocurrencies, Moulin strongly implied when he wrote the following in reference to the inflation data:
"Only 30% of XRP max supply has been distributed, vs 87.5% for BTC. BTC is up 20% since last year, XRP is down 47%."
XRP circ supply inflation rate (20%) is the highest among large-cap assets over the past year, 5 times higher than BTC pre-halving.

Only 30% of XRP max supply has been distributed, vs 87.5% for BTC

BTC is up 20% since last year, XRP is down 47%.https://t.co/NRtXm0QpGE

— Florent Moulin (@fmoulin7) May 21, 2020
Kyle Samani of prominent crypto fund Multicoin Capital corroborated this narrative. Speaking to Bloomberg about the sales of XRP by Ripple, a company that uses the cryptocurrency and owns much of the supply of the cryptocurrency in escrow reserves:
"The company has been steadily increasing their sales of XRP over the previous three quarters, likely inflicting downward price pressure on XRP. Savvy investors have known this for some time; however, for whatever reason the market is just now picking up the narrative and reacting."
Samani and his fund have been publicly short/bearish XRP for a while now, with the inflation narrative seemingly being one of the core reasons why Mutlicoin Capital is bearish.
Still, the executives of Ripple claim that the coins they sell, which constitutes the inflation of XRP, don't have a tangible effect on the underlying market. Or at least not much more of an effect than a Bitcoin whale has on the BTC market.
After prominent industry investors like Samani brought up the inflation narrative as a reason to be bearish on the altcoin, Brad Garlinghouse, chief executive of Ripple, said to CNN regarding his company's sales of XRP:
"In the XRP community, Ripple is the largest owner, and we are the most interested party in the success of the XRP ecosystem. […] Ripple can't control the price of XRP anymore than a whale controls the price of Bitcoin."
Garlinghouse added in a tangentially related Twitter comment published around the same time as the interview that the funds earned through the sales of XRP are actually put to good use:
"XRP sales are about helping expand XRP's utility – building RippleNet & supporting other biz building w/XRP ie Dharma & Forte."
Top analysts largely bearish on the cryptocurrency
Even in spite of the reassurances of the Ripple executives, many analysts are extremely bearish on the long-term prospects of the top altcoin.
Prominent crypto derivatives trader "Cantering Clark" recently likened XRP's macro chart to that of assets that had "promising tech" but failed dramatically after their initial surge in popularity.
"Here are just a few of the hundreds of 10-year charts you can find for 'promising tech'. See a similarity? Many of these same charts have forums of people still talking about the recovery to come," the analyst wrote in reference to the collage of charts below.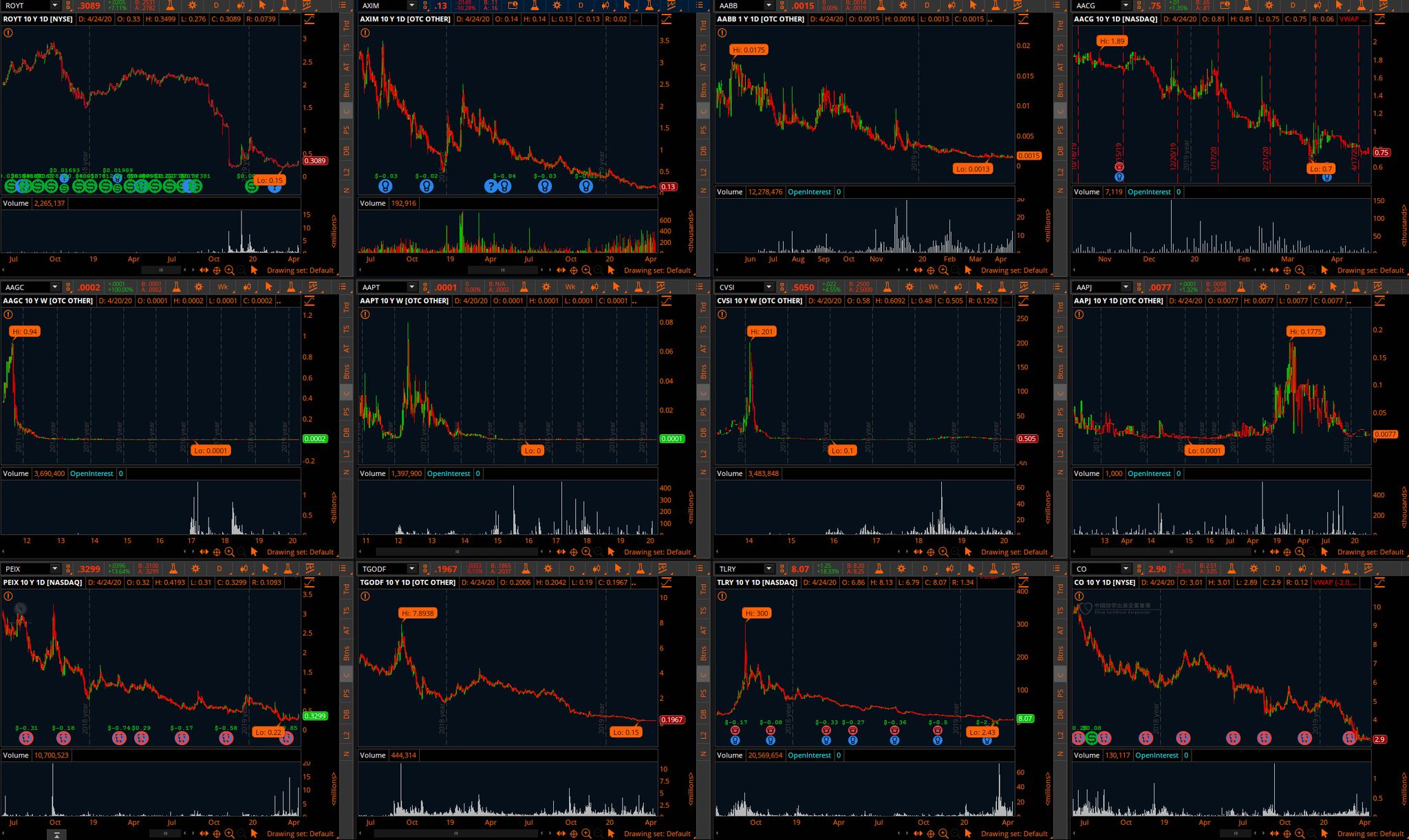 He continued that from his perspective, those still holding onto the hope that XRP will surge in the long run have become subject to the "spell of cognitive biases" due to their emotional attachment to their involvement in the cryptocurrency.
The bearish sentiment has been shared by Peter Brandt — a veteran commodities trader and long-term Bitcoin bull — who recently shared that XRP's chart is looking extremely bearish because there is only "white space below" the current price.