Bitcoin is back above the $8,500 barrier signaling a potential further advance. On Jan. 19, Bitcoin reached a yearly high of $9,170. The milestone served as a take profit point for many investors triggering a retracement.
Since then, the flagship cryptocurrency pulled back 10 percent to hit a low of $8,250 on Jan. 24. This price level is where the 128-four-hour moving average sits, which was able to hold BTC from a further correction. As a result, Bitcoin bounced off this price hurdle gaining over 3 percent of the value it had lost.
The recent upswing allowed Bitcoin to break above the 100-four-hour moving average, based on the 4-hour chart. A further increase in the buying pressure behind the pioneer cryptocurrency could result in a retest of the 50-four-hour moving average that sits at $8,670.
Nevertheless, a falling wedge appears to be developing under the same time frame. This technical formation signals a price reversal from bearish to bullish, but Bitcoin could still make a lower low before breaking out of this pattern.
Thus, BTC could retest the 128-four-hour moving average. If demand picks up around this level, then this cryptocurrency could try to retest the $9,000 resistance zone.
Closing below the 128-four-hour moving average, however, could signal a steeper decline to the 200-four-hour moving average. This level of support sits around $7,900.
Moving forward
According to IntoTheBlock, over 63 percent of all Bitcoin addresses hold BTC for more than a year. Meanwhile, the remaining 37 percent hold this cryptocurrency for 1 to 365 days. The massive amount of "hodlers" in the space could indicate that investors understand the economics behind the flagship cryptocurrency and are expecting higher prices in the future.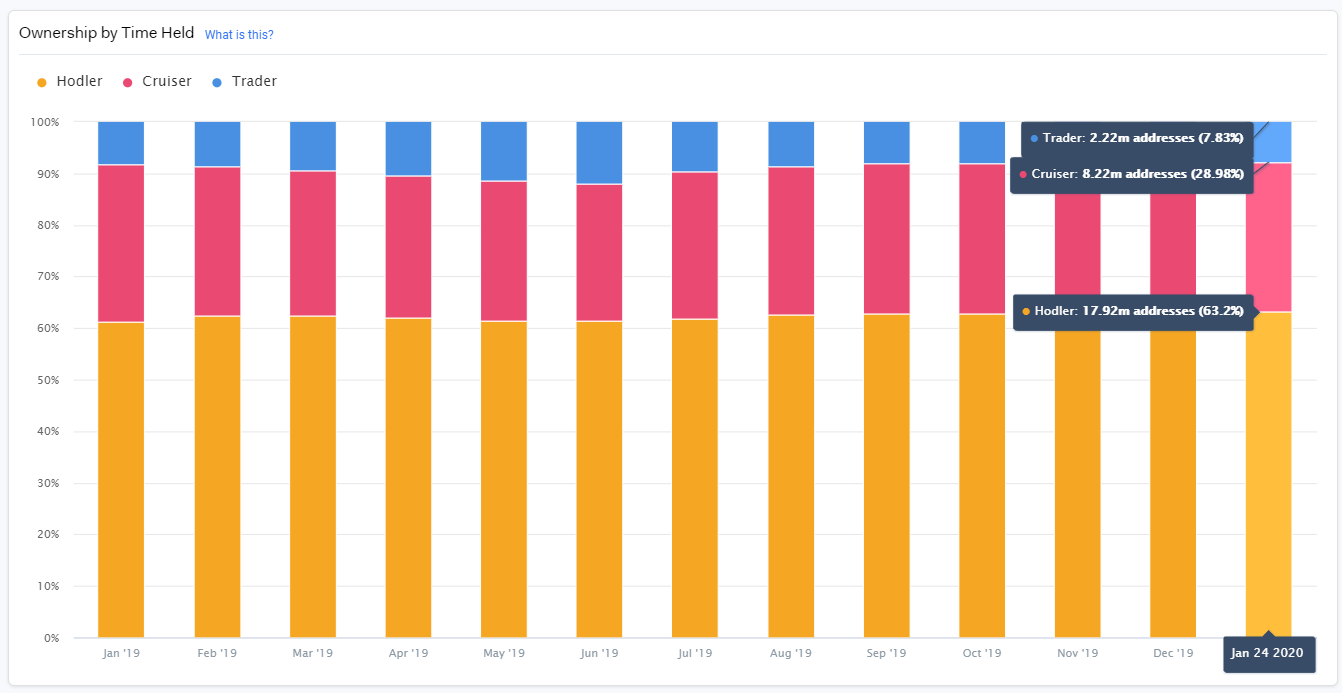 Although Bitcoin could certainly pull back from the current price levels, several technical indicators estimate that it could have entered a new bull run, from a long-term perspective. Now, it remains to be seen whether demand for BTC will increase allowing it to break the $9,000 resistance level. Such a bullish impulse could trigger a stage of FOMO (fear-of-missing-out) among investors pushing the pioneer cryptocurrency to higher highs.
Updated: Jan 24 at 6:13 pm UTC
Bitcoin, currently ranked #1 by market cap, is up 1.46% over the past 24 hours. BTC has a market cap of $154.16B with a 24 hour volume of $24.42B.
Chart by CryptoCompare
Posted In: Bitcoin, Price Watch, Technical Analysis