Analysis
On-chain data: Chainlink (LINK) is vulnerable to stark drop after 150% rally
Like other cryptocurrencies, Chainlink has embarked on a stunning recovery over the weeks since March's capitulation event on March 12th.
Like other cryptocurrencies, Chainlink has embarked on a stunning recovery over the weeks since March's capitulation event on Mar. 12th.
From the 2020 lows at $1.50, LINK has gained a jaw-dropping 158 percent, rallying from those levels to a high just shy of $4.00 this past week. This is one of the strongest performances in the cryptocurrency market over that same time period; Bitcoin, for instance, has rallied a relatively weak 100 percent from the March lows.
Unfortunately for bulls, both technical and on-chain factors suggest that Chainlink is now vulnerable to a stark correction after the rally, despite the existence of a confluence of strong news events.
Chainlink could soon see a price correction, on-chain data and analysts say
IntoTheBlock, a crypto-asset intelligence company, reported that on-chain signals show Chainlink is "mostly bearish" as of Apr. 25.
The company registered that three of its proprietary metrics are suggesting LINK investors should be cautious in the near-term.
Currently, there is a strong bid-ask volume imbalance, with there being much more selling pressure than bullish volume at the moment, indicative of a distribution pattern near a market top.
To add to this, IntoTheBlock also reported that there has recently been a bearish reduction in the positions of large LINK holders, further corroborating the narrative of an imminent drop.
The technicals also show there is merit to a short-term correction.
A pseudonymous cryptocurrency trader recently shared the harrowing chart seen below. It shows that despite the rally, LINK is registering three technical signs that are suggestive of an impending drop:
The altcoin is trading in a rising wedge, a textbook pattern that more often than not resolves to the downside
LINK has been rejected multiple times by an important horizontal level around $4.00, failing to close above it to confirm a resistance-support flip
And, trading volume on some exchanges has remained low, even amid the breakout.
These are all tell-tale signs, the trader explained, that Chainlink could revisit $3.00 in the coming weeks, which would be a more than 20 percent correction from the current market price of $3.82.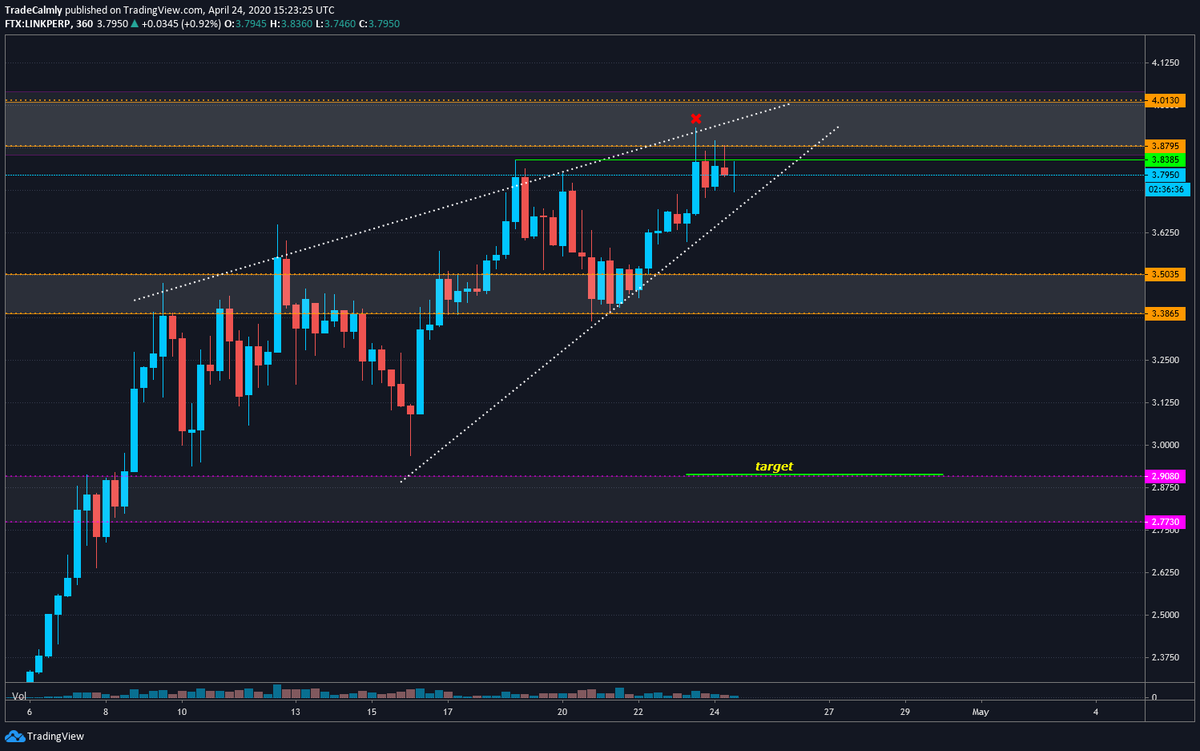 Fundamental developments could outweigh LINK's bearish factors
Despite the potential for a move lower, the fundamentals of LINK have only improved over the past few weeks, which is likely why the cryptocurrency has registered a more than 150 percent gain since the March lows. These fundamentals may be enough to outweigh the bearish technical and on-chain factors.
Per previous reports from CryptoSlate, Chainlink was just added to Gemini, the New York-based crypto exchange run by the Winklevoss Twins, some of the most prominent Bitcoin bulls.
This listing, which also sees five other digital assets now supported by the platform, came shortly after Gemini CEO Tyler Winklevoss said:
"I really appreciate the passion of the LINK Marines. Their fervor and dedication reminds me of the early Bitcoin and Ethereum communities. Unlike many other crypto armies, they are dedicated to a project that has real promise and technical merit."
Also in the vein of the adoption of the popular cryptocurrency, ParaFi Capital, a crypto fund, has proposed that LINK should be supported by the Ethereum-based DeFi platform MakerDAO, because Chainlink is the 11th largest cryptocurrency and because the project has seen mounds of support within the DeFi community.
The discussion of LINK being added to Maker garnered much steam that Rune Christensen, founder of MakerDAO, wrote:
"Even assets that are correlated with ETH, like LINK, would help to source more Dai generation and help with restoring the peg and DSR."
It isn't easy to quantify what effect this move would have on LINK, but crypto research firm Weiss Crypto Ratings remarked that it is very likely to increase the "utility" of Chainlink and feed into the project's "network effects and positive feedback loops."
CryptoSlate Newsletter
Featuring a summary of the most important daily stories in the world of crypto, DeFi, NFTs and more.
Get an
edge

on the cryptoasset market

Access more crypto insights and context in every article as a paid member of CryptoSlate Edge.

On-chain analysis

Price snapshots

More context

Join now for $19/month Explore all benefits