Most of the 20 crypto firms worth over $1 billion apiece are based in Asia
This article is 3 years old...
Most of the 20 crypto firms worth over $1 billion apiece are based in Asia
There is no denying the sentiment that the U.S. is the global hub of technology and financial innovation. American innovators are behind the world's biggest companies, Amazon, Apple, Google, and more. Even with small-scale startups, talent is centralized in America.
But it's a whole different story for crypto and blockchain.
Instead of the U.S. dominating crypto innovation, it's Asia, a crypto investor has found. Though this is subject to change over the coming years as regulatory regimes shift with the changing political and economic tides.
There are 20 crypto "unicorn" companies — and most are in Asia
For some weird reason, whenever a startup reaches a valuation of $1 billion or more, it's branded a "unicorn." Once a company hits a $1 billion valuation, some argue, the early-stage risks it once faced are gone.
Per an analysis by Polychain Capital's Niraj Pant, there are 20 such unicorns in the crypto space. The list, seen below, includes recognizable names such as BitMEX, Binance, Coinbase, Kraken, Digital Currency Group, and the rest of the usual suspects.
Less recognizable but still notable names such as Bitfury, Canaan Creative, Upbit, and Liquid have joined the crypto unicorn class as well, according to Pant's research.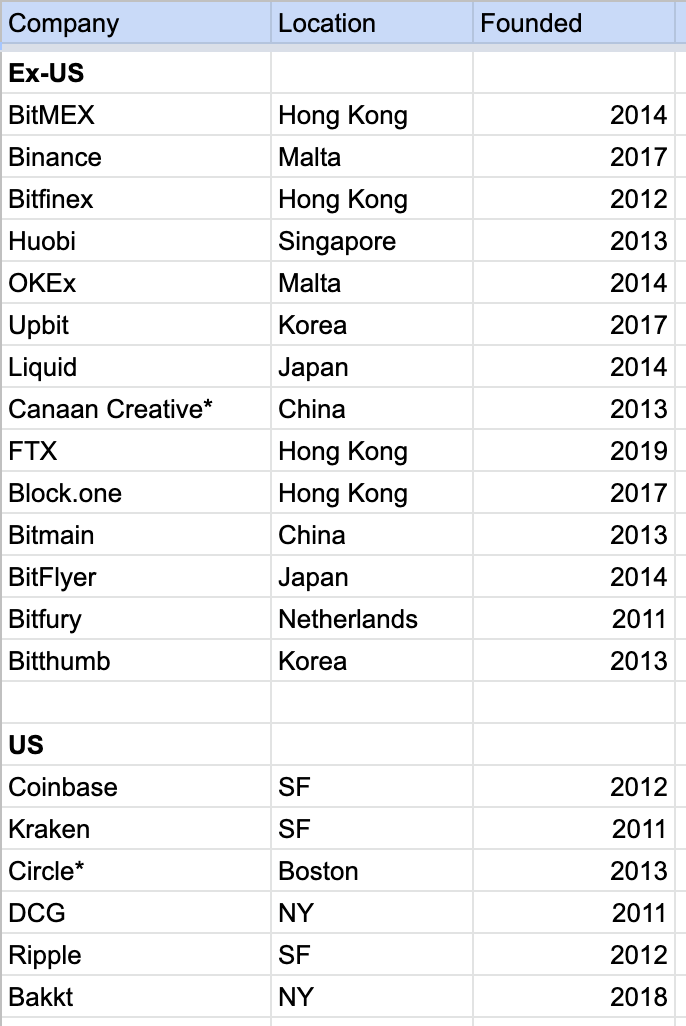 What's especially notable about this data, the Polychain Capital partner noted, is that a majority of the firms are domiciled or have headquarters in Asia. That's not to say that other regions don't have talent, but 11/20 companies on Pant's list are based in one of five places: Hong Kong, Singapore, Japan, South Korea, or China.
As to why Asia is taking the lead, the investor cited three trends:
Open financial regulation, which is especially pertinent to Singapore and Hong Kong.
Access to hardware and manufacturing.
Strong retail trading interest.
Repatriating innovation to the U.S.
There are many potential reasons why crypto startups are hesitant to centralize their operations in the U.S. — maybe they're scared away by relatively high taxes, the expensive real estate in Silicon Valley, or an active regulator in the Securities and Exchange Commission.
One core reason that is cited time and time again, though, is regulatory clarity — or more specifically, the lack thereof.
Crypto exchange Poloniex made this much clear last year when Circle — the platform's previous owner — said it would be moving some its operations to Bermuda to better accommodate a global clientele:
"Europe and Asia are both pretty significant markets for us in particular… The lack of regulatory frameworks significantly limits what can be offered to individuals and businesses in the U.S."
The key part of that statement is, "the lack of regulatory frameworks." It's not that the U.S. is openly hostile to cryptocurrency, it's that there is no proper framework to be worked within that can minimize the legal risk companies take while operating in America.
With some politicians seeing the potential that crypto and blockchain have, there's been an attempt to establish more concrete crypto regulation in America.
Representative Paul Gosar, of Arizona's fourth district, in March, unveiled the "Crypto-Currency Act of 2020." The premise of the bill is to provide "much-needed clarity about cryptocurrency," which would eliminate "murkiness, uncertainty, or confusion" about how businesses and innovators can deal with these assets.
While there haven't been many updates on the Act, it seemingly responds to a comment made by Ohio Congressman Warren Davidson, who wrote in an op-ed/open letter last year:
"Already, blockchain companies are moving overseas. […] We need to do everything we can to keep these groundbreaking projects in the U.S. by establishing a clear regulatory framework that protects American innovators, investors and consumers."
Others in politics too, such as ex-democratic hopefuls Andrew Yang and Michael Bloomberg, have championed cryptocurrency regulation. Yang, for instance, released a proposed policy on his website to "create clear guidelines as to how cryptocurrencies/digital asset markets will be treated and regulated" in a bid to foster innovation.