Sparks fly as developer suggests an altcoin will overtake Bitcoin in the next five years
This article is 3 years old...
Sparks fly as developer suggests an altcoin will overtake Bitcoin in the next five years
Although it may seem like Bitcoin has led the crypto market over the past few months, altcoins have strongly outperformed BTC since the start of 2020.
A prominent analyst in the space shared the chart below, noting how FTX's three altcoin indexes — the small-cap, medium-cap, and large-cap indexes — have registered better performances than BTC since the start of the year.
FTX's "SHIT" index, for instance, is up 80 percent in the past five months alone.
The strong performance of altcoins seems to be related to the fact that they were crushed heavily in 2018 and 2019, and thus, were poised to recover after being so oversold. "[The bounce] isn't too surprising given how far altcoins fell versus bitcoin over the past couple years," the analyst who shared the above chart opined.
What comes next for altcoins though isn't clear. A popular developer in the space expects Bitcoin's dominance over the crypto market to end, while others strongly beg to differ.
"This is the last time" Bitcoin will be worth this much against altcoins: developer
On Jun. 8, lead developer at crypto data site Blockchair and a writer of Bitcoin privacy and scaling articles, Nikita Zhavoronkov, released a 20-part thread on why he thinks "this is the last time we see Bitcoin's dominance level above 66 percent."
Zhavoronkov added that within the next five years, he thinks BTC to lose its seat as the top cryptocurrency to an altcoin. For some context, Ethereum is currently the closest to doing that, and it's around $150 billion away.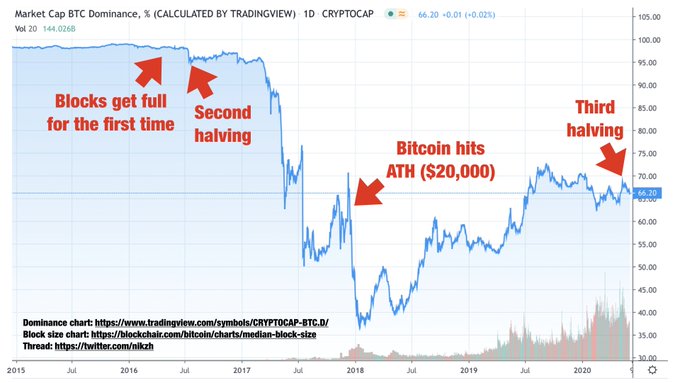 The core of his argument came down to the fact that the "cool features" that cryptocurrency users want, such as privacy technologies and smart contracts, have not yet been integrated into Bitcoin.
He added that the Proof of Work system that Bitcoin enlists is "flawed" because "miners aren't interested in price increases, while they fear sharp declines."
The Lightning Network too, he explained, is "total vaporware" with "fundamental flaws" and no "actual real-world usage." This has resulted in Bitcoin fee issues, as we saw a few weeks earlier, that will force investors to an asset like Ethereum:
"In order to overthrow Bitcoin, Ethereum needs to grow just 6x compared to Bitcoin. Not at all an impossible scenario (we're in crypto, remember?). What happens if Ethereum switches to PoS, scales, and becomes #1?"
Bitcoin community lashes out at the analysis
Bitcoin maximalists were quick to respond to the Zhavoronkov's thread.
Network engineer Melik Manukyan, a prominent voice in the space, argued that the thread has a massive oversight: BTC's potential for growth.
He noted that assuming Bitcoin trades above $100,000 in the coming years as top analysts expect, a 33 percent dominance BTC would imply an aggregate altcoin market capitalization of at least ~$3.6 trillion.
People try to tell me #Bitcoin dominance will go back to 33%. Let's run some numbers.

Let's assume BTCUSD hits 100k post 3rd halving.

This would mean the total value of outstanding Bitcoin is worth ~1.8T USD giving shitcoins a total value of ~3.65T USD.

lol

— Melik Manukyan (Buy Bitcoin) (@melikmanukyan) September 16, 2019
$3.6 trillion is equivalent to around 20 percent of the U.S.' expected GDP this year, and about 35 times the current value of all altcoins in circulation. This sum is also equivalent to the market capitalizations of the stocks of Apple, Microsoft, Walmart, and Netflix — entrenched companies that have been around for decades.
The assumption here, of course, is that BTC will appreciate parabolically, but Manukyan's argument is that it would be irrational to expect altcoins will keep pace with the market leader.
Others debunked the content of the thread itself.
Dan Held, part of the business development team at Kraken and formerly of Blockchain, quipped that the thread's first chart, in which Zhavoronkov seemingly suggested that halvings result in drops in Bitcoin dominance, "imply causation."
And Xsquared Ventures partner Brad Mills argued that Bitcoin dominance is a poor metric to track the performance of BTC vs. altcoins by, making Zhavoronkov's argument "based on a foundation of sand."
Mills cited an article he wrote on the matter, in which he conveyed that dominance metrics glosses over a number of key issues with altcoins, low liquidity due to centralization of coins, non-existent market depth (an altcoin may have a $100 million market cap but only $100,000 in buy orders, for instance), and "terrible network security."
Not to mention, many altcoins have rapidly inflating supplies compared to Bitcoin.