After burning 10% of its supply, here's where Binance Coin could be headed next
This article is more than 2 years old...
After burning 10% of its supply, here's where Binance Coin could be headed next
Binance recently announced that it conducted its 11th quarterly token burn totaling $52.5 million worth of its native crypto, Binance Coin.
Binance recently announced that it conducted its 11th quarterly token burn totaling $52.5 million worth of its native crypto, Binance Coin. The world's largest cryptocurrency exchange by trading volume reported that nearly 3.4 million tokens were taken out of circulation. This staggering amount represents the biggest BNB burn ever recorded.
Changpeng Zhao, Binance's CEO, affirmed that thanks to the success of multiple achievements, product rollouts, and initiatives throughout the first quarter of 2020 his company was able to burn such a vast number of tokens.
Zhao stated:
"Binance Futures grew to be the No. 1 crypto futures exchange in the world by volume, with 24 perpetual contracts. We maintained our leading position in spot trading with 600+ trading pairs. We also continued expanding our fiat-to-crypto channels, supporting 42 major fiat currencies with a combination of peer-to-peer trading, credit card purchases, and direct bank deposits… All of the above contributed to the high burn number for Q1."
To date, Binance has burnt roughly 10% of the total BNB supply worth nearly $300 million, according to Messari.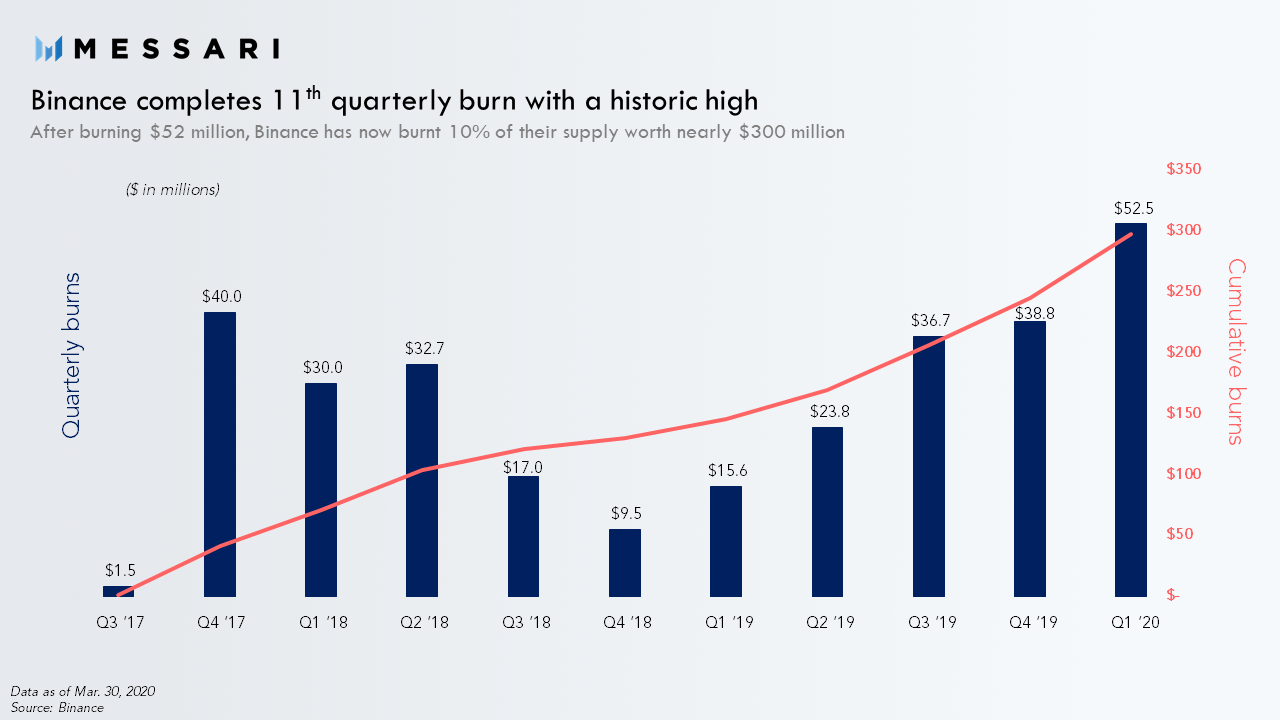 The crypto insights and market intelligence provider maintains that the token burn strategy that Binance implemented creates "constant buying demand" for BNB. As traders rush to buy this token to pay for trading activity fees in the exchange, there is a continuous demand.
A constant increase in demand with a significant reduction of supply could sooner or later have serious implications on the price of Binance Coin, affirmed Jack Purdy, research analyst at Messari.
Purdy said:
"BNB requires traders to continually repurchase them to get the discount. Over time, the mechanism for value accrual is actually very similar with traders essentially performing the buyback for the company which subsequently burns them. So, if Binance continues to burn $50+ million every quarter the value of BNB should still, in theory, rise provided a baseline of demand exists."
Although the current state of commotion in the global financial markets could affect BNB's upside potential, different on-chain metrics reveal that there is more room to go up.
A further bullish impulse on BNB's horizon
Following the Mar. 12 crash, Binance Coin's social volume began climbing up. This fundamental index analyzes the amount of mentions on BNB across different social media channels. These include Telegram groups, crypto subreddits, Discord groups, private traders chats, and others.
The uptrend that can be seen in BNB's social volume suggests that its price may continue surging.
Santiment affirmed that BNB's recent on-chain activity certainly gives some expectation of a strong move ahead. But, only an increase of the token's daily active addresses will help determine whether or not the direction of the impulse will be upward.
Since the peak of Apr. 7 when there were nearly 7,000 active addresses, the level of crowd interaction with BNB has decreased substantially. At the moment, there are 1,500 addresses on average involved in transactions over the past few days, which is a negative sign.
Waiting for the network to thrive can be considered a key indicator for a sustained rally, according to Dino Ibisbegovic, head of content and SEO at Santiment.
Moving Forward
The significant success that Binance has had since its inception is consistent with an increase in its Bitcoin holdings. This indicates that a rising number of traders have moved their funds into the exchange as it becomes a highly reputable firm within the industry, affirmed Glassnode.
The on-chain data and intelligence provider explained:
"Since its launch, [Binance] has experienced a meteoric rise, becoming the top exchange in the world in terms of reported trading volume. It also has the third highest amount of BTC deposits (after Coinbase and Huobi), and is experiencing the highest rate of growth of any major exchange."
The recent spree of acquisitions, new products, and continued growth looks very promising for the future of Binance and its native token. As the firm expands its services to "touch" every aspect of the cryptocurrency industry, it is short-sighted to view it only as an exchange, pointed out Messari.
Indeed, Binance could soon become a full-service financial provider and BNB will certainly be involved in every aspect of the company's future.
At the time of press, BNB is ranked #8 by market cap and the BNB price is down 3.12% over the past 24 hours. BNB has a market capitalization of $2.45 billion with a 24-hour trading volume of $401.5 million. Learn more ›
Market summary
At the time of press, the global cryptocurrency market is valued at at $203.88 billion with a 24-hour volume of $131.37 billion. Bitcoin dominance is currently at 63.49%. Learn more ›