Bitcoin · Ethereum · XRP › Analysis
Key metrics reveal Bitcoin, Ethereum, and XRP future looks promising
On-chain metrics reveal that the top three cryptocurrencies by market cap—Bitcoin, Ethereum, and XRP—are bound for a bullish impulse, despite the significant gains posted recently.
On-chain metrics reveal that the top three cryptocurrencies by market cap—Bitcoin, Ethereum, and XRP—are bound for a bullish impulse, despite the significant gains posted recently.
Bitcoin's holders are becoming optimistic
Bitcoin is back above the $7,000 mark as it approaches the "optimism" zone based on Glassnode's Net Unrealized Profit/Loss (NUPL) indicator. Historical data reveals that moving into this area tends to boost investors' confidence about what the future holds for the flagship cryptocurrency. Consequently, leading to a further upward advance.
Indeed, the last time a similar pattern took place was during the month of April 2019, which resulted in a 180 percent upswing towards $14,000, according to the on-chain insights provider. Now, something similar could be about to occur.
Glassnode said:
"If this trend repeats itself, we could see BTC overcoming the $7k mark and increasing further in price, especially if investors continue to seek it out as a safe haven during the economic crisis."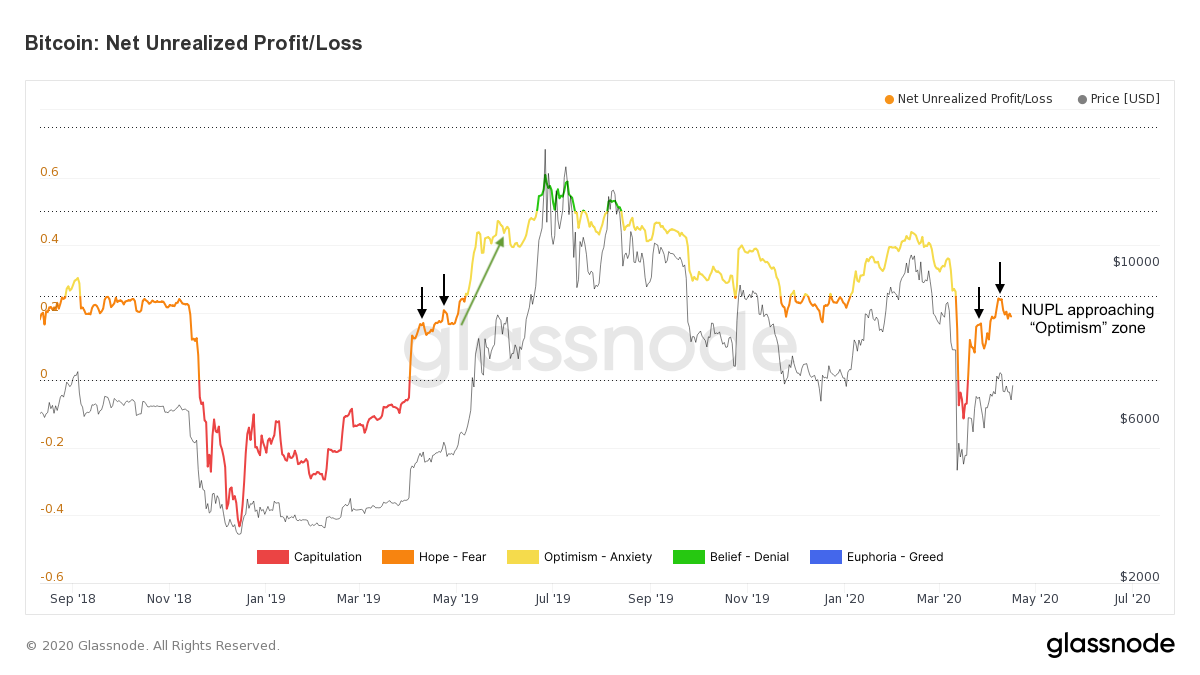 Even though investors are growing optimistic, IntoTheBlock's "In/Out of the Money Around Price" (IOMAP) model estimates that Bitcoin may face strong resistance ahead.
Currently, there is a significant supply wall between $7,100 and $7,300 where nearly 934,000 addresses bought over 564,000 BTC. This resistance barrier could continue to hold jeopardizing the bullish outlook.
A further increase in the buying pressure behind the pioneer cryptocurrency, however, may validate the scenario presented by the NUPL index.
Breaking above the $7,300 level may see Bitcoin moving towards the next important resistance area that sits around $8,000. The IOMAP reveals that 930,000 addresses bought over 420,000 BTC around this price level.
Ethereum faces strong resistance ahead
Over the past 34 hours, Ethereum surged more than 18 percent. The smart contracts giant went from trading at a low of $148 to recently reaching a high of $175.
Although the sudden bullish impulse took market participants by surprise, Santiment began noticing a close relationship between Ether and Tether (USDT).
The behavior analytics firm stated that ETH's price tends to "follow suit" based on the total supply of USDT that is sitting on exchanges. Under this premise, the second largest cryptocurrency by market cap could be bound for a further bullish advance.
Santiment affirmed:
"Currently, we can see that there is a sky-high amount of USDT sitting on exchanges, and assuming this continues, it would imply that there is still plenty of room for ETH's price to grow."
If Ether is indeed poised to breakout, the bulls would need to move past the resistance barrier that sits between $176 and $187. Around this price level, nearly 2 million addresses bought more than 6 million ETH, based on IntoTheBlock's IOMAP.
Breaking above such a substantial supply zone could set the stage for an upswing that takes Ethereum to the next level of resistance around $200.
XRP performs poorly
XRP kicked off the year on the wrong foot. The cross-border remittances token was one of the worst performing cryptocurrencies in Q1 with a negative return of 10 percent, according to Messari.
The $1.22 billion worth of tokens that Ripple—the fintech company behind XRP—has sold since 2016 could be affecting the upside potential of this cryptocurrency. High levels of supply usually leads to low levels of demand.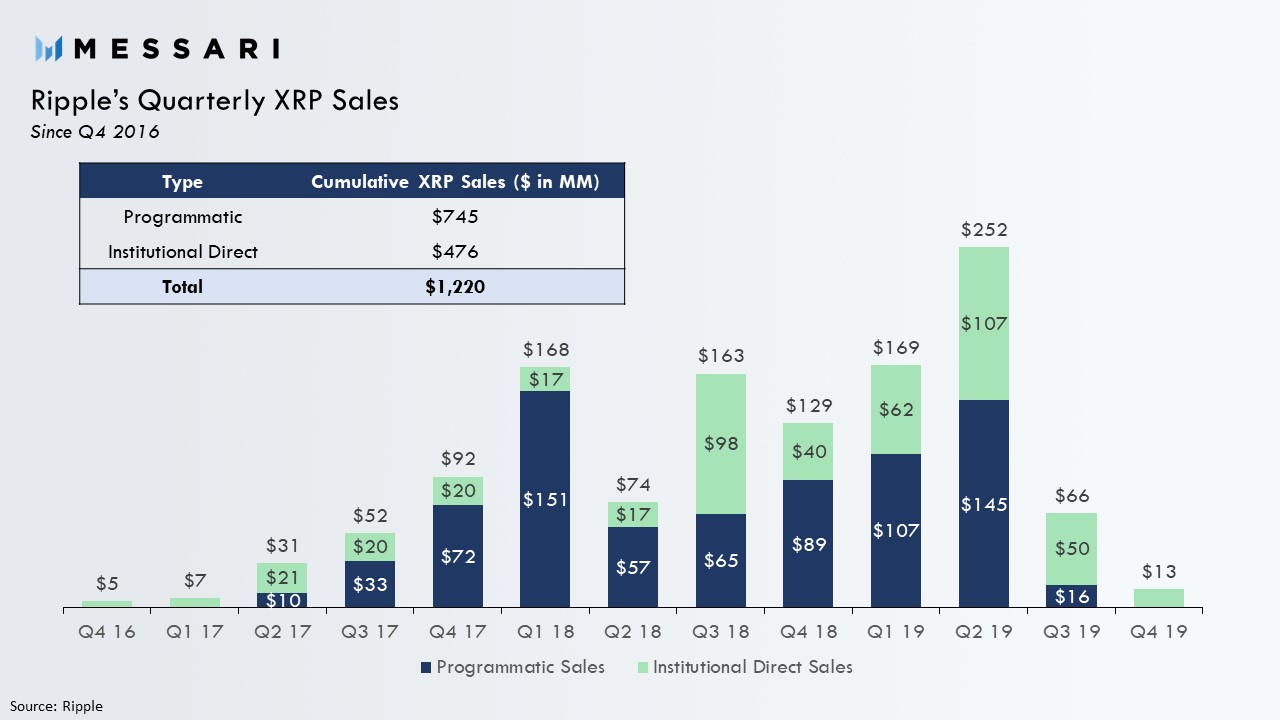 45-years trading veteran Peter Brandt maintains that XRP is sitting on top of "white space." Although Brandt did not mention any price prediction for this cryptocurrency, his comments suggest that another swing low may be on the works.
Adding credence to the bearish outlook, XRP's network growth is declining after peaking on Mar. 31, which is usually seen as a negative sign.
Brian Quinlivan, Market and Social Media Director at Santiment, believes that network growth is one of the most accurate price "foreshadowers." When the number of addresses going to zero outpace the number of new addresses being created, the price of a given asset tends to tumble. Therefore, XRP could be aiming for lower lows if this trend continues.
Overall sentiment
Despite the current state of commotion in the global financial markets, the cryptocurrency market is going through a bullish impulse in tandem with the stocks market. Investors appear to be growing optimistic as the U.S. prepares to reopen its economy due to the declining growth in new coronavirus infections.
While the fate of the top three cryptocurrencies by market cap remains uncertain, the run-up to the Bitcoin halving could also have a positive impact. Based on historical data, there is usually a substantial inflow of capital into the crypto market leading up to the block rewards reduction event.
This scenario could be playing out at the moment suggesting that there is more room to go up.
CryptoSlate Newsletter
Featuring a summary of the most important daily stories in the world of crypto, DeFi, NFTs and more.
Get an
edge

on the cryptoasset market

Access more crypto insights and context in every article as a paid member of CryptoSlate Edge.

On-chain analysis

Price snapshots

More context

Join now for $19/month Explore all benefits