Ethereum NFTs back in vogue as a collection of digital art sells for $777,000
Ethereum NFTs back in vogue as a collection of digital art sells for $777,000
After the decentralized finance correction began in September of this year, non-fungible tokens (NFTs) suddenly rocketed into the limelight.
Investors that made an absurd amount of money in the summer were looking for ways to invest their capital outside of DeFi. And, those that were stuck holding DeFi bags were looking for better crypto sub-industries to make a profit.
The market settled on non-fungible tokens, which are unique tokens that most often represent art or items in a video game.
Tokens pertaining to the space rallying by hundreds of percent while investors forked over tens of thousands of dollars for tokens representing pieces of digital art. Cool, to some, but extremely overvalued for many looking in.
Three months later, NFTs have made a resurgence, easily surpassing the mania seen last summer as certain investors have forked out hundreds of thousands of dollars to buy single Ethereum tokens.
NFT sells for $777,000
Nifty Gateway, a leading NFT marketplace, this weekend facilitated a $777,777 sale for a single collection of art created by digital artist Beeple.
A user that is known as "illestrater" paid $777,777.77 for a token representing the collection seen in the image below. The collection is a series of digital picture frames showing unique and contemporary digital art created by Beeple, an American graphic designer.
The user may hold the token and not redeem it for the set seen below, depending on if he wants to sell the token in the future.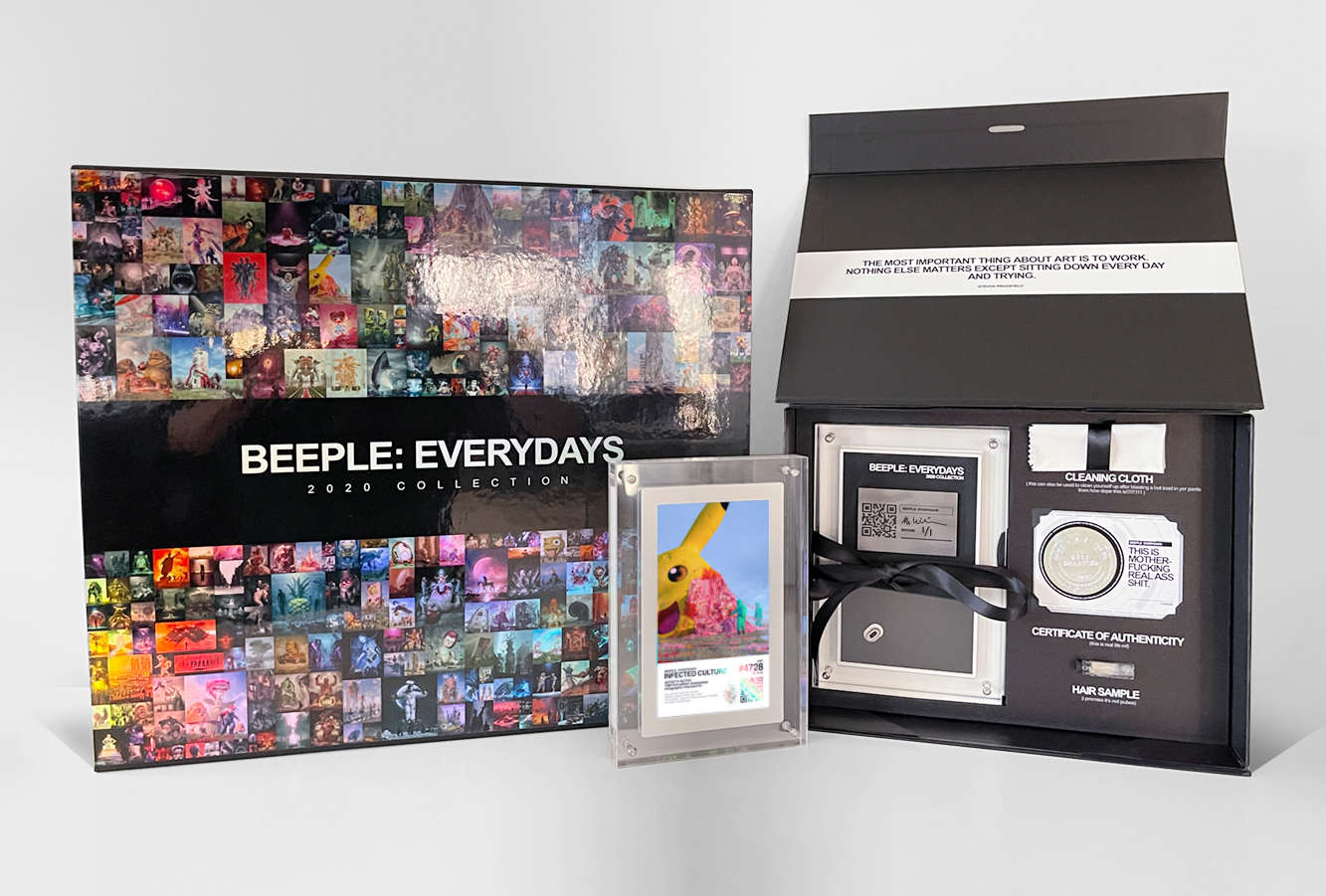 What makes this sale even more astounding is that individual portions of this collection sold for hundreds of thousands of dollars.
Individual parts of the collection, including one of Keanu Reeves and another of Elon Musk, sold for over $100,000 each. In total, this Beeple drop raised $3.5 million in total.
ONLY ONE REMAINS….https://t.co/MW6h9bopxx pic.twitter.com/tmEtUzPrRH

— beeple (@beeple) December 13, 2020
Other art pieces dropped recently, too, have been sold for tens of thousands of dollars as investors like Morgan Creek Digital's Jason Williams and Gemini's Tyler Winklevoss try and pick up their favorite pieces of art.
Both Williams and Winklevoss have said in interviews and letters that they see long-term value in the NFT space.
NFT coins rally as well
NFT coins are rallying as well, following the ascent of many of these individual pieces of art.
After Beeple announced a collaboration with leading NFT project MEME, which has quite the backstory as CryptoSlate has covered in the past, MEME surged by over 100 percent. While the rally has since subsided, the coin is up 60 percent in the past 24 hours as it pushes $400.
COLLAB WITH $MEME coming Q1 2021 ??? pic.twitter.com/6Vv4BCPwhk

— beeple (@beeple) December 13, 2020
As a CoinGecko analyst points out as well, over half a dozen NFT coins are up over 10 percent in the past 24 hours as the whole market benefits from the influx of capital entering the digital art space.
Digital gaming tokens, too, are also gaining traction.
so we are back to NFT?https://t.co/NwVTqhm08M pic.twitter.com/bVdxk6i83Z

— superoo7 ??‍? (@jlwhoo7) December 14, 2020