Ethereum ›
Altcoins
Devs are trying to copy the Ethereum DeFi token that rallied 100,000% in a week
If you've been following Ethereum, decentralized finance, or crypto in general over the past week, you likely know of the native coin of yearn.finance, YFI.
If you've been following Ethereum, decentralized finance, or crypto in general over the past week, you likely know of the native coin of yearn.finance, YFI.
The cryptocurrency, based on the Ethereum network, has been dubbed the "fairest cryptocurrency since Bitcoin," which is in reference to its scarce supply, lack of ICO, and its seemingly benevolent developers.
Crypto investors have paid heavily for this fairness. As reported by CryptoSlate, in the span of eight days, YFI gained literally 100,000 percent. The token is now one of the top-100 cryptocurrencies, despite it launching just earlier this month.
What's even funnier is that when YFI launched, the crypto token was pitched as one with literally zero value. Here's an excerpt from the Medium of the project's lead developer:
"We have released YFI, a completely valueless 0 supply token. We re-iterate, it has 0 financial value. There is no pre-mine, there is no sale, no you cannot buy it, no, it won't be on uniswap, no, there won't be an auction. We don't have any of it."
The resounding and somewhat puzzling success of YFI hasn't gone unnoticed. Far from.  YFI has created such a stir that there are other developers trying to copy it.
Enter YFII.
Developers launch YFI copy-cat on Ethereum
Yeah, that's not a typo — some developers just rolled out a project that added an extra I to YFI. According to data from CoinGecko, this new altcoin has already amassed a market capitalization in excess of $7 million and has gained over 50 percent in the past 24 hours.
This token was launched on July. 26, more than a week after the launch of the original token, and is reportedly being managed by a team of Chinese developers.
The story here is purportedly that there were governance issues with yearn.finance over proposal #8, which suggested YFI's distribution should be done in a similar to how Bitcoin has block reward halvings.
Wanting to run with this idea, which wasn't implemented in the "legitimate" yearn.finance, developers purportedly forked the protocol to create YFII.
It's a fork over proposal #8 which was the emulate the $BTC halvening distribution

It had 80% yes, but didn't meet the minimum qurourm so was rejected$YFII is $YFI but with proposal #8 implemented and the admin keys burned

Not a scam, but also not worth anything either pic.twitter.com/2XDfesLHyf

— ChainLinkGod.eth ?‍??? (@ChainLinkGod) July 29, 2020
In a sense, YFII was created for a similar reason as Bitcoin Cash.
Developers attempted to replicate the "virgin birth" of YFI by burning their admin keys to the contract of the cryptocurrency, meaning they cannot create the asset out of thin air or do anything else nefarious.
A topic of controversy
Although the admin keys have been burned and YFII is appreciating at a rapid clip, not everyone in the Ethereum and DeFi community think the project is legitimate or has merit.
One commentator noted that Brave Browser labeled the website of the project as a potential phishing site, while this own writer faced a similar issue when he was on his computer with McAfee anti-virus.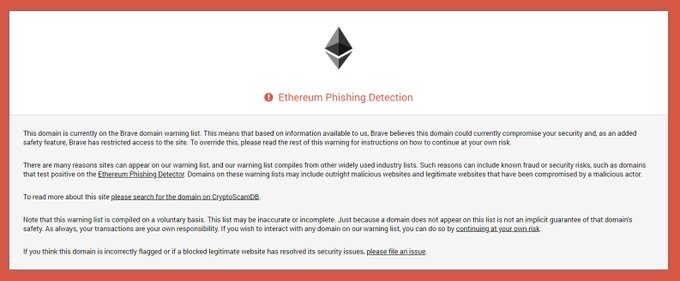 Then prominent Ethereum commentator "Safetythird" wrote:
"Yes the contracts & website may (or may not) be ok, But YFII doesn't have any function or value. I wouldn't touch it, and wouldn't advise you to either."
How YFII plays out, in the long run, isn't clear. But from a pure numbers standpoint, factoring in its market capitalization and the total value of tokens locked in the protocol, it is seeing some success.