Despite price stagnation under $400, Ethereum fundamentals are still strong
Despite price stagnation under $400, Ethereum fundamentals are still strong
After a 60 percent rally in the span of two weeks, the price of Ethereum is cooling off.
After a 60 percent rally in the span of two weeks, the price of Ethereum is cooling off. Other cryptocurrencies are following suit, printing red price candles as the stock and precious metal markets also take a breather.
According to CryptoSlate data, the price of the cryptocurrency trades at $375 as of this article's writing. This is a price that is $40 shy (or 9.7 percent) of the year-to-date high of $415, established last week.
Despite this price action, the fundamentals of Ethereum remain strong, suggesting the cryptocurrency remains in a macro uptrend.
Ethereum fundamentals remain bullish: on-chain data
As decentralized finance and other Ethereum applications have continued to gain traction, the number of daily transactions on the second-largest blockchain has continued to swell.
Data shared by blockchain analytics firm IntoTheBlock on Aug. 7 indicates that the number of daily ETH transactions is reaching highs not seen since the peak of the January 2018 bubble:
"As can be seen in the graph above, the number of transactions has been on a consistent uptrend throughout 2020. On July 27, the number of transactions on the #Ethereum network reached a level not seen since January 3rd of 2018."
Along with the increase in the adoption of Ethereum-based applications, the number of transactions is being boosted by increases to the blockchain's block size maximum.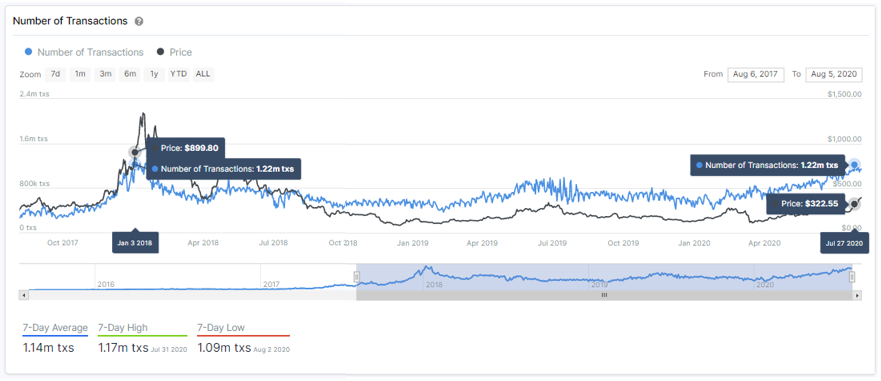 The transaction count isn't the only positive on-chain trend for Ethereum. IntoTheBlock's other key metrics paint the picture that ETH has a bright short to medium-term future.
IntoTheBlock's dashboard for Ethereum says the ETH is "mostly bullish." Along with a strong number of daily transactions, the blockchain is seeing net network growth (increase in total addresses), an increase in "large transactions," and order book data that suggests there are many buyers of ETH at the moment.
What may be a worrying sign, though, is the high levels of investor profitability on ETH.
As reported by CryptoSlate previously, analytics platform Glassnode found earlier this week that ETH addresses with 90 percent of the supply are currently in the profit:
"Over 90% of the circulating ETH supply is now in a state of profit, i.e. the current price is higher compared to the price at the time the coins last moved. Last time this we saw this level was in Feb 2018 when the ETH price was at $925."
When the price of an asset increases as fast as ETH has, the incentive to sell it increases.
The fact that so much of Ethereum's total supply is in profit indicates that there may be a large number of investors that want to take profit, thus crashing the price.
ETH buyers are coming
Although there is a fear of a distribution event for the ETH supply, there are buyers set to pick up the cryptocurrency if needed.
The head of DTC Capital, Spencer Noon, said earlier this week on DeFi and how that translates to demand for ETH: 
"My read on #DeFi after speaking with instl investors, fund mgrs, OTC desks, and FOs over the last few wks: The herd is coming. They're excited about DeFi but new to it, so they're buying $ETH first."