Binance Ethereum-based token withdrawals top $2B in 24 hours
Binance Ethereum-based token withdrawals top $2B in 24 hours
Andrew Thurman reported that market makers like Jump Trading and Wintermute were among the accounts that withdrew funds in the last 24 hours.
Binance recorded over $2 billion in outflows in Ethereum-based tokens since Dec. 12 –its highest daily withdrawal since June– according to Nansen data.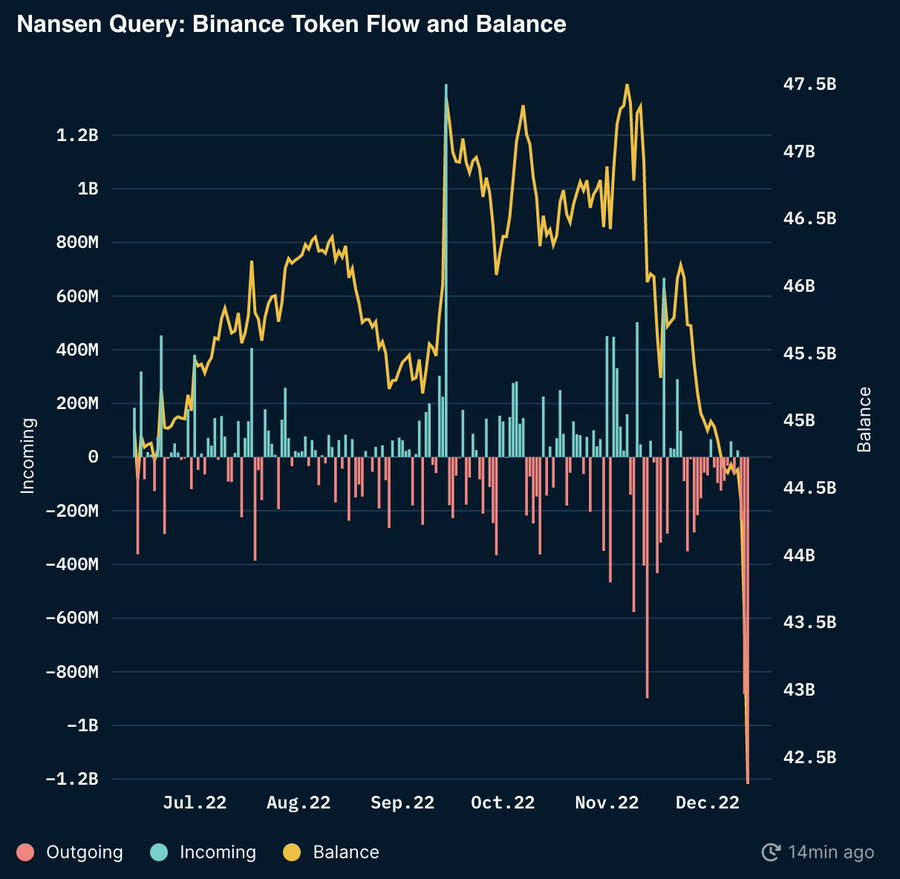 When Binance users' withdrew assets this aggressively in June, the crypto market was reeling from Terra Luna's collapse.
A separate tweet from the blockchain intelligence platform reported that the exchange recorded over $2.5 billion in withdrawals in the last 24 hours and has a negative netflow of $1.57 billion. The exchange had an inflow of around $935 million during this period.
Meanwhile, Binance has processed $6.6 billion in withdrawals on the seven days metrics. It saw $4.6 billion in inflows and has a negative netflow of $1.9 billion. Nansen noted that this was still less than the negative $2.3 billion weekly netflow Binance processed following the FTX collapse.
Market makers withdraw funds
Andrew Thurman reported that two market makers, Jump Trading and Wintermute, were among the accounts that withdrew funds in the last 24 hours. Thurman said Jump withdrew over $146 million in the past week and redeemed $245 million BUSD over the past month.
On the other hand, Wintermute withdrew nearly $10 million. Lookonchain reported that the market maker later sent $149.85M USDC to Binance –the last time it transferred to the exchange was 20 days ago.
Meanwhile, despite these withdrawals Conor Ryder, citing Kaiko data, said there was no change in Bitcoin liquidity on Binance.
Binance's Nansen dashboard showed that its assets are worth $62.6 billion, with the majority in BUSD, Ethereum, Bitcoin, and Tether.
---