Adoption grows as more than $7T settled with stablecoins in 2022
Adoption grows as more than $7T settled with stablecoins in 2022
The total value settled with stablecoins this year surpassed the settlement value at Mastercard, which processed around $2.2 trillion in value in 2022.
The ongoing bear market did little to curb the rising use of stablecoins. On the contrary, dollar-pegged coins like USDT and USDC saw a parabolic growth in market cap this year, becoming a defacto settlement currency of the crypto industry.
Following the collapse of Terra and its algorithmic stablecoin UST, the two stablecoin giants took over the majority of stablecoin volumes — and they show no sign of stopping.
According to data from CoinMetrics, over $7 trillion in value has been settled with stablecoins in 2022. This is a significant increase from the $6 trillion settled in 2021 and the $1 trillion settled the year before.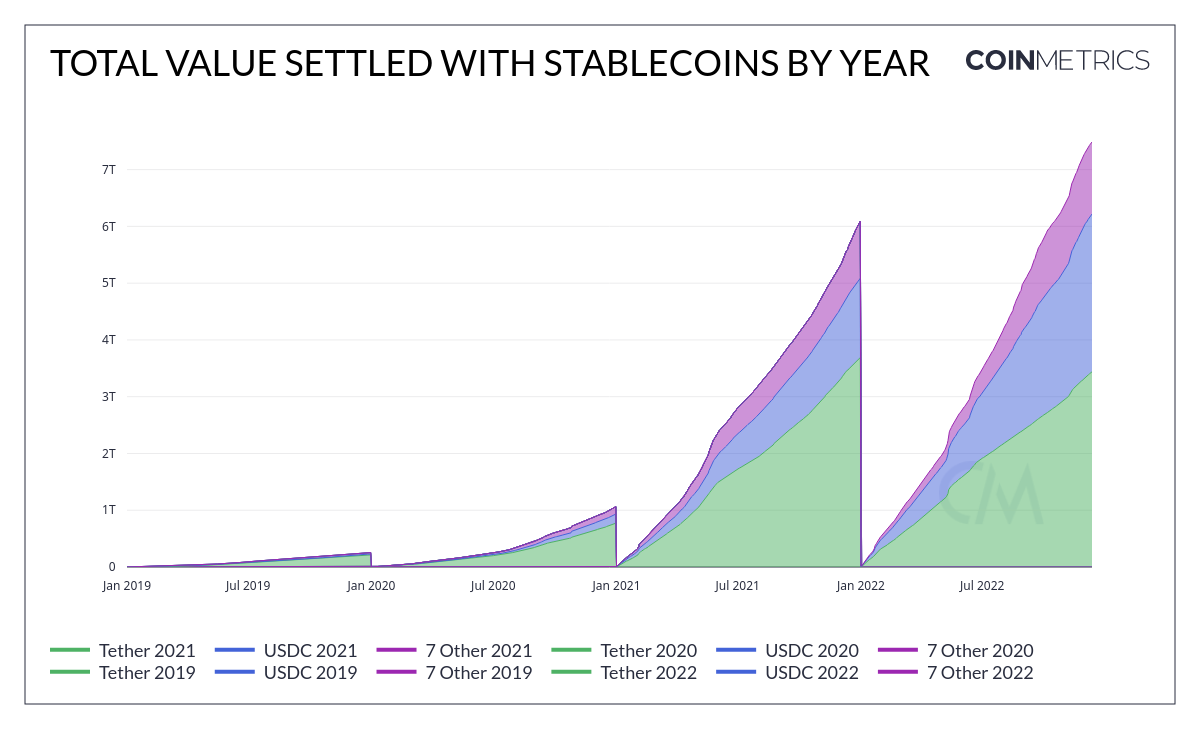 Some analysts predict that the value settled with stablecoins could reach as much as $9 trillion in 2023, second only to Visa, which processes around $12 trillion in value per year. Others believe their on-chain volume will surpass not only Visa but also the aggregate volume of all four major card networks — Visa, MasterCard, American Express, and Discover.
However, even if the settlement value stays flat next year, it will surpass almost all the other large settlement providers individually — including Mastercard, American Express, and Discover.
Mastercard, the second-largest card issuer in the world, processed around $2.2 trillion in value so far in 2022, falling way behind the combined settlement value of the seven largest stablecoins. For example, American Express settled around $1 trillion in value this year, while Discover settled less than $200 billion in transactions.