Wall Street Journal commenters lambast $1.5 billion Bitcoin purchase by Tesla
🚨 This article is 3 years old...
Wall Street Journal commenters lambast $1.5 billion Bitcoin purchase by Tesla
Yesterday, Tesla shocked the crypto space when the firm was revealed to have purchased $1.5 billion—yes, billion—worth of Bitcoin.
As reported by CryptoSlate previously, a filing  with the US Securities and Exchange Commission (SEC) said that the firm had purchased this Bitcoin to provide "more flexibility to further diversify and maximize returns on our cash that is not required to maintain adequate operating liquidity." The filing also indicated the firm may accept Bitcoin for its vehicles in the future.
"Moreover, we expect to begin accepting bitcoin as a form of payment for our products in the near future, subject to applicable laws and initially on a limited basis, which we may or may not liquidate upon receipt," the document noted.
The move has been widely accepted within the crypto space, seeing that this marks a validation of Bitcoin and of MicroStrategy's thought that treasuries should invest idle cash in BTC to mitigate inflation risk.
Michael Saylor, CEO of MicroStrategy, for instance, stated:
"Congratulations & thank you to Elon Musk & Tesla for adding Bitcoin to their balance sheet.  The entire world will benefit from this leadership."
But not everyone is satisfied with this move.
Not everyone is liking Tesla's move to buy Bitcoin
The Wall Street Journal report that outlined Tesla's purchase of Bitcoin was brigaded by seeming Bitcoin skeptics that think the automotive/green technology company holding BTC will mark its end.
Commenters, whose names have been redacted for privacy reasons, made comments like "This con is going to end badly for so many people" and "[Imagination] supports the value of Bitcoin."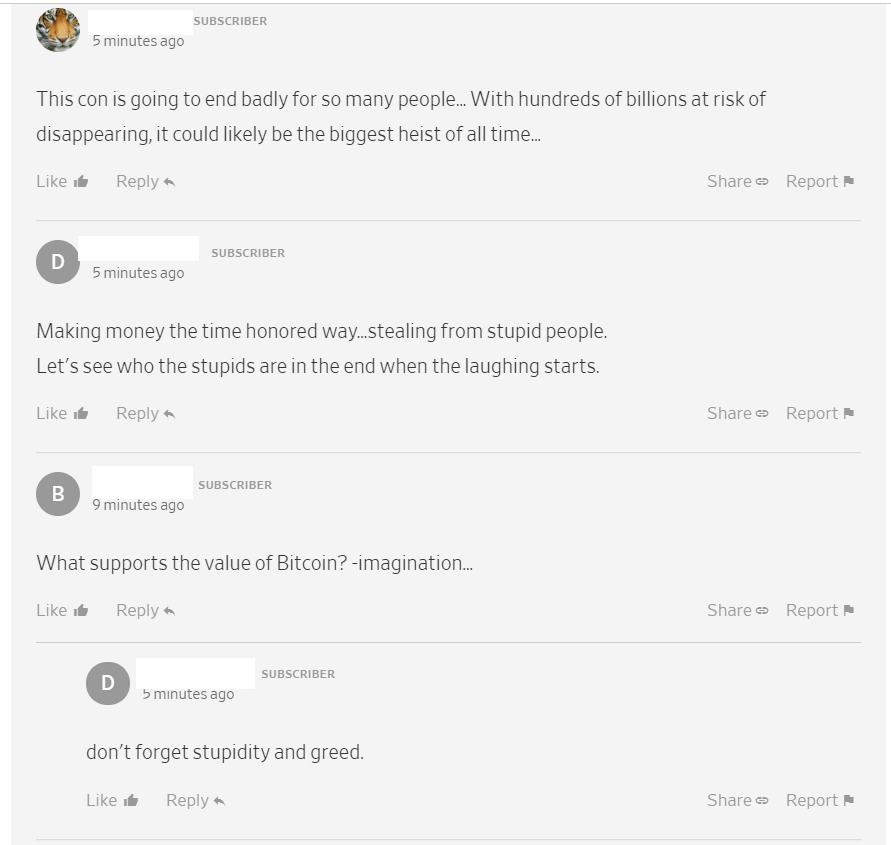 On Twitter, a number of other skeptics made similar comments, with many in the Tesla shorter community bringing this up as a way both the cryptocurrency and TSLA could go down in flames.
This pushback against what many in the crypto space have dubbed a sound business decision comes as billionaires have begun to embrace Bitcoin alongside Elon Musk.
Anthony Scaramucci, the founder of alternative investment firm Skybridge, recently said on the cryptocurrency:
"Bitcoin is a monetary network. Looking at what has happened in the 21st century, we've seen the evolution of a retail network that's known as Amazon. We've seen the revolution of a social network called Facebook. We have a search and advertising network known as Google."
Ray Dalio, the famous Wall Street hedge fund manager, also recently clarified that he thinks Bitcoin is "one hell of an invention" and that he sees it as a potential contender as "both a type of money and a storehold of wealth is an amazing accomplishment."
Disclaimer: This author is an analyst at ParaFi Capital. ParaFi Capital may hold positions in assets mentioned in this article. The views displayed in this article are opinions of the author—and the author only.