Craig Wright autographs Bitcoin whitepaper at Tsinghua University in China
This article is 4 years old...
Craig Wright autographs Bitcoin whitepaper at Tsinghua University in China
Craig Wright kicked off the Bitcoin SV road trip at Tsinghua University in China, where he signed a printout of the Bitcoin whitepaper. Wright's panels in China were met with a wave of backlash, with many criticizing the Tsinghua Blockchain Association for providing a platform for such a controversial figure.
Spreading the Bitcoin SV gospel in China
Bitcoin SV (BSV), one of the forks of Bitcoin Cash (BCH) aiming to fulfil the original vision of Bitcoin, has begun its first "road trip." The worldwide tour, organized by controversial news outlet CoinGeek and the Bitcoin Association, kicked off on Dec. 6 and made its first stop in China.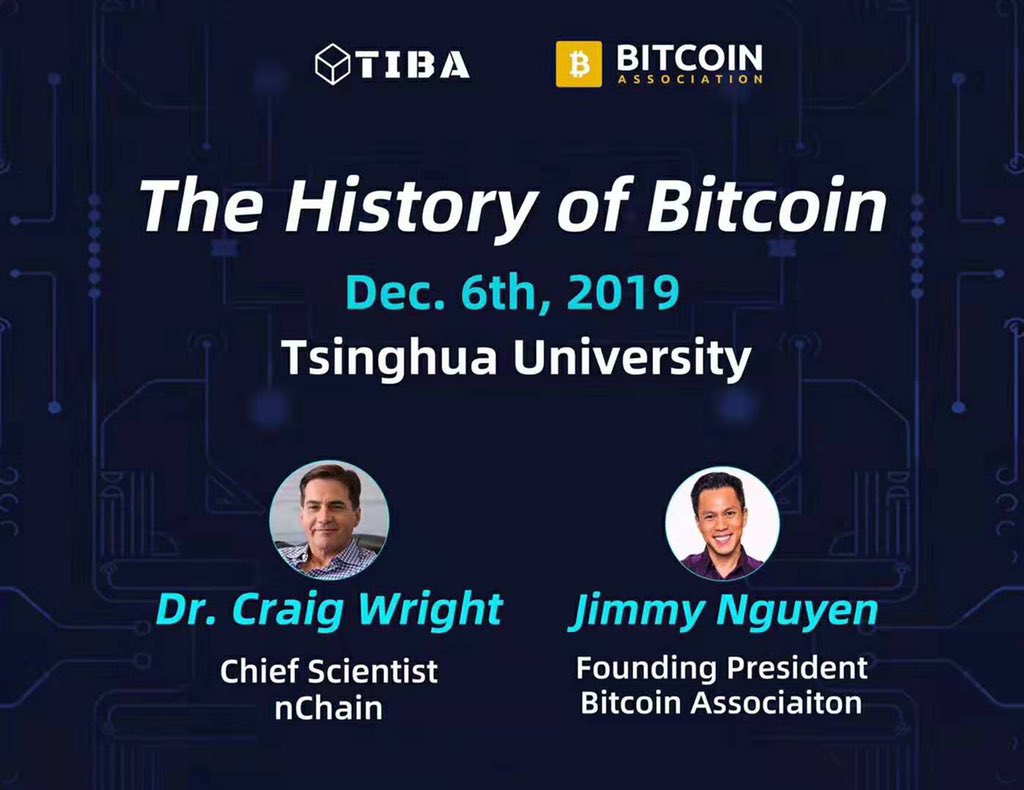 The first event of the effort to promote the heavily contested Bitcoin offshoot was held at Tsinghua University, one of the oldest educational institutions in China. Spreading the gospel about BSV wouldn't have made the news weren't it for Craig Wright, one of the most controversial figures in the crypto industry.
The self-proclaimed Satoshi Nakamoto was touted as the main attraction on the panels at Tsinghua University, where he spoke about the history of Bitcoin. Pro-BSV news outlet CoinGeek reported that Wright was the "star of the night," receiving praise and gifts from the lecture's attendees.
According to photographs and reports from the panel, Wright even signed a copy of the Bitcoin whitepaper for one of his supporters. Earlier this year, Wright filed copyright registrations for the Bitcoin whitepaper and the original Bitcoin code, but apart from a quick BSV pump, failed to accomplish anything meaningful with the move.
Questioning the credibility of the Tsinghua Blockchain Association
Associating with Craig Wrights is the easiest way for a person or an organization in the crypto industry to lose its credibility. Earlier in September, the creator of Ethereum's progressive proof-of-work algorithm, Kristy-Leigh Minehan, was uninvited from the annual Ethereum Classic Summit due to her connections to Wright and his associate Calvin Ayre.
In October, BitMEX Research and Litecoin creator Charlie Lee denounced London's CC Forum for inviting Wright to speak at the conference as Satoshi Nakamoto.
Wright's panels in China were partly sponsored by the Tsinghua International Blockchain Association (TIBA), a group focused on blockchain and crypto education in China. Matthew Graham, the CEO of Sino Global Capital, reached out to one of the organizers of the event, saying that hosting Wright was an "incredibly poor decision."
A member of TIBA defended the association's decision, saying it was important to get "new perspectives from different people."
Nonetheless, Graham said it was "irresponsible" to use the Tsinghua name to give a platform to people such as Wright, adding:
"It would be like the American Medical Association hosting vaccine deniers to "get new perspectives from different people."