Uniswap V3 was the most used Ethereum contract in 2022
Uniswap V3 was the most used Ethereum contract in 2022
The latest iteration of the popular DEX was the largest gaz guzzler on Ethereum, using up over 2.8 million gas in 2022.
Uniswap V3 has become the most popular Ethereum contract in 2022, ranking first when it comes to total gas used throughout the year.
According to data from Dune Analytics, Uniswap V3 used up over 2.8 million gas in 2022. This is more than three times higher than the amount of gas consumed in Uniswap V2, showing that users have flocked en masse to the DEX's newest iteration.
Uniswap V2 also saw 17% of its transactions reverted, the highest percentage out of all of the most popular Ethereum contracts.
The decentralized exchange also saw a total of 15.5 million transactions this year, surpassing OpeanSea's Seaport NFT marketplace and OpenSea itself. With over 1.5 million unique addresses, Uniswap V3 also ranks higher than any other Ethereum dApp.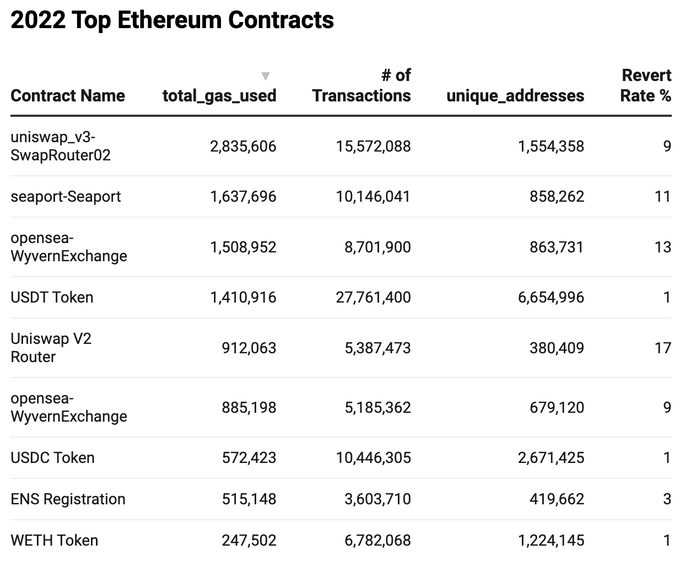 Only simple Ethereum transfers used up more gas than V3 this year, with over 3 million gas spent on over 141.6 million transactions. Tether's USDT saw 27.7 million transactions this year and used up 1.4 million gas, while Circle's USDC used up 572,000 gas for 10.4 million transactions.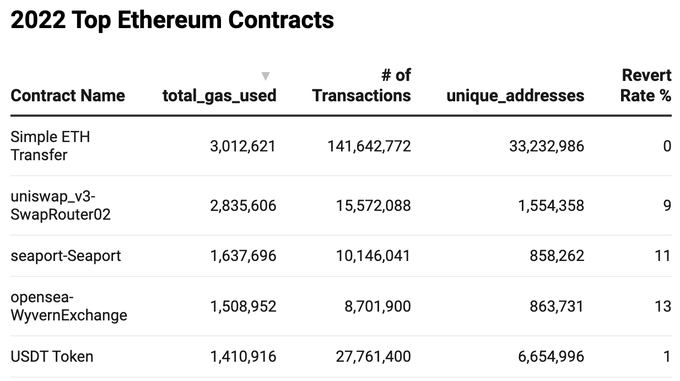 Hayden Adams, the founder of Uniswap Labs, the company behind the popular DEX, celebrated Uniswap's success:
"Cool to see Uniswap V3 was the most used contract on Ethereum by a wide margin for 2022."
Adams noted that V2 of the decentralized exchange was still among the top 5 most used contracts on Ethereum. He said that updating routing and liquidity drastically improved the user experience on the dApp, with the transfer revert rate on V3 reducing by half when compared to V2.
"Also cool to see V3 transactions fail half as often as V2, showing the benefits of concentrated liquidity and all the routing improvements we made."
Uniswap's popularity made its parent company a unicorn this year. In September, sources close to the company revealed that Uniswap Labs was preparing for a $100 million funding round to expand its offering. At the time, several media outlets speculated that the round would value Uniswap Labs at $1 billion.
However, the company's $165 million funding round in October exceeded expectations and brought its valuation to over $1.66 billion.