This financial analyst expects a "very bullish" Bitcoin price in June for 4 key reasons
This article is more than 2 years old...
This financial analyst expects a "very bullish" Bitcoin price in June for 4 key reasons
with insights from
Preston Pysh
After a strong rally from $3,700 to $10,100 over the span of six weeks, the Bitcoin bull has proverbially been asleep over the past few weeks.
After a strong rally from $3,700 to $10,100 over the span of six weeks, the Bitcoin bull has proverbially been asleep over the past few weeks. Prices have slumped as low as $8,100 since the highs, falling on the "capitulation" of miners — one of the largest groups of BTC market participants.
Even though Bitcoin's bullish momentum has clearly slowed, Preston Pysh — co-host of the popular podcast The Investor's Podcast and a leading commentator in finance — is becoming increasingly bullish on the flagship crypto for June.
There are four key factors why he is growing so optimistic about BTC.
Bitcoin's miners remain strong, even after "capitulation"
After the block reward halving that took place on May 11, the revenue of Bitcoin miners was sliced in half overnight. The number of BTC issued per block fell from 12.5 to 6.25. It forced many miners to initially go offline, hence the "capitulation" mentioned earlier.
But as Pysh noted in a recent Twitter thread, miners have begun to stabilize their operations on the back of a surge in the Bitcoin price to $9,500:
"In the past 24 hours, it appears the miners have been able to keep pace with the 10-minute block reward flow. This is the first time we've seen that happen [in the past ~10 days]."
This will dramatically decrease the chances Bitcoin sees a "final [post-halving] price drop," the finance author added.
He added that the crash to the $3,000s in March forced miners to liquidated much of the contents of their balance sheets, meaning the number of BTC that can be sold by miners is much fewer than it would have been should the crash not have taken place.
Grayscale clients are accumulating BTC rapidly
As reported by CryptoSlate previously, it was recently found out by technology analyst Kevin Rooke that digital asset fund manager Grayscale Investments has accumulated 18,910 BTC while miners have mined 12,337 BTC since the halving.
In other words, one single firm has more than a 50 percent lead on the inflation of BTC.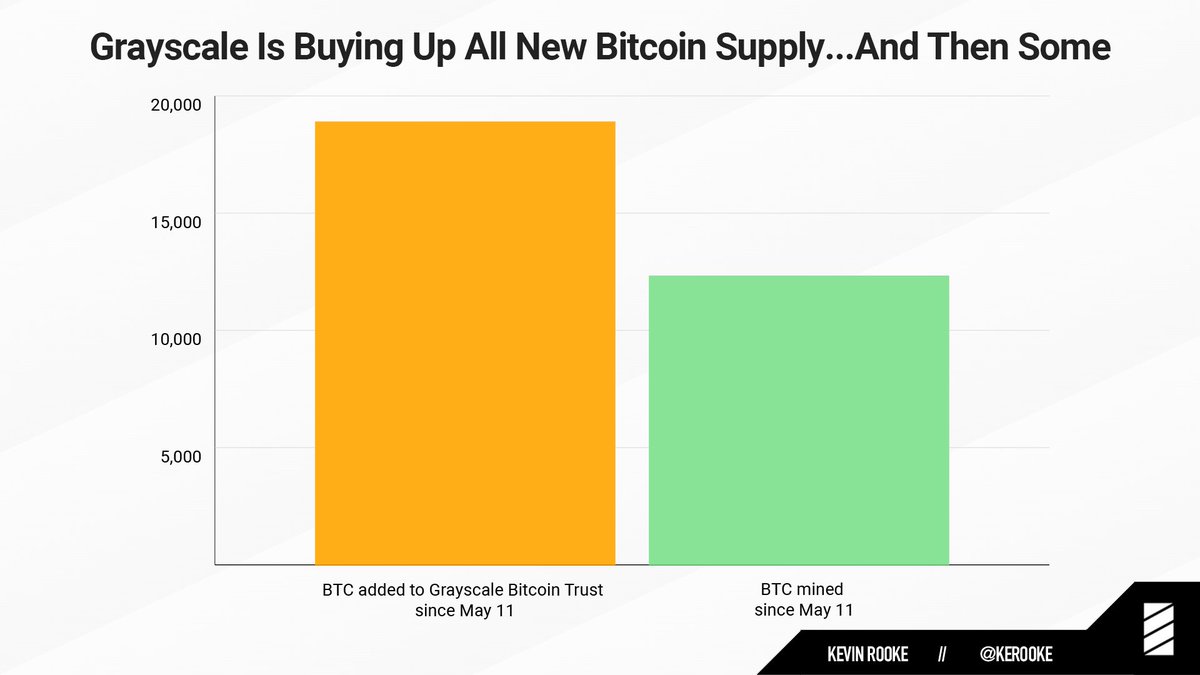 In accumulating BTC at such a rapid pace, Grayscale is responding to client demand. And with a majority of Grayscale's clients (by transaction volume in dollars) being institutions, some have said that this is a clear sign of "Wall Street interest in Bitcoin."
Pysh thinks that the effective Bitcoin sink that Grayscale has formed is boosting prices, as there is simultaneously more demand and a decreased supply due to the halving.
Chinese yuan is dropping over new US-China spat
The relationship between the U.S. and China has begun to deteriorate again due to a new security law that was proposed and passed by Beijing officials. The law imposes stringent security measures on Hong Kong, formerly of the British but handed over to China in 1997 under the stipulation that the city would be democratic until 2047.
With many global companies having bases in Hong Kong, along with there being an ex-pat community of hundreds of thousands, superpowers are taking notice of this bill.
The E.U., Canada, the U.K., and of course the U.S. has responded to the news, trying to dissuade China from potentially reneging on their 1997 agreement with the Brits.
The U.S. is expected to come out swinging, with prominent members of the government like President Trump and Secretary Pompeo suggesting that sanctions or other restrictions could be placed on China.
Pysh believes that this geopolitical event is increasing demand for Bitcoin, especially demand from Chinese investors looking to hedge their wealth against the current conflict:
"I think some of the bans on CNY companies and CNY currency moves have potentially caused a buying interest and hedge in BTC."
The global financial system could break
The analyst's final factor is that the fiat currency system that runs the world's economy is potentially getting prepared to break, which would be a perfect scenario for Bitcoin to insert itself as an alternative system, as a hedge, or as a basis for a new financial hegemon.
"The USD will continue to have this 'strengthening' dynamic until something breaks. [This will] result in the need for a new form of pegged currency to fix the situation we are currently experiencing. Based on that, I suspect Bitcoin has the highest probability of succeeding.
Pysh added that Bitcoin has the "highest probability" of succeeding due to the fact that it is the option that governments are against, and it is the option that governments cannot stop.