Synthetix founder calls Bitcoin's weekly chart the "most bullish thing" he has seen
🚨 This article is 3 years old...
Synthetix founder calls Bitcoin's weekly chart the "most bullish thing" he has seen
Bitcoin's price action over recent weeks and months has undoubtedly been bullish. In the face of macroeconomic turmoil and the worst pandemic in a century, the leading cryptocurrency has shot higher. In the past week alone, the price of one BTC has gained just under $2,000.
The cryptocurrency is expected to move even higher in the weeks ahead as the fundamentals and technicals align.
Speaking to that, the founder of leading the DeFi project Synthetix, Kain Warwick, just said that he thinks the "weekly BTC chart is probably the most bullish thing" that he's ever seen in his life.
That chart he was referring to can be seen below.
The chart shows Bitcoin holding a crucial weekly moving average, along with forming a bullish breakout as per the Parabolic Stop-and-Reversal indicator, which tracks macro trends.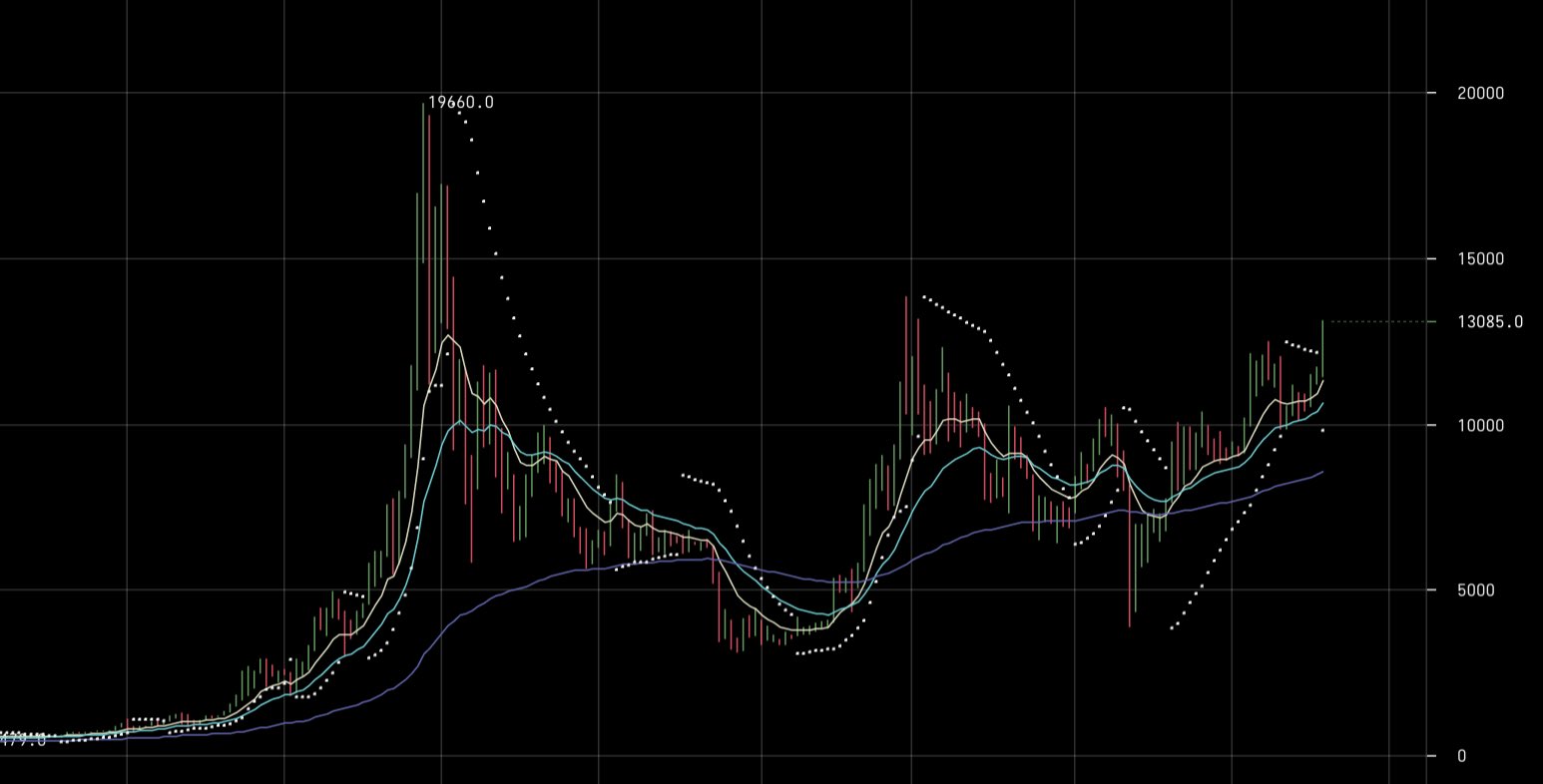 His comment comes after some DeFi-focused investors have been laughing at Bitcoin's price action, comparing it to that experienced by DeFi coins and Ethereum itself over the summer. Yet ideally, a BTC rally should drive capital towards altcoins as investors seek to lever up by moving down the crypto risk spectrum.
The fundamentals line up with Bitcoin's chart
Elaborating on his point, Warwick explained that Bitcoin's chart is underpinned by a number of fundamental trends.
First and foremost, he noted that Bitcoin's breakout is notable because "it basically didn't move much during the DeFi summer." This breakout cements it is moving on its own as opposed to following the price of altcoins higher.
In addition to that, the DeFi pioneer noted that the trend of corporations and Wall Street investors investing in BTC to hedge macroeconomic risks is also of note:
"To clarify BTC basically didn't move much during the DeFi summer. This recent move comes on the back of a fairly surprising new narrative of public co's with huge cash balances hedging macro conditions."
Warwick is referring to the entrance of firms like MicroStrategy and Square, which have deployed capital from their balance sheets to buy BTC. Both companies announced this move as a strategic measure to ensure that their holdings are not eaten away at by inflation and to hedge the risks in unprecedented economic and macroeconomic risk.
Analysts in the space expect a flurry of other companies to follow suit, driving Bitcoin dramatically higher as demand begins to greatly exceed supply.
As Mechanism Capital founder Andrew Kang recently noted, the institutional backdrop to adopt Bitcoin has been better than ever.
BTC Price & Market Data
At the time of press, Bitcoin is ranked #1 by market cap and the BTC price is up 0.68% over the past 24 hours. BTC has a market capitalization of $241.03 billion with a 24-hour trading volume of $35.16 billion. Learn more about BTC ›
$13,011.14
0.68%
Market summary
At the time of press, the global cryptocurrency market is valued at at $396.22 billion with a 24-hour volume of $103.97 billion. Bitcoin dominance is currently at 60.80%. Learn more ›