Bitcoin › BTC Halving
Sorry bulls: On-chain metrics show Bitcoin is highly bearish ahead of halving
Bitcoin's halving is finally here.
Bitcoin's halving is finally here. After years of waiting, the long-awaited event has arrived that will see the number of coins issued per block cut in half — hence "halving — from 12.5 to 6.25.
Although BTC investors on Twitter and other forums are claiming they're over the moon about the halving, on-chain data paints a totally different story. In fact, the cryptocurrency analytics company IntoTheBlock found that Bitcoin is currently flashing "bearish momentum."
Bitcoin's "actionable signals" suggest investors should be cautious
According to the below image shared by IntoTheBlock on May 10, there is a confluence of six proprietary on-chain and market signals signaling that Bitcoin is "mostly bearish," with there being zero signals from the company that are bullish or even neutral.
Again, this data was taken just a day out from the most hyped cryptocurrency event ever, the 2020 halving.
Some of these signals found by IntoTheBlock are as follows:
There is currently a negative bid-ask volume imbalance, suggesting there are more margin sellers than buyers of Bitcoin at current prices
The growth of the leading cryptocurrency's network, determined by new users, has started to slide
There is less accumulation of BTC by large holders or "whales"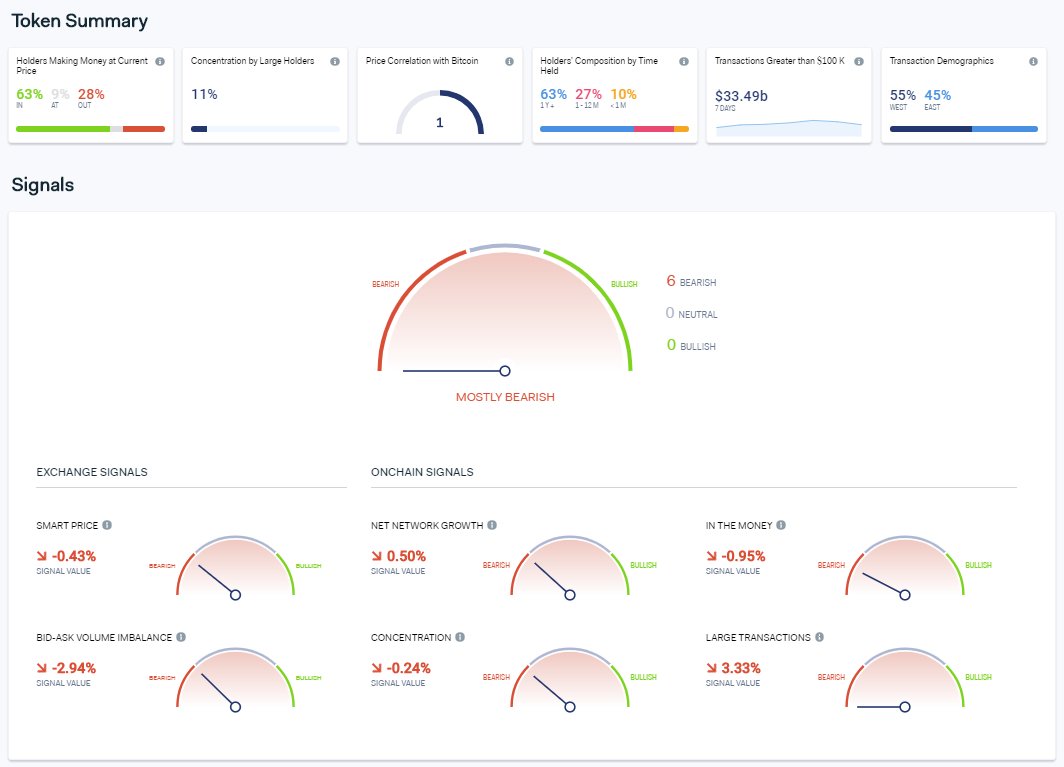 While on-chain metrics aren't the perfect way to analyze Bitcoin's prices, they are a key insight into the overall mindset of traders and holders the world over, which in turn can be interpreted to determine market trends.
The long-term trend remains bullish
Although there has been this network slowdown in the short term, data indicates that Bitcoin is anything but bearish from a macro perspective.
Rafael Schultze-Kraft of Glassnode, a blockchain intelligence startup, observed that just a day out from the halving and "Bitcoin's fundamentals are stronger than ever."
Here is some of what he found when comparing on-chain data from the time of the last halving to data from today:
Bitcoin's new daily addresses count — indicative of users joining the network — is up 68 percent
The average count of daily transactions rose by 44 percent
The average value of daily transactions (U.S. dollar terms) has risen by 700 percent, which is reflective of the growth in BTC
Schultze-Kraft's conclusion was that "network fundamentals are compelling; long-term bullish [for] Bitcoin."
This comes shortly after the firm reported that as of May 3, BTC "has been moving strongly towards the bullish quadrant," suggesting a bull market is imminent.
As reported by CryptoSlate previously, they came to this optimistic conclusion by noticing that the "Glassnode On-Chain BTC Index," or GNI, which is derived from a convergence of indicators, to "yield insights" into "where Bitcoin may evolve."
CryptoSlate Newsletter
Featuring a summary of the most important daily stories in the world of crypto, DeFi, NFTs and more.
Get an
edge

on the cryptoasset market

Access more crypto insights and context in every article as a paid member of CryptoSlate Edge.

On-chain analysis

Price snapshots

More context

Join now for $19/month Explore all benefits