OpenSea exec Nate Chastain quits after allegedly trading NFTs on insider information
OpenSea exec Nate Chastain quits after allegedly trading NFTs on insider information
A deep dive into the wallet history of OpenSea's head of product showed that there's little doubt the exec has been buying NFTs ahead of their promotion on the platform.
Rumors of insider trading at OpenSea, the industry's largest NFT marketplace, seem to be true, the company confirmed in a statement earlier today. The crypto community reacted strongly yesterday after it was revealed that a senior exec within the company used insider information to trade NFTs.
And while the company didn't identify the employee that reportedly profited thousands of ETH on insider trades, the Twitter community quickly found proof that it was OpenSea's head of product Nate Chastain.
Chastain himself changed his Twitter bio to "Past: @opensea" this morning, adding further fuel to the rumors that he was indeed involved in nefarious behavior and abusing his position of power.
OpenSea exec bought NFTs before they got promoted on the platform's front page
In a statement published on the OpenSea blog, the company said that an internal review of the incident will be conducted by a third party.
"Yesterday we learned that one of our employees purchased items that they knew were set to display on our front page before they appeared there publicly (…) We are taking this very seriously and are conducting an immediate and thorough third-party review of this incident so that we have a full understanding of the facts and additional steps we need to take."
Twitter user ZuwuTV first identified OpenSea's head of product Nate Chastain as the one behind the controversial NFT sales. The user cited publicly available transaction data on Etherescan, saying that Chastain was buying OpenSea's front page drops before they got listed and then selling them for a huge profit.
He also identified a transaction that returned the profit made on such a sale to Chastain's main wallet, which had his CryptoPunk profile image on it.
Heres one tx on returning profits to the main
0xa3a45 wallet after flipping the item CURRENTLY on the front pagehttps://t.co/Is6G4xLlIx

— ZuwuTV.eth ??? (@ZuwuTV) September 14, 2021
Another user took a deeper dive into the wallet, which he also managed to identify through the CryptoPunk profile image that matched Chastain's Twitter profile.
@natechastain opensea wallet containing his Cryptopunk pfp is here: https://t.co/WCSN1NEB7D

Nate's address: 0xa3a4548b39da96eb065ff91811ca30da40431c0d

— ricefarmer.eth ? (@RiceFarmerNFT) September 15, 2021
Chastain seemingly sent around 5 ETH to a secondary wallet, which was then used to buy 4 pieces from the "Dailydust Collection."
About 8 minutes later, Wallet B buys 4 pieces from the "Dailydust Collection". One in particular for .25 ETH named "Spectrum Of A Ramenfication Theory"https://t.co/EO7bjbSxhU pic.twitter.com/AZacOYpuHi

— ricefarmer.eth ? (@RiceFarmerNFT) September 15, 2021
A piece from the collection called the "Spectrum Of A Ramenification Theory," was bought for 0.25 ETH, and then sold just 20 minutes later for 1.5 ETH, clocking in a profit of 1.25 ETH. In the 20 minutes since Chastain bought it, the pice got listed on the front page of OpenSea and saw a huge increase in price and desirability.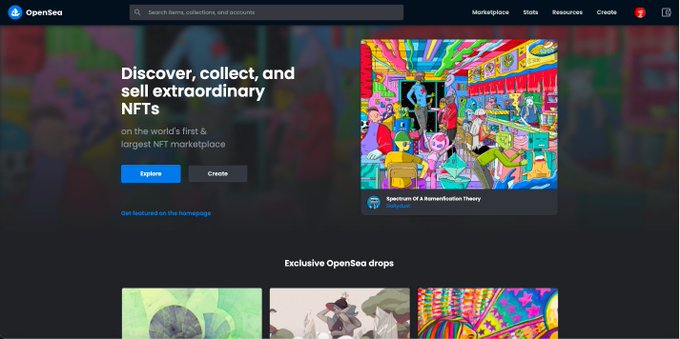 After selling the rest of the collection for a profit of 2 ETH, the second wallet sent a 7 ETH transaction back to Chastain's wallet.
Within the same hour, Wallet B sends 7 eth back to, who would've guessed it, @natechastain https://t.co/7FODnH6Dch

— ricefarmer.eth ? (@RiceFarmerNFT) September 15, 2021
Neither Chastain nor OpenSea addressed the issue at press time.