New leaked images: China's national crypto pilot is bigger than first thought
New leaked images: China's national crypto pilot is bigger than first thought
Over the past few days, there's been a strong increase in discussion about China's national crypto project.
Over the past few days, there's been a strong increase in discussion about China's national crypto project.
As reported by CryptoSlate, it began with a leaked screenshot that depicted an application branded with the logos of the Agricultural Bank of China (ABC) — one of the nation's "Big Four" banks, which is coincidentally state-owned.
The application depicted was a wallet for the People's Bank of China's (PBOC) digital currency project, DC/EP.
Other than that, though, not much else was known.
But yet another leaked image and reports by local media have revealed more about China's attempts at testing a national digital currency.
It isn't only the Agricultural Bank of China that is testing China's national crypto
According to BlockBeats — a China-based crypto news outlet — the Agricultural Bank of China isn't the only financial institution involved with the ongoing tests of the DC/EP, the Bank of China is too.
The outlet shared the below image on Apr. 15, showing an application running on an Apple device branded with the logo of the Bank of China — yet another state-owned commercial bank in the nation. (The Bank of China in 2019 released an extensive infographic explaining Bitcoin, including mentions of how the cryptocurrency's value is derived.)
Seemingly depicted is a barebones iteration of a digital currency wallet, with options to send, receive, and convert the asset, most likely DC/EP. Visually, the wallet is extremely similar to the leaked images of the ABC wallet.
Sharing the image, BlockBeats claimed, was an inside source from Suzhou, a city nearby Shanghai that is purported to be one of the PBOC's testing grounds.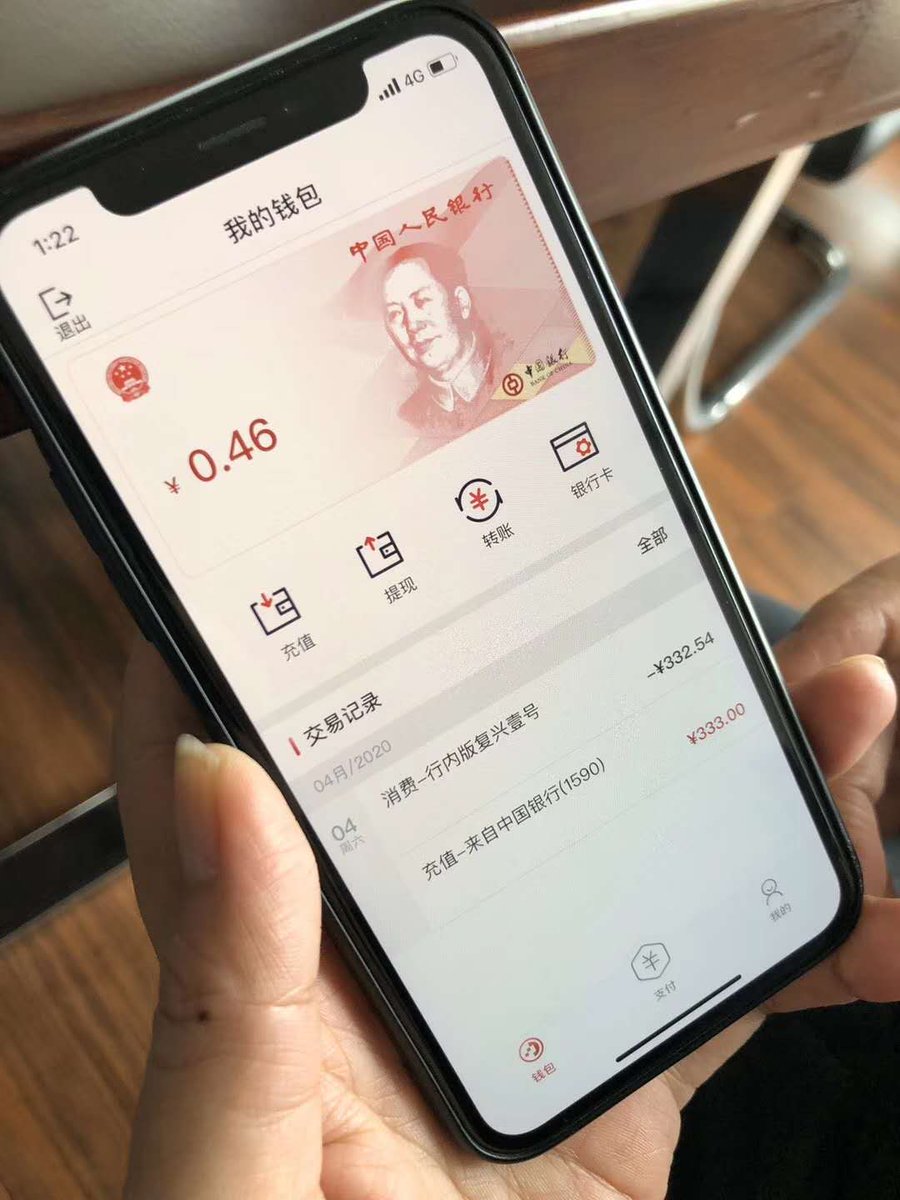 What are the details?
Hours after this image started to circulate online, reports from local Chinese media confirmed the existence of an upcoming test of the PBOC's digital currency venture by China's banks, which has been worked on for years. This confirms that the image seen above is legitimate.
As reported by China Star Market on Apr. 16, all employees of the local Suzhou government — which presides over a population of over 10 million — will have to download wallets from ABC, the Bank of China, and two other state-owned banks in the coming days to prepare for May.
In May, DC/EP will purportedly be distributed to all government employees, with the amount one receives corresponding with 50 percent of their transportation subsidy. Further details were vague.
There has also been discussion that the digital currency will soon be rolled out in the three additional regions of Shenzhen, Xiong'an, and Chengdu as these locations were found in segments of ABC's wallet app, but no media have confirmed this hearsay just yet.