Bitcoin ›
Adoption
Bitcoin ATMs grow by 70% adding over 3,100 machines worldwide
The number of Bitcoin ATMs around the globe have grown substantially over the past year suggesting growing interest from consumers.
The number of Bitcoin ATMs around the globe have grown substantially over the past year suggesting growing interest from consumers.
BTMs popularity is on the rise
Bitcoin ATMs, also known as BTMs, are popping everywhere in the world as demand for a convenient onramp to this so-called safe haven asset continues increasing. Data from Coin ATM Radar reveals that over the past year, the number of BTMs worldwide rose over 70 percent.
Now, more than 7,600 automated teller machines are distributed around the globe providing consumers an easy way to buy and sell their Bitcoin.
Even Nigeria saw its first Bitcoin ATM installed last month in response to the increasing interest and adoption of blockchain technology in the country. Blockstale BTM, the company behind the Bitcoin teller machines in the African nation, wants to distribute another 30 new BTMs nationwide to make Nigeria the host to Africa's largest population of BTMs.
Daniel Adekunle, Blockstale BTM's CEO, said:
"Despite all the legal uncertainties about cryptocurrencies in Nigeria, Nigerians happen to be the highest crypto traders in Africa… We hope this great innovation structures our economy and opens more opportunities to our youths and other business owners."
The U.S. leads the charts
While Africa represents less than 1 percent of all BTMs distributed around the planet, the western hemisphere continues leading the charts with more than 80 percent of the installations.
Indeed, the U.S. has more than 5,000 Bitcoin ATMs nationwide with many operators reporting a significant increase in transaction volume.
Marc Grens, co-founder of DigitalMint, affirmed that even during the lockdown due to the widespread transmission of coronavirus his firm is still "driving a consistent amount of new and existing customer traffic." Meanwhile, LibertyX has finally begun to expand the distribution of its BTMs adding roughly 1,000 new machines in the past two months.
Chris Yim, CEO and co-founder of LibertyX, stated:
"We've gone from zero to several hundred ATMs in a little over a month. [Additionally, our transaction volume] is almost back to where [it was] pre-COVID. April 15 was one of our highest volume ATM days, the day many taxpayers received their stimulus check."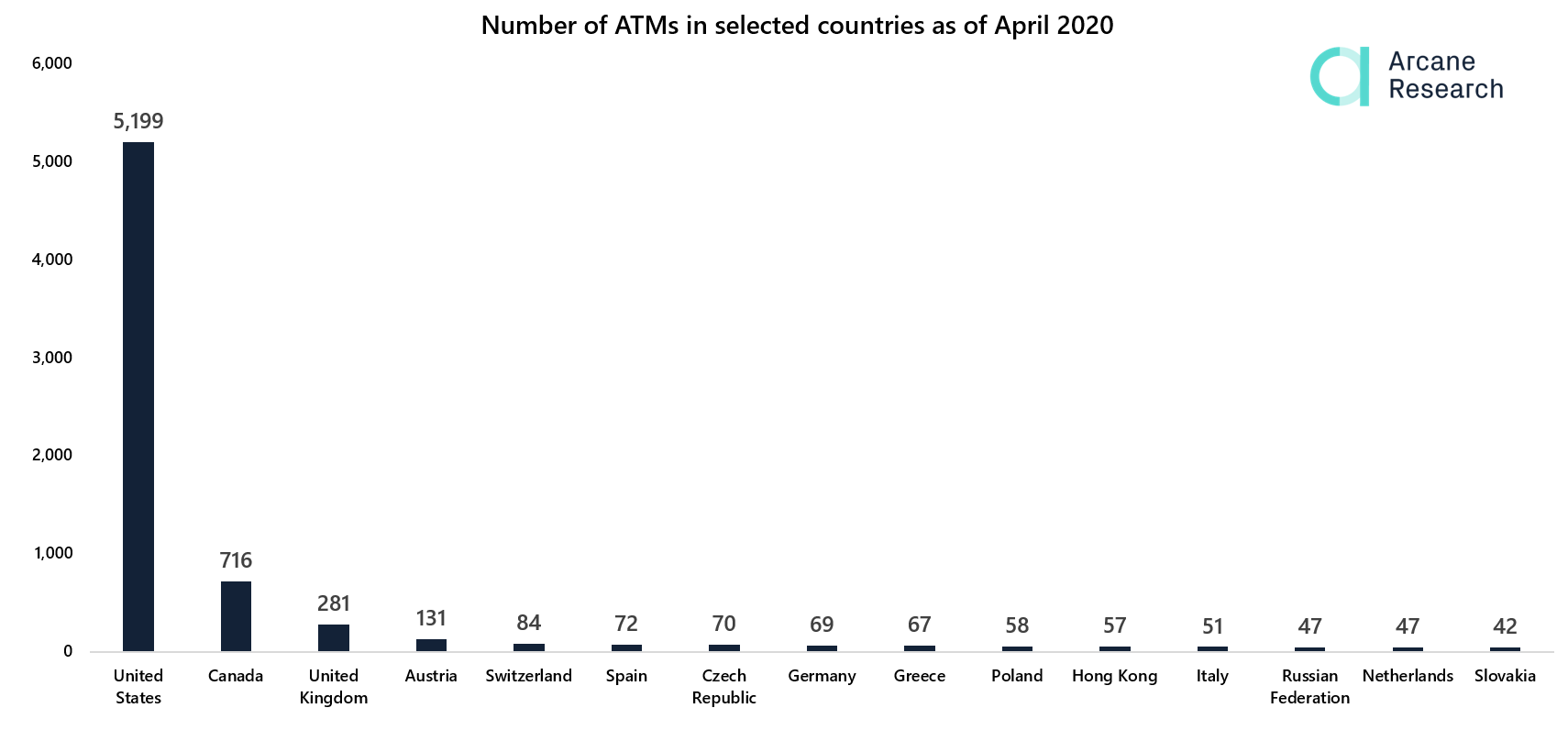 The rise in popularity that Bitcoin ATMs have experienced over time in combination with Bitcoin-related Google searches going through the roof paint a clear picture about the retail demand for the flagship cryptocurrency.
With more than $3 billion worth of stablecoins sitting across multiple cryptocurrency exchanges and investors growing more optimistic about the global pandemic, it is just a matter of time before Bitcoin enters an extended rally with solid momentum, as Joe007, arguably the biggest whale on Bitfinex, stated.