Litecoin debuts on Binance Futures as LTC turns bullish
Litecoin debuts on Binance Futures as LTC turns bullish
Binance recently disclosed the introduction of a new Litecoin derivative product.
Binance recently disclosed the introduction of a new Litecoin derivative product. As the launch date approaches, LTC is showing different bullish signs that could set it up for higher highs.
Litecoin derivatives on Binance
On Jan. 8, the world's largest cryptocurrency exchange by trading volume Binance announced that it will launch Litecoin perpetual contracts. The contracts will be leveraged and paired against Tether (USDT).
The announcement reads:
"Binance Futures will launch its sixth perpetual contract, LTC/USDT."
The perpetual swaps are scheduled to begin trading on Jan. 9 at 08:00 AM (UTC). Traders will be able to select any leverage from 1x to 75x. Binance revealed that it will implement a pricing limit of ±1 percent on the market price during the first 15 minutes of trading in order to prevent market manipulation.
Changpeng Zhao, Binance's CEO, said that the high leverage on these contracts aims to meet professional traders's demand for such products.
Zhao affirmed:
"We have seen an increase in institutional participation in trading, and these professional traders seek out the most efficient ways to trade very quickly, both in terms of cost and performance… The performance of the Binance Futures systems far outstrips many other platforms in the market, giving users a smooth trading experience. The market has been demanding a product with superior stability and performance; now we are providing one."
Prior to the announcement, Litecoin surged nearly 5 percent. Now, different technical indicators estimate that this cryptocurrency could be preparing for a further advance.
LTC technical analysis
Over the last week, Litecoin saw its price surge nearly 25 percent. This cryptocurrency went from trading at a low of $39 on Jan. 3 to a high of $48.60 today.
The bullish impulse seen in the last few days took the moving averages to form a golden cross on LTC's 1-day chart. As the 7-day moving average crossed above a 30 and 50-day moving average the potential for a significant bullish breakout increased. Many investors see this technical pattern as one of the most definitive and strong buy signals that could start a long-term bull market.
At the moment, Litecoin is facing strong resistance around $48.50. Breaking above this level would likely allow the uptrend to continue. This crypto could then try to test the next levels of resistance at $53, $57.7 and $64.
Nevertheless, a sudden spike in the selling pressure behind LTC that takes it to close below the $41 support level could invalidate the bullish outlook. If this happens, Litecoin could aim for lower lows.
Moving forward
The introduction of perpetual contracts by Binance helped Litecoin push for higher highs. But, there are other fundamental aspects that estimate that this cryptocurrency will begin a new uptrend. According to Willy Woo, LTC's difficulty ribbon is recovering after going through a major decline, which can be seen as a bullish sign.
Woo said:
"Litecoin Difficulty Ribbon now in recovery. Should set up a bullish breakout of the bearish channel."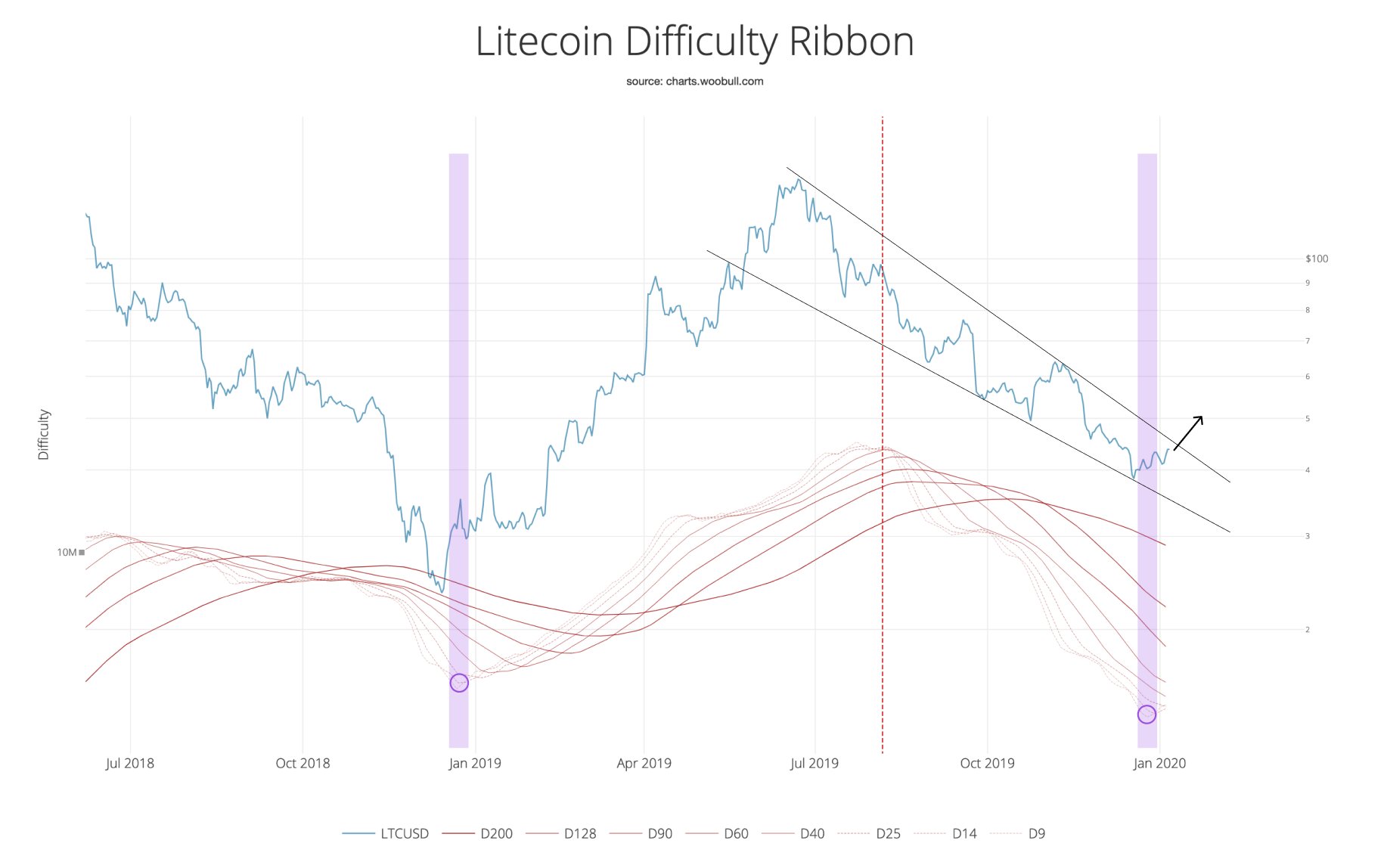 The analyst expects Litecoin to breakout in an upward direction even before Bitcoin does. Now, it remains to be seen whether the demand for this cryptocurrency will increase to allow it to begin a new bullish trend.
Connect your wallet, trade with Orion Swap Widget.
Directly from this Widget: the top CEXs + DEXs aggregated through Orion. No account, global access.