Bitcoin investors grow overwhelmingly bullish despite the thread of a steep decline
This article is 3 years old...
Bitcoin investors grow overwhelmingly bullish despite the thread of a steep decline
with insights from
Glassnode
With another halving written into the history books, Bitcoin continues on the spotlight of the cryptocurrency market. Investors appear to be growing optimistic about what the future may hold for the flagship cryptocurrency.
Optimism around Bitcoin explodes
Data from The TIE shows that Bitcoin's daily sentiment score is at the highest ever recorded since 2017. The alternative data provider maintains that positive conversations on Twitter have been making new yearly highs and remain trending up.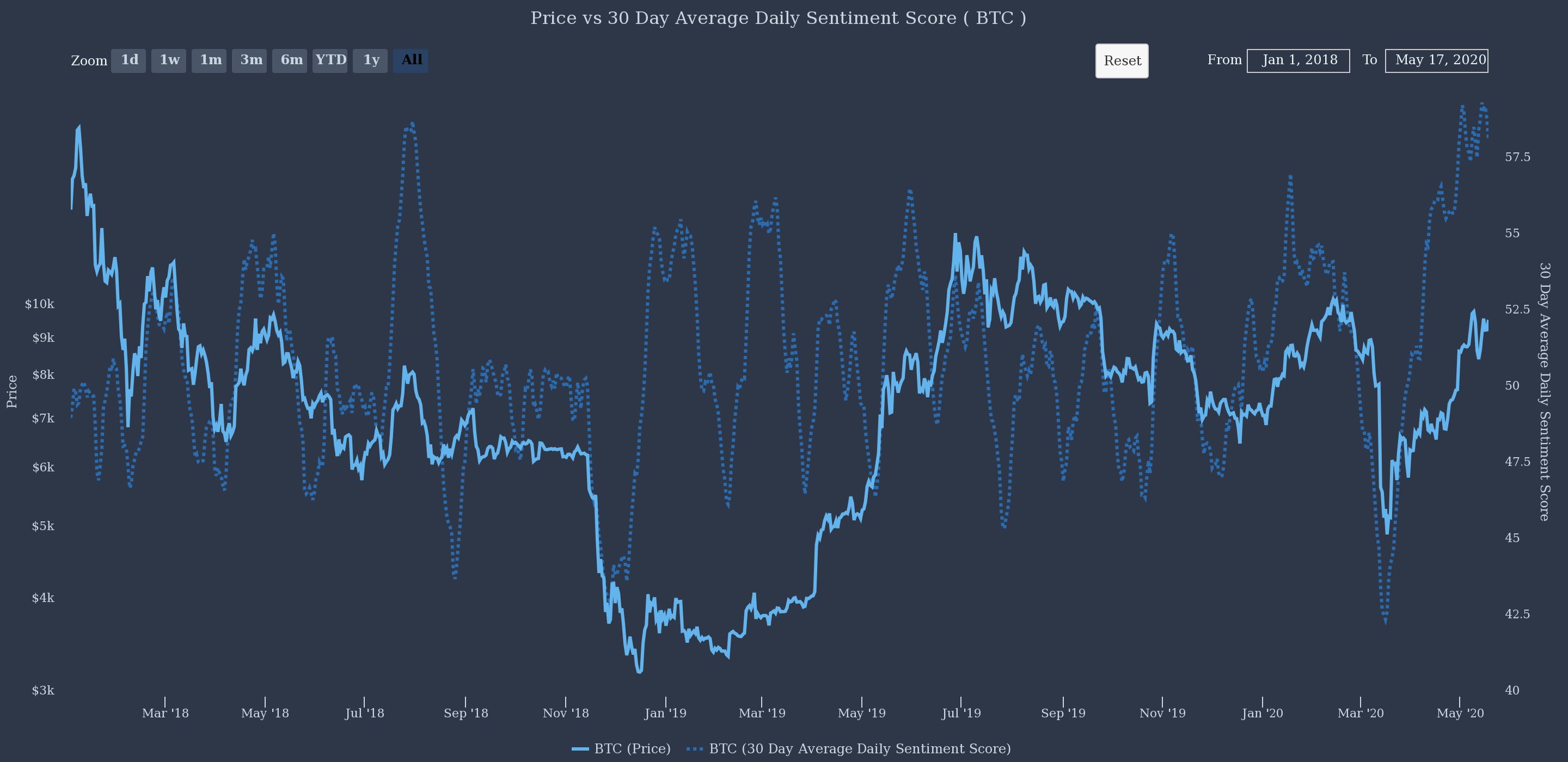 The change in sentiment among market participants around BTC can also be seen in the Crypto Fear and Greed Index. This fundamental index, which analyzes emotions and feelings from different sources including volatility and social media, recently moved from sensing "extreme fear" in the market into a "neutral" posture, which is a positive sign.
As Bitcoin shrugs off the fear, uncertainty, and doubt, more and more retail investors have been giving it a vote of confidence. Now, more than three million Bitcoin addresses are holding at least 0.1 BTC. This represents 14 percent more addresses than one year ago today, according to Rafael Schultze-Kraft, co-founder and CTO at Glassnode.
And that is not all. Even institutional investors are jumping on the Bitcoin bandwagon.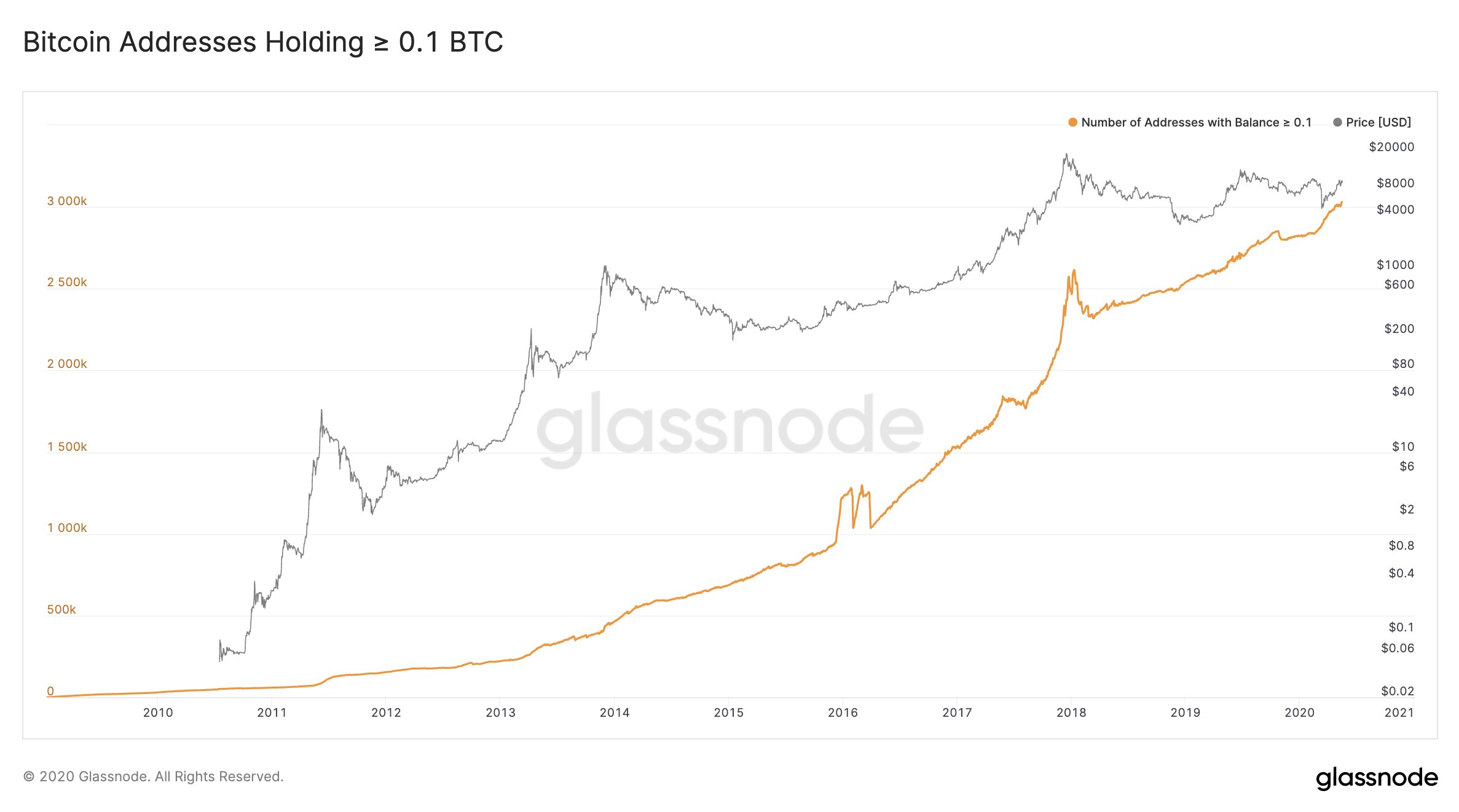 In a recent report, Arcane Research affirmed that the CME has been gaining an increasing market share over the aggregated crypto market's open interest, which was fueled by March's Black Thursday.
Arcane Research said:
"CME currently accounts for 15% ($499 million in real terms) of the total open interest. The CME OI fluctuated between 4 -8% prior to the March crash, but the crash marked a visible trend shift as CME has been gaining market shares ever since."
The institutional-focused analysis firm highlighted that professional money managers have contributed a lot to the CME's growth since they have "loaded up on Bitcoin [after] seeking to allocate cash into a provably scarce asset class."
Even the author of "Rich Dad Poor Dad," Robert Kiyosaki, is long Bitcoin as it may serve as a hedging asset against the misguided government policies.
Kiyosaki stated:
"ECONOMY dying. FED incompetent. Next BAILOUT trillions in pensions. HOPE fading. Bought more gold silver Bitcoin. GOLD at $1700. Predict $3000 in 1 year. Silver at $17. Predict $40 in 5 years. Bitcoin at $9800. Predict $75000 in 3 years. PRAY for the BEST-PREPARE for the WORST." affirmed Kiyosaki.
Although a $75,000 Bitcoin as Kiyosaki expects may seem out of the question, Plan B's stock-to-flow (S2F) model estimates it is very likely. Now, it is just a matter of time before a new bullish cycle begins based on the S2F.
At the time of press, Bitcoin is ranked #1 by market cap and the BTC price is up 0.29% over the past 24 hours. BTC has a market capitalization of $178.32 billion with a 24-hour trading volume of $39.92 billion. Learn more ›
$9,701.09
0.29%
Bitcoin On-Chain Analysis
Market summary
At the time of press, the global cryptocurrency market is valued at at $266.08 billion with a 24-hour volume of $129.79 billion. Bitcoin dominance is currently at 67.00%. Learn more ›
---