Analyst says retail investors entering Bitcoin market will push prices to $20k
This article is 3 years old...
Analyst says retail investors entering Bitcoin market will push prices to $20k
Analysts have argued that much of Bitcoin's recent upward price action is a byproduct of institutional players entering the fray. Open interest in the CME's Bitcoin futures market, along with on-chain trends, suggests that a number of large players are the ones accumulating the coins, driving prices higher.
An analyst says that once retail investors begin to enter the crypto market en-masse, BTC will likely pass $20,000, triggering price discovery.
Who's causing Bitcoin's price to spike higher?
"Light," a pseudonymous crypto trader celebrated by investors like Three Arrows Capital's Su Zhu, says that from his analysis, the buying pressure that has influenced the Bitcoin price over recent weeks has clearly been from "institutionals":
"A lot of the buy pressure that is competing for tightening BTC sell-side liquidity these last weeks is coming from institutionals. They are buying from people who are in the disbelief stage."
Multiple news events indicate this is the case.
In August and September, business services company MicroStrategy purchased $425 million worth of BTC for long-term holding, citing the cryptocurrency's ability to hedge macroeconomic risks. This was followed by news that Square, the $80 billion fintech giant, had acquired $50 million worth of Bitcoin for a similar purpose to MicroStrategy.
On top of all that, a $10 billion asset manager announced that it had purchased 10,000 Bitcoin while Grayscale Investments, Digital Currency Group's digital asset manager arm, revealed it absorbed $1 billion worth of cryptocurrency over quarter three.
There are also on-chain trends such as miners' reserve balances and miners' coins sent to exchanges decreasing in tandem that suggest there are forces accumulating Bitcoin over the counter.
The retail influence to send BTC past $20,000
Light believes that once retail investors begin investing in Bitcoin, the cryptocurrency will be "in price discovery over $20,000":
"The retail segment is not overheated whatsoever currently. It will be soon though… Price is leading public interest. This is a telltale sign of smart money entering while retail has their heads buried in the sand. Once the latter catches up to the former, we'll be in price discovery over $20,000."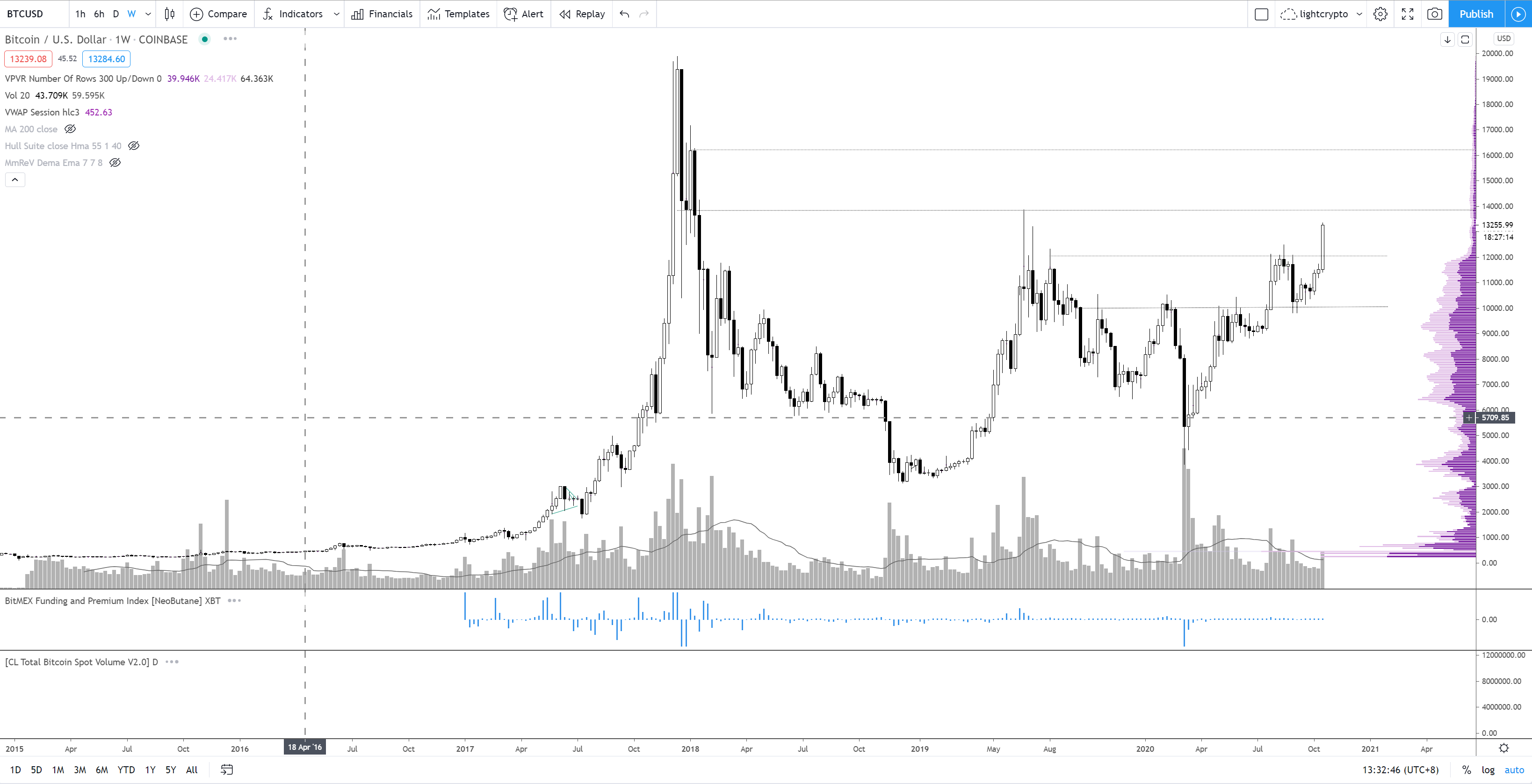 That raises the question of what will trigger the retail buying demand that he is expecting.
According to JPMorgan, which released a crypto market report last Friday, the news that PayPal is supporting Bitcoin, Ethereum, and other digital assets is a good place to start.
The firm's analysts wrote that this support by PayPal may entice more millennials to invest in the cryptocurrency, arguing that it acts as a better hedge against currency devaluation than gold for millennial investors.
At the time of press, Bitcoin is ranked #1 by market cap and the BTC price is up 0.54% over the past 24 hours. BTC has a market capitalization of $242.36 billion with a 24-hour trading volume of $29.32 billion. Learn more ›
$13,081.06
0.54%
Bitcoin On-Chain Analysis
Market summary
At the time of press, the global cryptocurrency market is valued at at $393.41 billion with a 24-hour volume of $102.85 billion. Bitcoin dominance is currently at 61.61%. Learn more ›