Altcoins
Privacy Is Paramount: A Look Into Why Verge Has Been Surging
John McAfee, founder of McAfee Antivirus and an outspoken crypto advocate, recently made this assertion: Privacy coins, otherwise known as coins that allow anonymous transactions, will be the future of cryptocurrency.
John McAfee, founder of McAfee Antivirus and an outspoken crypto advocate, recently made this assertion: Privacy coins, otherwise known as coins that allow anonymous transactions, will be the future of cryptocurrency.
I am inundated by people asking me for recommendations on cryptocurrencies. If you would use your heads you would figure out that the privacy coins (anonymous transactions) will have the greatest future. Coins like Monero (XMR), Verge (XVG), or Zcash (ZEC) cannot lose.

— John McAfee (@officialmcafee) December 13, 2017
This is a bold statement coming from someone who has been predicting Bitcoin would reach $1 million per coin by 2020. His support for Verge (XVG) is a part of the reason why it is up 427% over the past month.
An Established Privacy Coin
Verge (XVG) is first-and-foremost a privacy coin. It was originally launched in 2014 as DogeCoinDark. Its privacy functions include anonymous capabilities that exceed Zcash and Monero in their intuitiveness and end result.
Verge uses the The Onion Router (TOR) network and Invisible Internet Project (i2P) to hide transaction addresses. Transactions are also quick — Simple Payment Verification (SPV) allows for transaction confirmation to drop to around 5 seconds.
How exactly does Verge use TOR and I2P (Invisible Internet Project)? Both of these systems are integrated into Verge wallets, such as Electrum. This integration masks the user's IP address. TOR facilitates this by sending data through a network containing 7000 relays, and I2P adds a second layer of privacy by acting as a tunneling service with p2p transactions.
The Wraith Protocol
The Wraith Protocol was announced in September 2017 and has been one of the attributing factors to its recent price surge. With the Wraith Protocol, there is a simple switch on the wallet that will allow users to turn privacy on or off. So, if transparency is needed, Wraith can be switched "off."
This sends the transaction to Verge's public ledger. Turning it "on" sends the transaction to Verge's private ledger. The transparency tool will allow merchants and everyday users to use it like any other currency. This is highly significant in that almost all privacy coins can only function as a privacy coin with either a public or a private ledger.
While Wraith is not fully functioning yet, it will be deployed onto the live network in 2018.
Verge Atomic Swaps
Verge allows for atomic swaps will allow for decentralized exchanges (DEX) to function, eliminating the need for centralized third-party exchanges like Coinbase, Bittrex, Poloniex, Shapeshift, etc. It's an instantaneous trade between coins that are on different blockchains, where trust is not needed because of smart contracts.
Even more usefully, the Wraith Protocol can still be turned on, making Verge's end of the atomic swap anonymous.
P2P Bot Payments
Want to send coins via text? Verge is already on it. Currently, XVG can be sent on Twitter, Telegram, and Discord. Platforms like Reddit and Slack are coming in the future. This all works via messenger bots.
Here's how it works with Telegram:
Add @VergeX_Bot to your Telegram group
To find out what your Telegram address is, write "!address" as a direct message to the bot.
Go to your hardware wallet and send coins to this address.
You can check balance with "!balance" to see if it's been sent.
Send coins to whoever is in the group with "!tip @(username)."
More can be seen on the Verge website, including Twitter instructions. Bot technology will make for easier ways to send coins in the future.
Verge Product Roadmap
The Verge development team has been very active at constantly revising their roadmaps, updating them several times per year. They have promised that the next roadmap update will come in Q1 2018.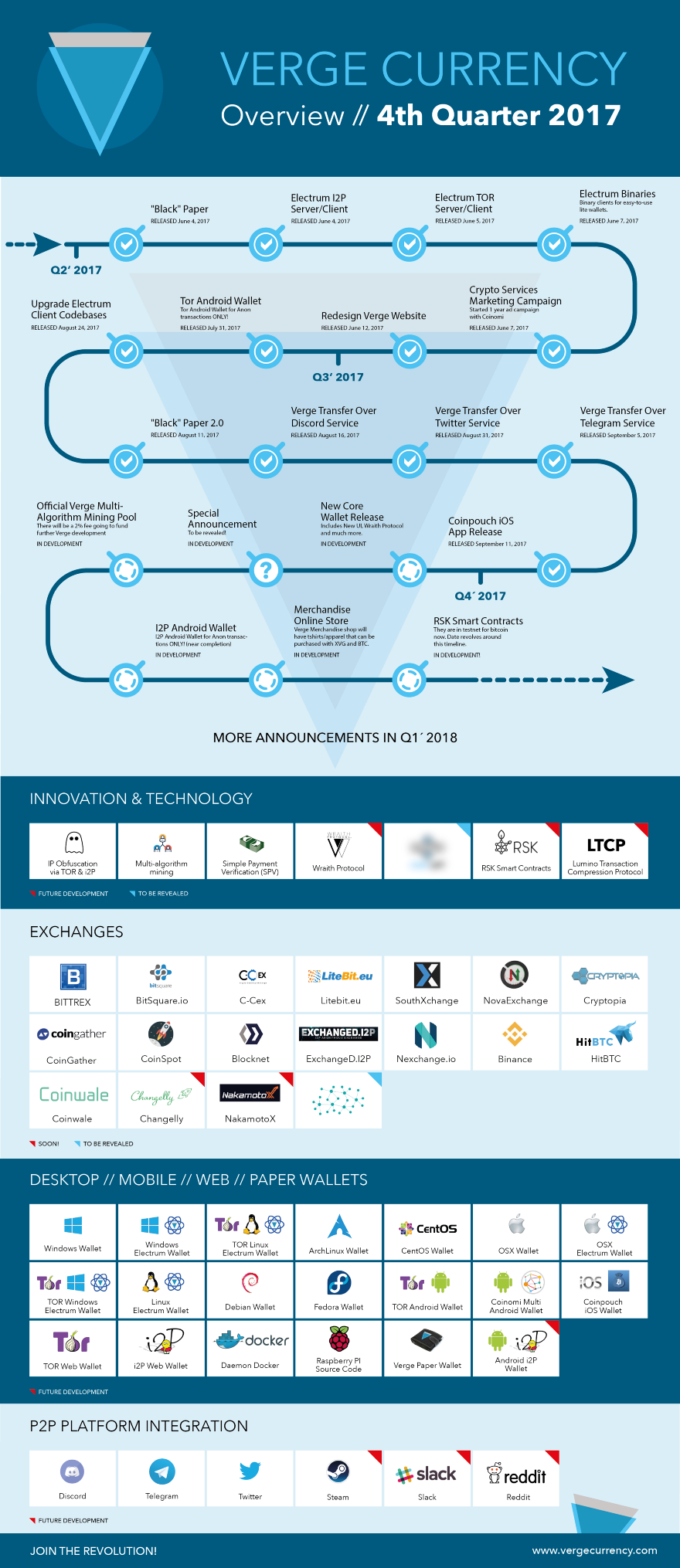 According to the roadmap, we should see these developments in Q1 2018:
Finality on RSK smart contracts
TOR and i2P Android wallet
Core wallet release
Merchandise store
Thus far, Verge has done an excellent job of keeping its promises in a timely manner.
Verge had an absolutely stellar 2017, with its price up over 17,000% since the beginning of the year. With a powerful suite of features and privacy at the forefront, Verge is definitely one of the coins to keep on your radar heading into the new year.
You can find Verge on most major exchanges including Bittrex, Binance, Changelly and Cryptopia.
Check out our privacy coins list if you are interested in other cryptocurrencies similar to Verge.
CryptoSlate Newsletter
Featuring a summary of the most important daily stories in the world of crypto, DeFi, NFTs and more.
Get an
edge

on the cryptoasset market

Access more crypto insights and context in every article as a paid member of CryptoSlate Edge.

On-chain analysis

Price snapshots

More context

Join now for $19/month Explore all benefits