Here's why Basic Attention Token's on-chain metrics are exploding as Gemini prepares listing
🚨 This article is 4 years old...
Here's why Basic Attention Token's on-chain metrics are exploding as Gemini prepares listing
with insights from
Glassnode
Gemini announced that it will be listing Basic Attention Token to its retail platform for U.S. cryptocurrency investors. Following the announcement, on-chain went through the roof.
Gemini to list Basic Attention Token
In a recent blog post, Gemini, a New York-based regulated cryptocurrency exchange, wallet and custodian, revealed that it will be adding Basic Attention Token to its retail platform. The move will provide market access to the altcoin for millions of retail investors.
Basic Attention Token is an Ethereum-based token that is considered to be the backbone of Brave Browser. It improves the efficiency of digital advertising within this internet browser by creating a new unit of exchange between publishers, advertisers, and users.
BAT is set to become the sixth digital asset available for trading on the Winklevoss twins' platform on April 24 at 9:30am ET. Thereafter, users will be able to deposit their tokens into their accounts and start trading it against multiple trading pairs. These include, the U.S. dollar, Bitcoin (BTC), and Ethereum (ETH).
On-Chain metrics explode
Following the announcement, there was a substantial increase in on-chain metrics, according to Glassnode. The blockchain data intelligence firm affirmed that in the last 24 hours BAT's network activity skyrocketed. The number of transfers on the network went from 65.5 to 122.13, representing an 86.5 percent increase.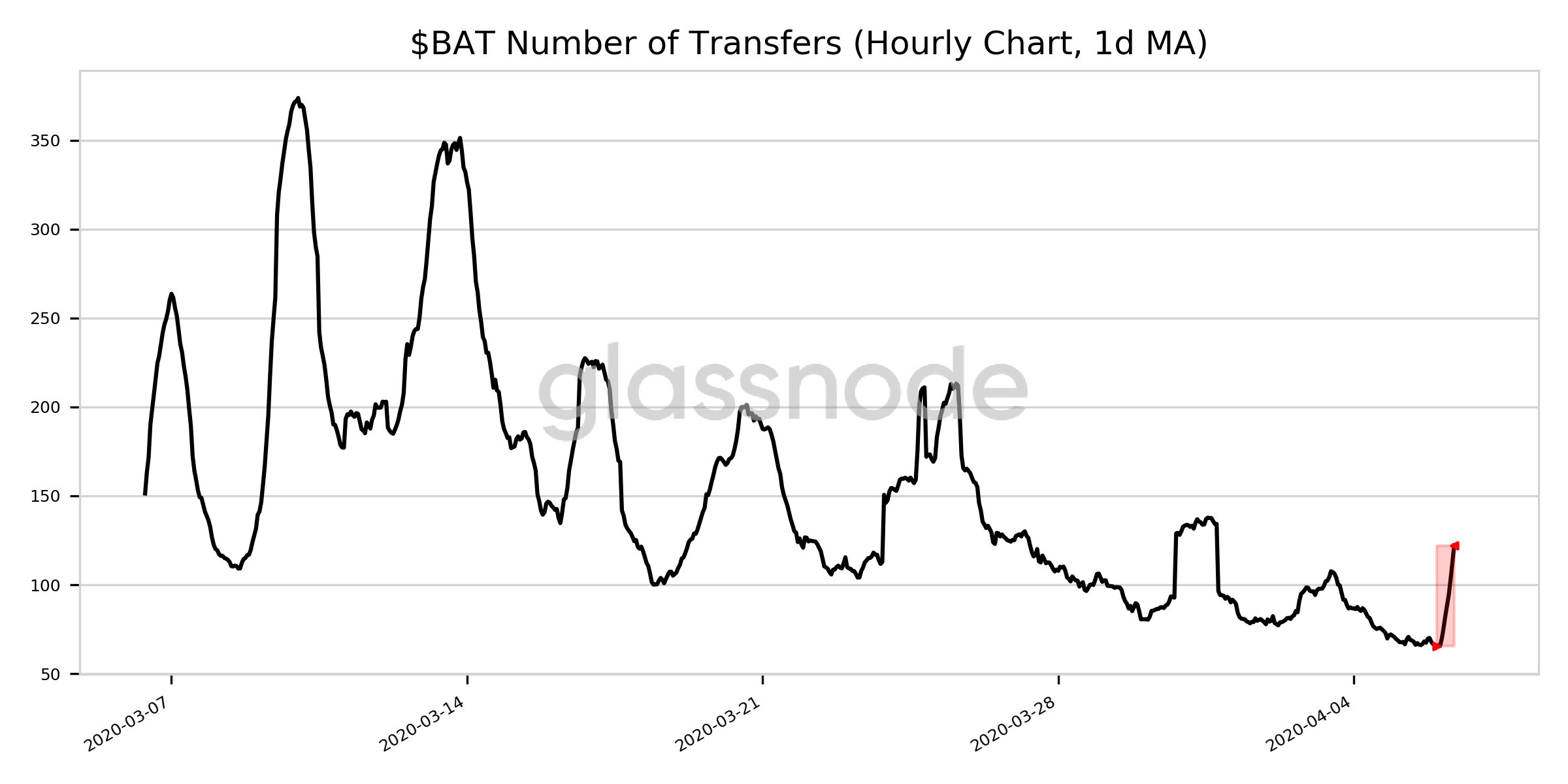 Along the same lines, the number of new addresses created surged nearly 46 percent while the number of active addresses went up 70 percent in the past 24 hours.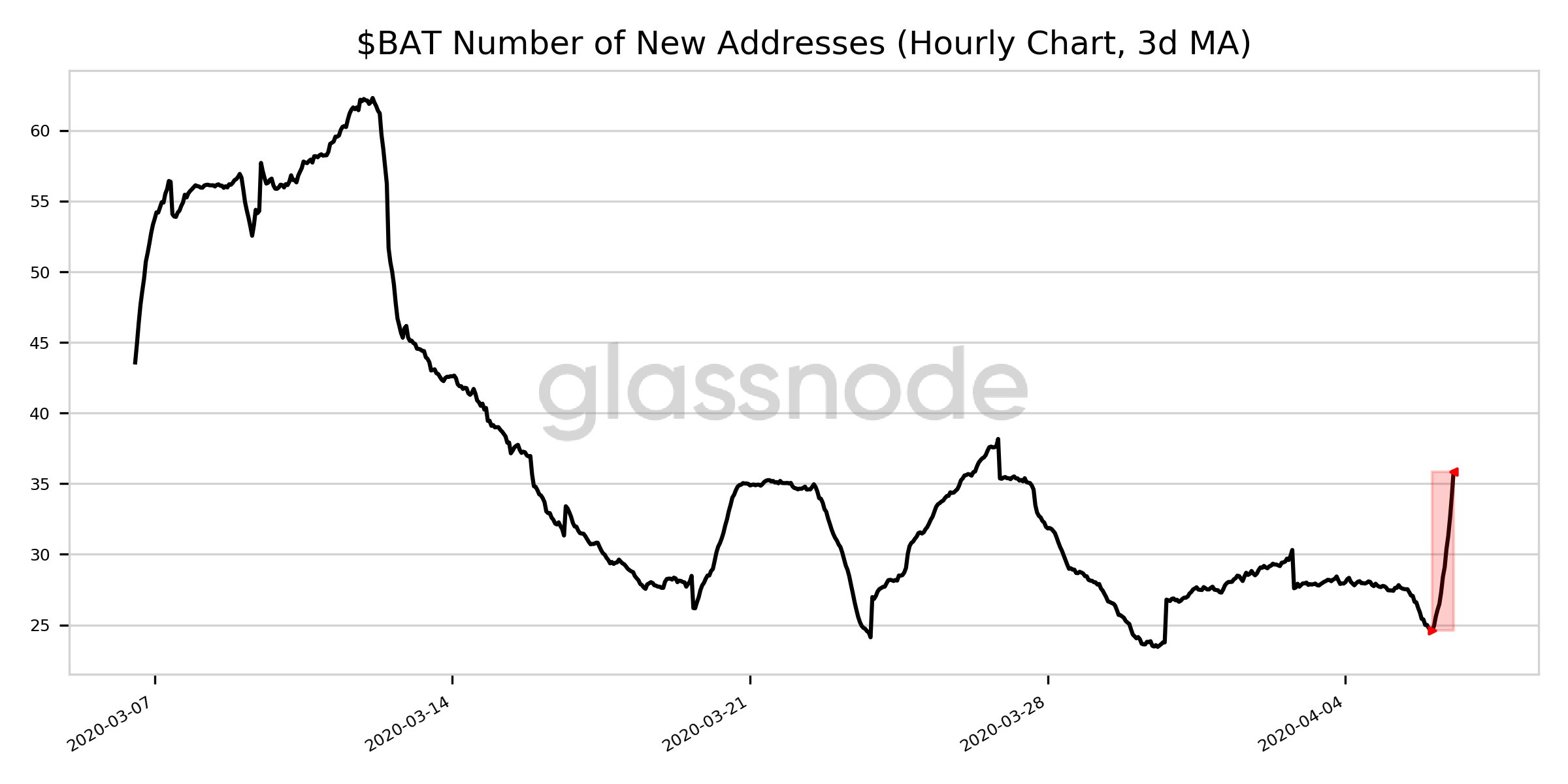 Despite the significant spike in on-chain metrics seen recently, IntoTheBlock's "Historical In/Out of the Money" reveals that nearly 89 percent of all the addresses holding BAT are losing money. At the moment, only 4.7 percent of Basic Attention Token addresses are "in the money."
Even though Basic Attention Token appears to have stolen the spotlight lately after multiple announcements that are meant to increase the utility of this altcoin, the massive amount of holders that are in the red suggests that it could have a hard time reaching higher highs. Only time will tell whether demand for BAT increases as it becomes available to a new range of investors.
BAT Price & Market Data
At the time of press, Basic Attention Token is ranked #34 by market cap and the BAT price is up 9.31% over the past 24 hours. BAT has a market capitalization of $232.32 million with a 24-hour trading volume of $86.23 million. Learn more about BAT ›
$0.16
9.31%
Market summary
At the time of press, the global cryptocurrency market is valued at at $202.77 billion with a 24-hour volume of $147.97 billion. Bitcoin dominance is currently at 64.51%. Learn more ›
---